Legal Experts Weigh In On Mueller Report Release: 'We Are Waiting For a Volcano To Erupt'
Attorney General William Barr is expected to release a redacted version of special counsel Robert Mueller's Russia report on Thursday, marking an end to one of the most high-profile political investigations in a generation.
"I think, from a legal perspective, I know of few moments in the last 30 years that has the potential crescendo of emotion as this one. In fact, I feel like we are waiting for a volcano to erupt," former federal prosecutor Gene Rossi told Newsweek on Wednesday.
Americans got a glimpse into Mueller's two-year probe last month when Barr gave Congress a four-page summary of the special counsel's key findings. The most highly anticipated conclusion was that there was no conspiracy between President Donald Trump's campaign and Russia during the 2016 election.
But the attorney general's brief summary left people with more questions than answers, especially regarding the evidence relating to possible conspiracy and obstruction of justice charges. Plus, allegations that Barr may have mishandled the report out of allegiance to the president have only ramped up the public's speculation.
Now, many are awaiting the report's release, albeit what is likely to be a greatly redacted version of the document, in order to judge for themselves whether the president was involved in any wrongdoing.
"At the end of the day, tomorrow is going to be a very exciting historical moment regardless of whether you support or oppose the Mueller investigation," Rossi said.
Here are some of the key areas that former federal prosecutors and legal experts are going to be focusing on when the report comes out.
Mueller's Interpretation of Collusion
A lot of focus within the legal community will be on how exactly the special counsel investigated possible collusion between the Trump campaign and Russian operatives during the 2016 campaign.
Barbara McQuade, a former U.S. attorney, tweeted Wednesday that some of her top questions concern what Russia did, and what the Trump campaign did, during the election. "Why did Mueller find evidence that did not establish conspiracy rather than let Congress decide?" McQuade wrote.
No U.S. law makes "collusion" a federal crime. But collusion is a nonlegal way of saying conspiracy, which is an agreement between two or more parties to commit an unlawful act. A conspiracy does not need to have been successful to constitute a crime, but the individuals must have taken some action to further it.
Despite Barr's letter saying Mueller did not find sufficient evidence to establish a conspiracy charge, there have been many reports of meetings between Trump campaign officials and Russians. Even if these meetings do not amount to a criminal charge, there are still questions about how extensive the connections were and how much Trump knew about them.
Plus, former federal prosecutors have argued that there is evidence Trump and his campaign "aided and abetted" Russia's election meddling, a crime that was not evaluated by Mueller's team.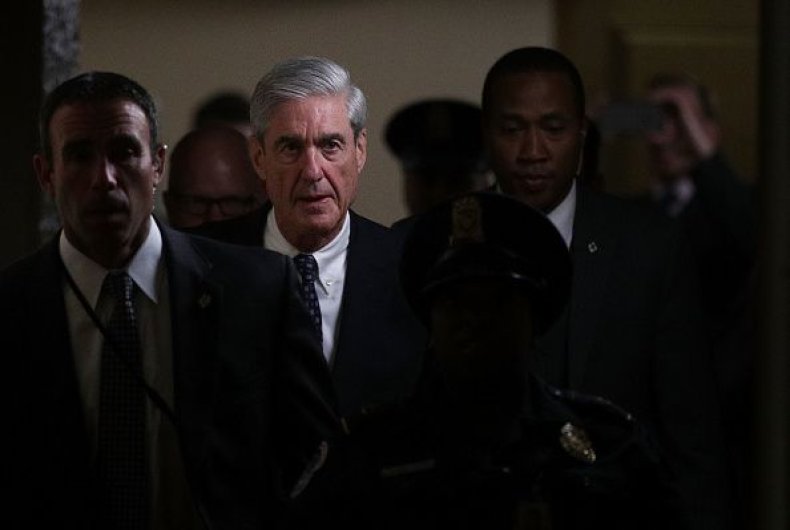 What Exactly Happened With the Question of Obstruction of Justice?
According to Barr, Mueller and his team did not reach a conclusion on whether Trump obstructed justice throughout the investigation. But Barr and Deputy Attorney General Rod Rosenstein determined that there was insufficient evidence to prove the president committed a criminal offense.
Mimi Rocah, a former federal prosecutor, told Newsweek in late March that Barr's obstruction decision was "unlike anything I've ever seen." After all, Mueller is the prosecutor in this investigation, not Barr.
Did the special counsel intend for the attorney general to make the final determination on obstruction? Would he have preferred having the issue go to Congress for further investigation? What are the arguments in favor of charging obstruction? These are some of the lingering questions that may be answered in Mueller's report.
The public has yet to see all of the evidence relating to obstruction of justice, although many allegations of Trump's wrongdoing have been loudly reported in the press. During his testimony before Congress last week, Barr said that he would not redact such details and that information regarding obstruction "will be identifiable" in Thursday's report.
How Much of the Mueller Report Has Been Redacted and Why?
The total Mueller report is nearly 400 pages long, and Barr has been working with the special counsel's office to redact four kinds of information from the document: grand jury material, foreign intelligence, facts relating to ongoing investigations and information about people who were not charged with a crime.
But the attorney general has already been accused of misrepresenting the conclusions drawn by Mueller and his team, which virtually guarantees that his redactions will be looked over carefully by the legal community.
"The role of the attorney general is to protect the rule of law and Lady Justice. The role of the attorney general is to not be a lackey for the president of the United States," Rossi said. "That report might give us tease to whether [Barr] is in the first category or the second category."
Congressional Democrats have railed against the Justice Department's insistence that the Mueller report be redacted. The House Judiciary Committee has authorized a subpoena for the entire document should Barr refuse to release it.