'Muppet Show' on Disney+ Keeps Episode With Johnny Cash Singing in Front of Confederate Flag
In the year that Disney+ has been airing, the streamer has tried multiple ways of putting problematic elements from its back catalog into a contemporary context, from putting disclaimers at the start of films, cutting out episodes of TV shows or dubbing over offensive slurs. Occasionally, though, something slips through, like singer Johnny Cash singing in front of a Confederate Flag
Season 5, Episode 21 of the show, first broadcast on August 11, 1980, saw country legend and 'Man in Black' Johnny Cash appear on the show, singing songs like "Riders in the Sky, " "Dirty Old Egg Sucking Dog" as well as a medley of "Orange Blossom Special" and "Jackson" that he performs as a duet with Miss Piggy, dressed in a full cowboy get-up.
The episode is likely to cause controversy, however, Cash is seen singing in a barn with the Confederate Flag in the background. This comes in a year in which Disney+ has censored a number of its programs to remove such elements and put content warnings on others.
Though the Confederate Flag, to many, has represented the racist legacy of the south and its pro-slavery stance in the American Civil War for over a century, in recent years it has been part of the so-called 'culture war' debates, with some white southerners arguing that it represents the area's heritage while numerous states and companies have disowned their former association with it.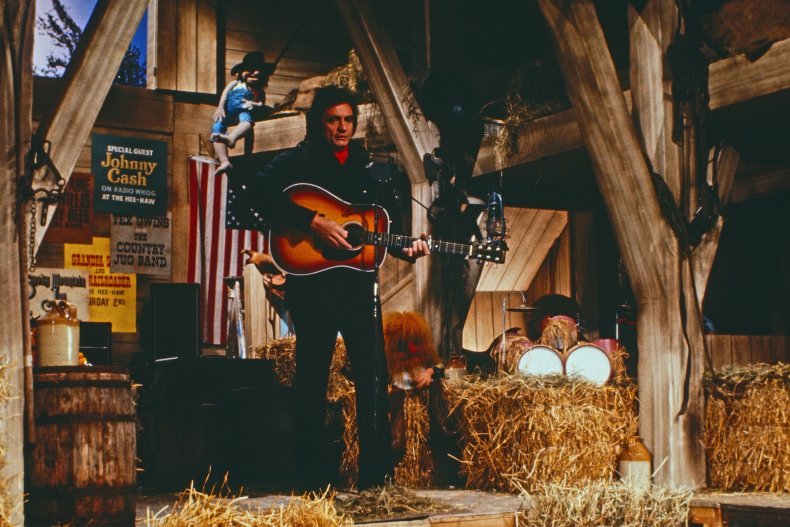 Disney, however, has taken action over the flag in the past. In 2015, for example, the company reportedly removed the flag from a display at their Epcot park that takes visitors through American history.
This flag removal came a few weeks after Dylann Roof killed nine black church members in South Carolina after embracing the flag as a symbol of white supremacy. This led to the state house approving for the flag to be removed after Governor Nikki Haley called for it to go.
Over the year and a half that Disney+ has been streaming, the company has frequently hit headlines for its numerous ways of dealing with material from the past now seen as racist, homophobic and/or not conforming to the platform's family audience.
The 1967 film The Adventures of Bullwhip Griffin, for example, had a racial slur taken out of it (while Adventures in Babysitting had a homophobic slur removed), while the 1932 animated short film Santa's Workshop removed shots of stereotypically black dolls out (while keeping some stereotypically Asian dolls in.) The streamer was also roundly mocked on social media for digitally extending Darryl Hannah's hair to cover her buttocks on their version of Splash.
Lady and the Tramp, The Jungle Book, The Aristocats, Dumbo, Peter Pan, and Swiss Family Robinson, meanwhile, begin on the platform with a message reading: "This program includes negative depictions and/or mistreatment of people or cultures. These stereotypes were wrong then and are wrong now."
After Newsweek reported on the Johnny Cash episode of The Muppet Show, Disney+ added the above content warning at the start of the episode and a dozen others.
Some TV shows, meanwhile, had had episodes removed due to their problematic elements. The Simpsons, for example, is missing "Stark Raving Dad," the same episode that was taken off of syndication schedules after the documentary Finding Neverland detailed sex abuse allegations against its guest star Michael Jackson. Other streamers, meanwhile, have removed episodes of comedies like Peep Show and 30 Rock that featured blackface, while Little Britain was removed in full from Netflix for the same reason.
This comes after Disney has done some grappling with its depictions of its relationship to the historic south. Last year, Disney announced it was rebranding its Splash Mountain ride to remove its associations with the film Song of the South, long suppressed by Disney for its racially problematic elements.
Newsweek has reached out to Disney+ for comment about the Johnny Cash episode of The Muppet Show and will update this article when we get a response.
Correction: A prior version of this article said that the Johnny Cash episode had been removed from Disney+.
Update: This article was updated after Disney+ put a content warning on the Johnny Cash episode.