South Carolina's State House Confederate Flag Comes Down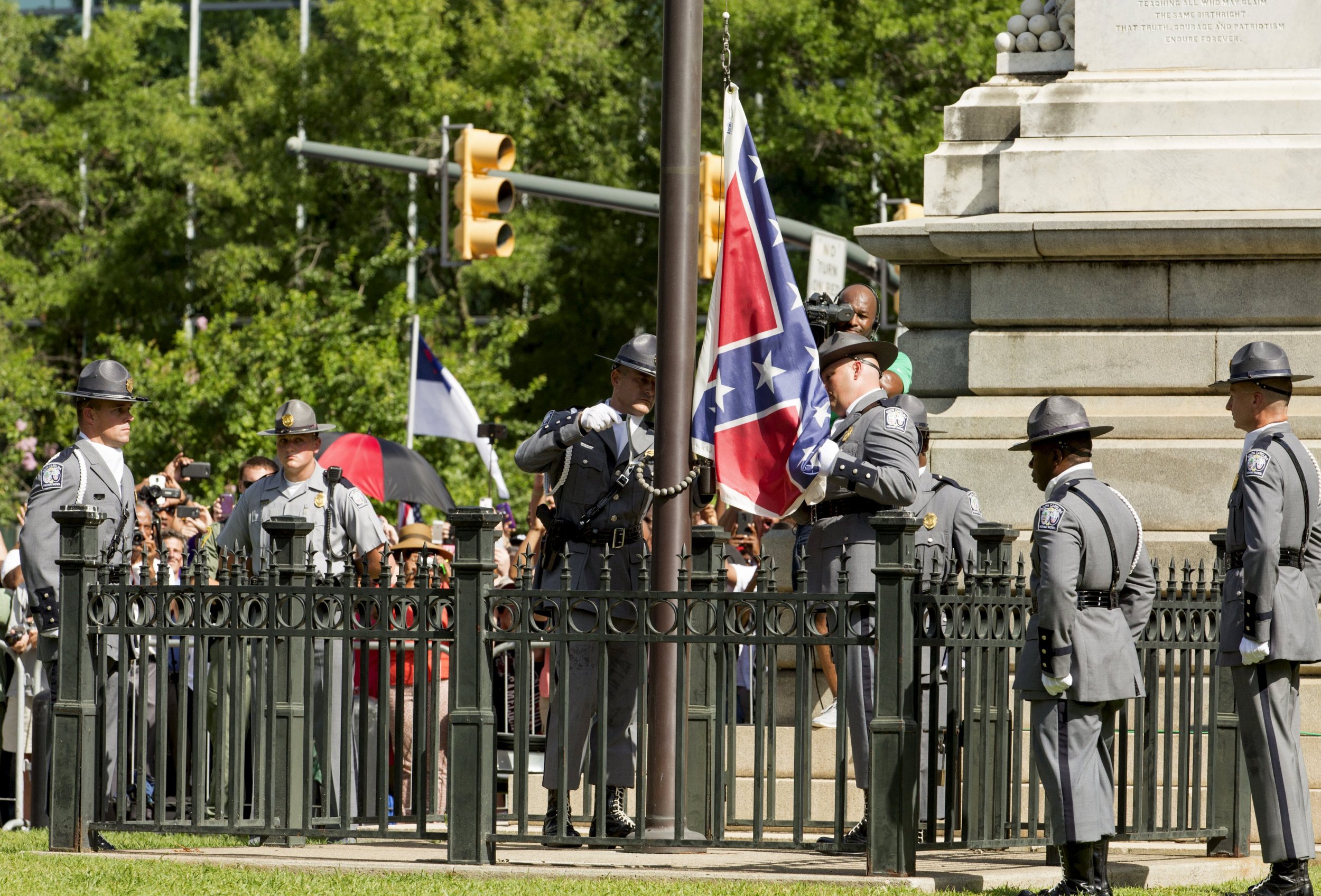 On Friday morning just after 10, the Confederate flag on South Carolina's State House grounds was removed. The flag was on the Confederate memorial and had previously flown from the State House dome. A few minutes before it was set to be removed, the crowd began to chant "Take it down! Take it down!"
The Honor Guard arrived just after 10 to take down the flag. Seven members of the guard were present at the ceremony. They pulled the flag down the flag pole quickly. After it was removed, there were chants from the ground and some began singing "Na, na, na, hey, hey, hey, goodbye."
Lawmakers agreed to take down the flag this week, following an impassioned debate at the House which went on for over 12 hours. Governor Nikki Haley signed the final legislation to remove the flag on Thursday, calling for it to come down in a respectful manner.
The flag will be moved into the Confederate Relic Room and Military Museum. A member of the guard rolled up the flag and presented it to the president of the museum. "The museum is aware that this is a grave responsibility and will formulate plans to appropriately exhibit it. The museum is humbled to play a small role in further uniting the citizens of South Carolina," the museum said in a statement.
Activist Bree Newsome scaled the flagpole and took the flag down manually in late June. She used climbing gear to propel up the pole, ensuring she was safely secured as she removed the flag. (Newsome was later arrested for removing the flag and it was returned to full mast later that day.)
The Confederate flag was first placed on the dome in the 1960s. In 2000, the flag was moved from the State House dome to the Confederate memorial, amid protest.
The flag's place at the State House became the topic of debate after a shooting at an African-American church in Charleston that left nine worshippers dead. The alleged shooter left a racist manifesto in which he included photographs holding the flag, visiting the Confederate museum and a Confederate cemetery. A state senator was killed in the shooting. Dylann Roof, the alleged shooter, remains in custody without bail. He will likely face the death penalty.