'Music': The Backlash Against Sia's Autism Movie Explained
Music has become one of the year's most controversial films, with viewers criticizing the directorial debut of singer Sia for its casting of an able-bodied, neurotypical person in the lead role and for what they see as its stereotypical portrayal of people with autism.
In the film, which was nominated for a Golden Globe for best musical of comedy, Sia's long-time collaborator Maddie Ziegler plays Music, a non-verbal young woman on the autistic spectrum, who comes under the guardianship of her recovering addict half-sister Zu (played by Kate Hudson.)
The controversy over the film began when the trailer and first music video for the film were released in November, with many taking to Twitter to ask why Sia had not hired someone on the autistic spectrum to play the character.
This comes after a long debate over whether able-bodied and/or neurotypical people should play disabled or neurodivergent characters. Actors have long garnered awards for such portrayals, with actors like Eddie Redmayne (for The Theory of Everything), Dustin Hoffman (Rain Man) and Daniel Day-Lewis (My Left Foot) winning Oscars for such roles. Dozens of actors have been nominated for playing disabled or neurodivergent people over the years, and yet only two disabled people have won acting Oscars—Harold Russell, the star of 1946's The Best Years of Our Lives who had both of his hands amputated, and deaf actor Marlee Maitlin for 1986's Children of a Lesser God.
However, there have been increasing calls for disabled or neuro-divergent actors, who have long been under-represented in Hollywood, to play these roles.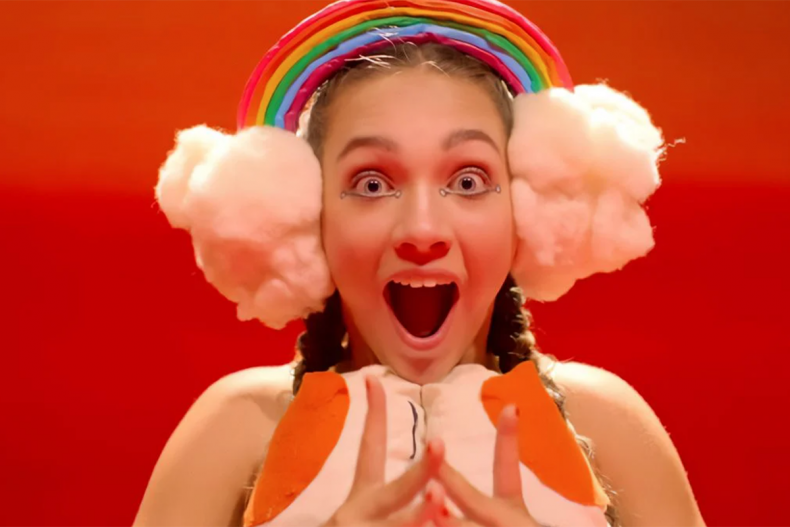 Addressing the criticisms of the casting of her long-term collaborator Ziegler on Twitter, Sia is generally agreed to have made things worse for herself. In one of her first tweets when the controversy broke, she revealed: "I actually tried working with a beautiful young girl non-verbal on the spectrum and she found it unpleasant and stressful. So that's why I cast Maddie."
Though this may have pacified some of her critics, she followed this up by insulting one of her critics. One user, for example, tweeted: "Several autistic actors, myself included, responded to these tweets. We all said we could have acted in it on short notice. These excuses are just that—excuses. The fact of the matter is zero effort was made to include anyone who is actually autistic." To which Sia replied: "Maybe you're just a bad actor."
She wrote that same day: "I cast thirteen neuroatypical people, three trans folk, and not as f****** prostitutes or drug addicts but as doctors, nurses and singers. F****** sad nobody's even seen the dang movie. My heart has always been in the right place."
Now, though, people have seen the movie, and the criticism has not gone away. In fact, the controversy may have been worsened by the fact that people have been able to see more of Ziegler's performance, which many have called out for relying on stereotypical tropes about autistic people.
In an interview with Australian talk show The Project in January, Sia revealed that Ziegler has been apprehensive about the role, saying: "She [Ziegler] just said, 'I don't want anyone to think I'm making fun of them...And I bald-facedly said, 'I won't let that happen.'"
Per some film critics, however, she did indeed let that happen. Guardian film critic Simran Hans, for example, summed up a lot of the negative reviews about Music when she wrote in a one-star review: "Ziegler... is not herself on the autistic spectrum. It's a problem, especially given the cartoonishness of her portrayal, which sees her gurning, grimacing and mumbling through her scenes...The lyrics, jaunty platitudes about Music's "magic mind" and failing body, are offensive too."
Hans is far from the only critic to have not liked the film. The movie currently has a 17 percent rating on Rotten Tomatoes, with the critical consensus for the movie calling it out for being, "offensive in its depiction of autism—and painfully misguided in essentially every respect."
On The Project, Sia defended Ziegler's casting by saying: "I realized it wasn't ableism—I mean, it is ableism, I guess, as well—but it's actually nepotism, because I can't do a project without her. I don't want to."
In the same interview, she claimed, "we sent [Ziegler's performance] off to the Child Mind Institute, and she received a 100% as performance accuracy."
Newsweek has reached out to the Child Mind Institute to verify this claim and will update this article if we get a response.
After the film was released, many viewers also criticized the film for scenes that showed Music getting restrained. Whether or not to restrain an autistic child has been a huge topic of debate among those with autism and their parents and carers over recent years, with many saying that the practice is traumatizing and can actually make a violent outburst worse.
In one of her last tweets before disabling her account, after Music received two Golden Globe nominations, Sia wrote: "I'm sorry. MUSIC in no way condones or recommends the use of restraint on autistic people. There are autistic occupational therapists that specialize in sensory processing who can be consulted to explain safe ways to provide proprioceptive, deep-pressure feedback to help w meltdown safety. I plan to remove the restraint scenes from all future printings. I listened to the wrong people and that is my responsibility, my research was clearly not thorough enough, not wide enough."
Music is available on-demand on digital entertainment stores now.