Muslim Survivors of Manchester Attack: Salman Abedi Does Not Represent Islam
Updated | When Ariana Grande released her latest album, Dangerous Woman, last May, Montaha Afana, 20, from Manchester, downloaded it and devoured the tracks immediately. And when Grande announced her Dangerous Woman Tour—including a stop in Afana's home city—she set an alert on her phone for the onsale date so she could buy tickets straight away. The civil engineering student and three of her friends finally got to see the artist on May 22 at Manchester Arena—Afana says her favorite song was "Forever Boy"—and when Grande capped the concert by displaying her impressive four-octave vocal range on "Dangerous Woman," they were awestruck. That feeling soon turned to fear and confusion, however. Soon after Grande exited the stage, they heard the explosion.
Monday's attack at Grande's concert claimed the lives of 22 people, ranging in age from 8 to 51. Over 100 more were injured. The perpetrator himself came from Manchester: Salman Abedi, 22, detonated an improvised explosive device in the foyer of Manchester Arena as people left the gig. The Islamic State militant group (ISIS) has since claimed responsibility for the atrocity.
Afana and her friends were sitting in block 111, at the back of the arena, to the far left. "We heard the bomb go off and everyone just starts screaming," she tells Newsweek. She did not immediately register that it was an explosion; "I didn't think it could happen, not in Manchester," she says. In the ensuing chaos, people flooded the exits nearest Afana and her friends. They were among the last people to evacuate their area.
"We were about to leave, but then two women came [into the arena] from the exit. One had shrapnel in her neck and the other had shrapnel in her leg." Both women had children with them, Afana says. "One of them said, 'Don't go outside, it's safer inside.'" Afana and her friends eventually left through a service exit used by arena staff. Outside the venue they bumped into Afana's friend, who was also at the concert.
Romaana Chowdhury, 19, and her friend had been sitting in the upper tier, block 206, located on the far right and at the back of the arena. She says she was close to where the explosion took place. Like Afana, she did not realize the venue was under attack. "I thought it was a speaker exploding or something," she tells Newsweek . As they rushed to leave, "we saw blood everywhere, we saw bodies," says Chowdhury. She describes seeing the body of a dead woman who had some limbs missing. Luckily, Chowdhury, Afana and their friends were not hurt physically.
Chowdhury is a Manchester native. She, too, is a first-year student at the University of Manchester, where she studies math and philosophy. She and Afana—who moved to Manchester with her family when she was seven—are both Muslims. Their stories remind us of another dimension to Monday's violence: This was an attack on everyone, Muslims included.
Afana says she has had nightmares most nights since the attack took place. Seeing smoke or hearing loud noises triggers an uncontrollable sense of panic. The first-year student was supposed to take an end-of-year examination at the University of Manchester on Wednesday but she couldn't bring herself to attend. Her university has referred her to a therapist. She had first appointment on Wednesday. "They've been really helpful. I didn't have a [nightmare] that night," she says.
Chowdhury, meanwhile, has coped with the trauma by trying to make sense of it. She has been staying on top of the latest news developments about the attack. "Even on the way home in the car, I wanted to know if there was something in the news yet."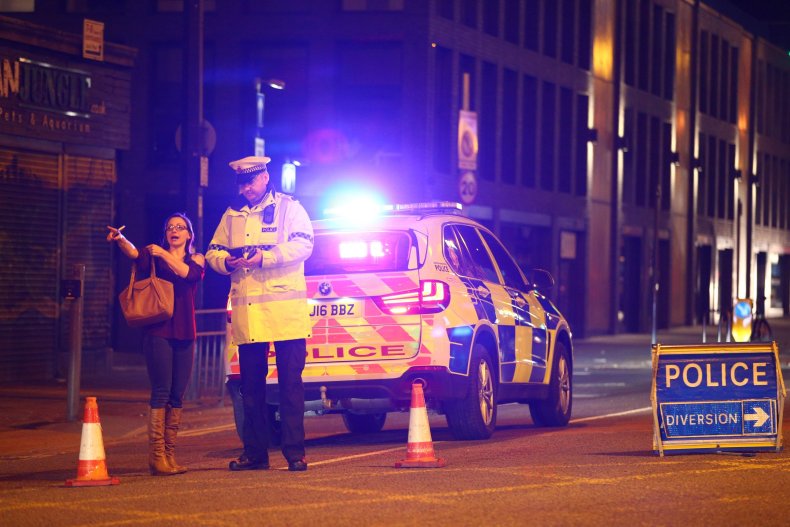 The bombing has stoked a fresh round of Islamophobia, including an arson attack on a Manchester mosque, and calls from the far-right for Muslims to denounce ISIS and the attack. Chowdhury says she is "tired of hearing and seeing innocent [Muslim] brothers and sisters having to defend themselves" because of the actions of extremists hiding behind religion. "The Muslim community have done nothing."
The acts of these so-called Muslims do not speak to the values and teachings of Islam. "This guy does not represent Islam," Afana says of Abedi, the attacker. She fears reprisals against Muslims, herself included. "I can't leave my house unless someone's with me," she says. "I wear a hijab, so it would make a very easy target. If someone wants to seek revenge for what he did, they could say, 'She's a Muslim'—even though I was there and I was affected."
"Islam is about peace," Chowdhury says. "The Muslim community would never advocate something like this. I read that he did this because he was angry about children in Syria being killed, so he killed even more children. You can't be in your right mind to come to that conclusion."
As the Islamic holy month of Ramadan begins, Afana and Chowdhury are hoping to find peace for themselves, the lives that have been lost and the survivors of the Manchester attack. "I hope people feel like we should be more together," says Chowdhury.
This article originally misspelled Montaha Afana's last name and has been updated.