See the First Glimpses of MyPillow CEO Mike Lindell's Election Conspiracy Documentary
Today, MyPillow founder and CEO Mike Lindell released a three-hour documentary that includes unsubstantiated and debunked theories on how the 2020 presidential election was rigged against former President Donald Trump.
Along with posting the movie—titled Absolute Proof—on various online outlets, Lindell paid One America News (OAN), a conservative-leaning cable news network to air the movie on a 12-hour loop beginning at 10 a.m. ET Friday.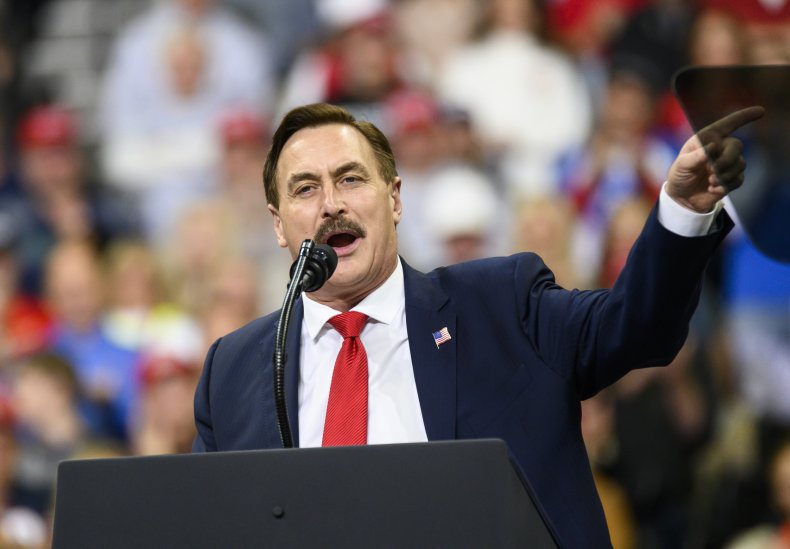 YouTube and Vimeo removed the movie after it was posted earlier today. However, Rumble still carries the full version as of publication.
Lindell begins Absolute Proof stating that he's been attacked by the media and calls out companies that have dropped his MyPillow products. He then says, "What you will see today is what they don't want you to see." Lindell then claims to have evidence of "other countries" hacking into voting machines used in the November election while showing an inconclusive short video of people in a polling area.
The documentary is largely filmed on a stage designed to resemble a news channel program with Lindell sitting behind a large desk.When announcing the project via an interview on the Revival Channel's YouTube account, the MyPillow CEO said the movie was made over the course of five days while he was "holed up with people guarding me."
Right Wing Watch, a program developed by a nonprofit that monitors right-wing media, shared additional clips Absolute Proof on Twitter. One of those clips is an interview with Mellissa Carone, who gave testimony in a Michigan voter fraud case at the behest of Trump's personal lawyer Rudy Giuliani.
Right Wing Watch also posted Lindell's closing statements in Absolute Proof. In the clip, he summarizes, the "biggest cyberattack in history" caused "a takeover of our country." The businessman also encourages people to share the movie with friends on social media.
Lindell has been one of Trump's most prominent supporters, and he has been sharing some of his theories regarding the election, which has resulted in bans on both his personal Twitter account and that of his company.
OAN's broadcast of the documentary also includes a disclaimer that remains on screen for nearly a minute and a half. The disclaimer classifies the movie as paid programming and that it is "opinion only," and also states that the network does not endorse the statements made about voting machines manufactured by Dominion or Smartmatic. Both companies currently have billion-dollar libel suits filed against Giuliani and Fox News.