Mystery Animal Found in Pennsylvania Escapes Shelter by Chewing Open Window, Keepers 'Stunned'
A mystery animal that baffled experts in Pennsylvania has escaped from a wildlife rescue by chewing through a window.
The creature was found "cold and shivering" by Christina Eyth near her home in Adams County. It was then taken in by local animal shelter Wildlife Works, however experts were unable to determine its species. They believe it must be either a dog or coyote.
The shelter said it was "stunned and mortified" to learn of the animal's dramatic escape about a week after the rescue.
In a Facebook post on Thursday, which can be found here, the wildlife shelter said that they were "devastated" to find the animal gone.
Wildlife rehabilitator Morgan Barron arrived to the rescue building in the morning to find a "horrifying" sight.
The animal's cage was destroyed and the room had been trashed. The animal had managed to force open the window, and subsequently tore a hole through the screen.
The shelter wrote: "There were scratches on the walls, especially below the window; the window seal was chewed until he was able to force the window open, then he tore through the screen. Not in our wildest dreams did we expect something like this!"
Pictures posted by the shelter show the door of the cage completely broken.
The shelter had been waiting for test results to come back to confirm the species.
The post said: "Since he arrived, he has done little more than crouch in the back of his cage and simply follow Morgan with his eyes. He never acted aggressive or distressed, and there had been no evidence of escape attempts.
"We had him for about a week, during which time he ate nutritious food and received treatment for his mange and secondary infections. We can only guess he was starting to feel somewhat better and decided it was time to go."
Following the escape, Barron went out trying to track the animal. The shelter has also left its enclosure doors open with plenty of straw and food to entice it back.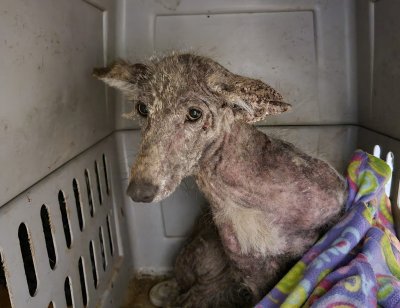 When the animal was first found, Barron told NBC News that she leaned towards thinking the animal was a dog, because of its timid behavior.
However this escape may determine that the creature is a coyote after all.
In a comment on the Facebook post, Betty Johnson Simons, a member of the public, said: "I would have to think it was a coyote. I cannot imagine a dog doing that type of damage."
Other Facebook users agreed with this theory.
While dogs are usually domesticated, coyotes tend to live in the wild, which could explain the animal's dramatic escape.
Coyotes are common throughout Pennsylvania, and population levels are rising, making it difficult to estimate exactly how many there are in the state.