Ex-NAACP Leader Calls Out Louie Gohmert for 'High-Tech Lynching' Remarks
A former leader of a prominent civil rights group is admonishing a Republican representative for accusing Democrats of carrying out a "high-tech lynching" of U.S. Supreme Court Justice Clarence Thomas.
Sherrilyn Ifill, who previously led the NAACP Legal Defense and Educational Fund, took to Twitter Wednesday to criticize comments made earlier by Texas Representative Louie Gohmert during a hearing on court reform. The exchange followed growing scrutiny of Thomas over the justice's alleged conflicts of interest and calls for ethics reforms for the nation's highest court.
Text messages revealed last month show that Thomas' wife, Ginni, pressed Mark Meadows, former President Donald Trump's chief of staff, to prevent now-President Joe Biden from being certified as the winner of the 2020 presidential election. Thomas has faced calls to recuse himself from cases involving the January 6 insurrection. Now, Congress is moving forward with creating an ethics code for the court.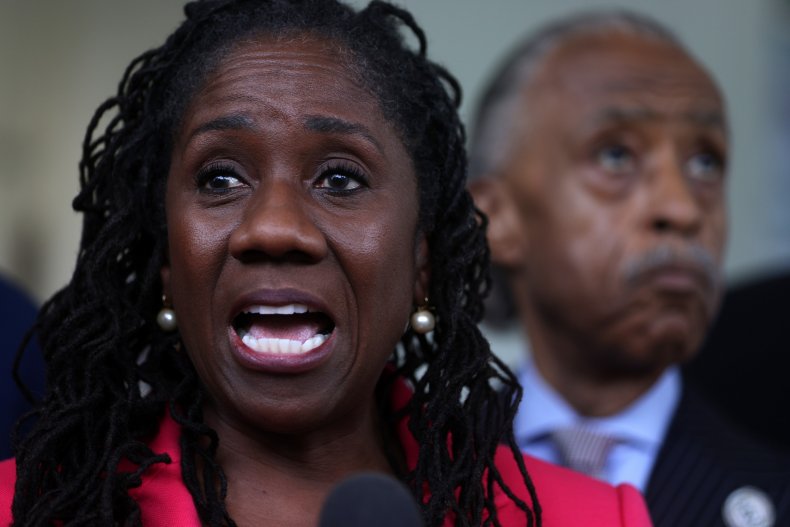 But Gohmert said Thomas was being unfairly targeted during a House Judiciary Committee hearing titled "Building Confidence in the Supreme Court Through Ethics and Recusal Reforms." Gohmert brought up the recent controversy surrounding Thomas, as well as the justice's contentious 1991 confirmation hearing where he was accused of sexual harassment.
"Justice Clarence Thomas knows what all of my very conservative, dear Black friends know is nobody is treated more brutally in this country than a conservative Black," said Gohmert.
He repeated the claim Thomas made during his confirmation hearing that he was the "victim of a high-tech lynching." Gohmert said the "abuse" of Thomas is "further contributing to the same high-tech lynching."
"Few things rile me up more than the claim by political men accused of wrongdoing that they are victims of lynching," Ifill said on Twitter.
In response to what she called the "revival of the 'high-tech lynching' claim," Ifill posted a link to a 2011 essay in Guernica, an online arts and politics magazine.
Titled "Dear Camp Cain: Stop Calling It a Lynching," the essay was a response to defenders of then-Republican presidential candidate Herman Cain who faced accusations of sexual harassment.
At the time, a super PAC drew comparisons between the treatment of Cain, a Black man, and Thomas' confirmation hearing. The ad used footage of Thomas using the phrase "high-tech lynching."
In her essay, Ifill described in graphic detail how Black men lynched in the South in the early 1900s were publicly mutilated and tortured by mobs of whites, leaving their victims' families in fear of further violence. She called it an "insult" to the 5,000 Blacks, mostly men, who were lynched from the mid-1880s to the 1960s.
"Whatever one thinks of either Thomas or Cain, neither is the victim of a lynching, and their deliberate invocation of the most hideous and grotesque of racial crimes to shield their own conduct from scrutiny profoundly misrepresents the significance of lynching in the racial history of this country," Ifill wrote in her essay.
Newsweek has reached out to Gohmert for comment.
Correction 4/28/2022, 4:30 p.m. ET: This article was updated to reflect that Sherrilyn Ifill was president of the NAACP Legal Defense and Educational Fund.