Calls for Supreme Court Associate Justice Clarence Thomas to recuse himself from cases related to the events of January 6, 2021, are growing after text messages sent from his wife on the subject were revealed.
Dozens of Democrats, including House Speaker Nancy Pelosi and Senate Majority Leader Chuck Schumer, have called on the justice to voluntarily step away from such issues—following text messages that Virginia Thomas sent to former White House Chief of Staff Mark Meadows expressed strong support for efforts to overturn the 2020 presidential election results.
Members of the Republican Party have been less inclined to urge Thomas's recusal, including those who have been highly critical of former President Donald Trump. The 10 House Republicans who voted to impeach Trump for incitement of insurrection have been silent on the issue—among them Representatives Liz Cheney and Adam Kinzinger.
Cheney and Kinzinger are the two lone Republicans on the House select committee investigating the Capitol riot. The New York Times reported last week that Cheney has sought to avoid pursuing Virginia Thomas in any way that could unfairly target her husband.
The House select committee is considering questioning Virginia Thomas. Chairman Bennie Thompson said that he'd feel "very confident" in inviting her to appear before the panel. He also said Virginia Thomas could be subpoenaed if she refuses.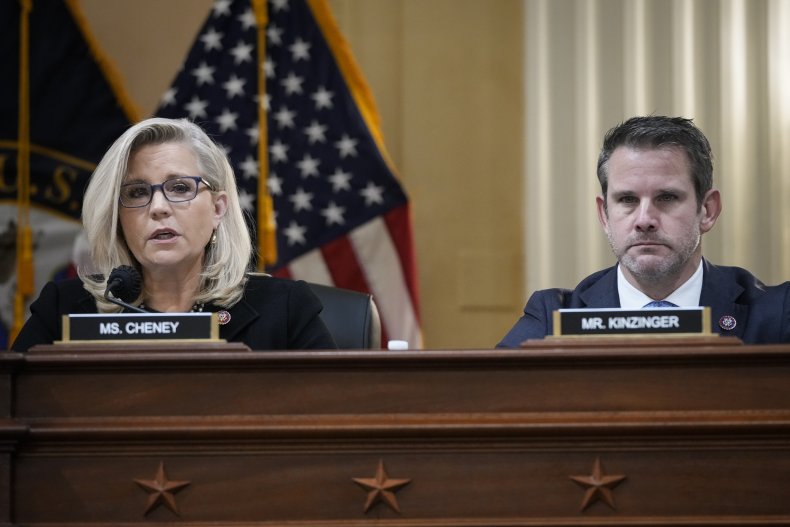 Approximately 21 of Virginia Thomas' text messages were first reported by The Washington Post and CBS News last week.
In one message sent on November 10, 2020, she wrote to Meadows: "Help This Great President stand firm, Mark!!!...You are the leader, with him, who is standing for America's constitutional governance at the precipice. The majority knows Biden and the Left is attempting the greatest Heist of our History."
Another text sent on November 6, 2021, read: "Do not concede. It takes time for the army who is gathering for his back."
Clarence Thomas is currently the longest-serving justice on the Supreme Court after being nominated by Republican President George H.W. Bush in 1991. The 73-year-old judge spent several days in the hospital earlier this month after being admitted for "flu-like symptoms," but he was able to remotely join arguments this week.
In a letter dated Monday, 24 Democrats asked the senior justice to "immediately issue a written explanation for his failure to recuse himself" from January 6 cases.
"These revelations—combined with prior reporting about Ms. Thomas's efforts to nullify the results of the 2020 election—raise serious questions about Justice Thomas's participation in cases before the Supreme Court involving the 2020 election and the January 6th insurrection," the lawmakers wrote.