'Name That Tune': Who is Hosting the Fox Show and How to Watch Online
Name That Tune is the latest classic game show to be getting the reboot treatment, with episodes starting on Wednesday, January 6 on Fox. While the show has previously had seven different hosts since it began as an NBC radio show, the 2021 version will be the first to have a woman host—and viewers will soon be able to see how she does by watching episodes online.
Who is the host of the Name That Tune reboot?
Hosting duties this time will be performed by Jane Krakowski, the Emmy and Golden Globe-nominated actor best known for playing the mega-diva Jenna Maroney on 30 Rock, and who has also starred in Ally McBeal, Unbreakable Kimmy Schmidt and Apple TV+'s Dickinson.
Krakowski will be the first woman presenter of a full series of Name That Tune. In 2007, a pilot was made for a reboot of the show with another one-time 30 Rock cast member, Elizabeth Banks, who now hosts the game show Press Your Luck, though it never made it to series.
Name That Tune will be Krakowski's first time as a full-time host, though she is not new to the game show world. She has so far appeared as a celebrity panelist a dozen times on the reboot of Match Game, hosted by Alec Baldwin (yet another 30 Rock alum). She has also appeared as a judge on shows like RuPaul's Drag Race, Hollywood Game Night and Ace of Cakes.
Krakowski, however, will not be the only returning face on every episode of the Name That Tune reboot. The tunes that contestants will be naming will be played by a live band, with the Grammy-winning former American Idol judge appearing as a bandleader as contestants battle it out for a $100,000 grand prize.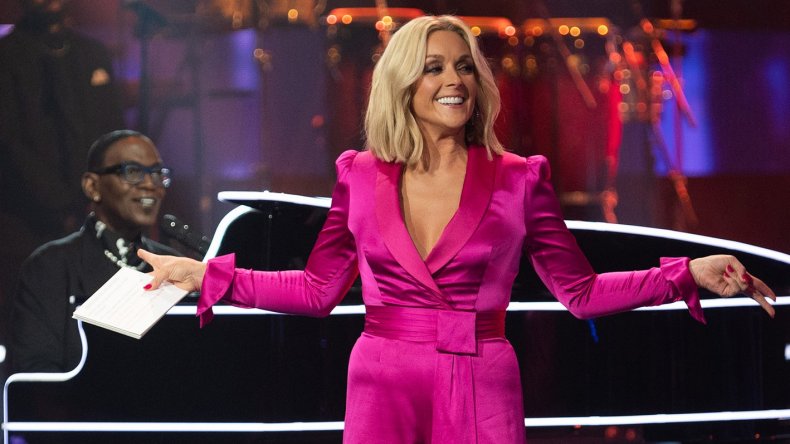 How to watch Name That Tune online
Episodes of Name That Tune are set to air on Wednesdays at 9 p.m. ET / 8 p.m. CT, when they will air after one of Fox's biggest 2021 debuts, The Masked Dancer.
Watching episodes online is simple. The show is available to watch on a live stream on the Fox website and app, and episodes will be made available on the site shortly after they air on TV.
In the lead-up to the release of the first episode, Fox has created a Name That Tune page on its website with clips from the show that give game show fans an idea of what to expect.
In one of these, Krakowski jokes about the show, "if you love hearing just four-second snippets of classic tunes, then this is the show for you." In the same video, Jackson calls the new version "the same show but with a modern twist."
The official synopsis for the show, meanwhile, reads: "Hosted by Jane Krakowski, the beloved musical game show tests contestants' music knowledge as they battle it out in an assortment of challenging musical games for cash and prizes.
"Two players race against the clock to test their knowledge of songs performed by a live band with Randy Jackson as band leader. Each contest features a rotating variety of games from the original format, before the iconic bid-a-note round.
"The player with the most money at the end of bid-a-note wins the game and takes his or her bank into the golden medley bonus round for a chance to win additional cash, and potentially, the $100,000 grand prize."
Name That Tune airs Wednesdays at 9 p.m. ET / 8 p.m. CT on Fox.