Pelosi Draws Republican Fire Over Dismissive Columbus Statue Comments
House Speaker Nancy Pelosi (D-CA) has faced a backlash from GOP lawmakers after stating she was unfazed by a statue of Christopher Columbus being pulled down and thrown into the harbor in Baltimore.
Pelosi, who is from the city, was asked her thoughts on the incident which occurred on July 4 and said the community should decide what monuments are on display.
"If the community doesn't want the statue there, the statue shouldn't be there," she said, at a press conference on Thursday. "It doesn't diminish my pride in my Italian American heritage and the fact that it was a country discovered by an Italian and named for an Italian, Amerigo Vespucci. So I have that pride but I don't care that much about statues."
Asked whether statues should be removed by a commission or the city council "not a mob in the middle of the night," she said: "People will do what they do.
"I do think that from a safety standpoint I do think it would be a good idea to have it taken down if the community doesn't want it."
Taking particular issue with her "people will do what they do" comment, House Minority Leader Kevin McCarthy said: "Speaker Pelosi's job is to write laws. Instead, she encourages mobs to break them."
He accused her of being "complicit with criminal activity," in his tweet on the matter. Maryland Governor Larry Hogan said Pelosi had "lost touch with the Baltimore community."
"While efforts towards peaceful change are welcome, there is no place in Maryland for lawlessness, vandalism, and destruction of public property," he said. "Our state and our nation need room for more constructive dialogue, not destruction."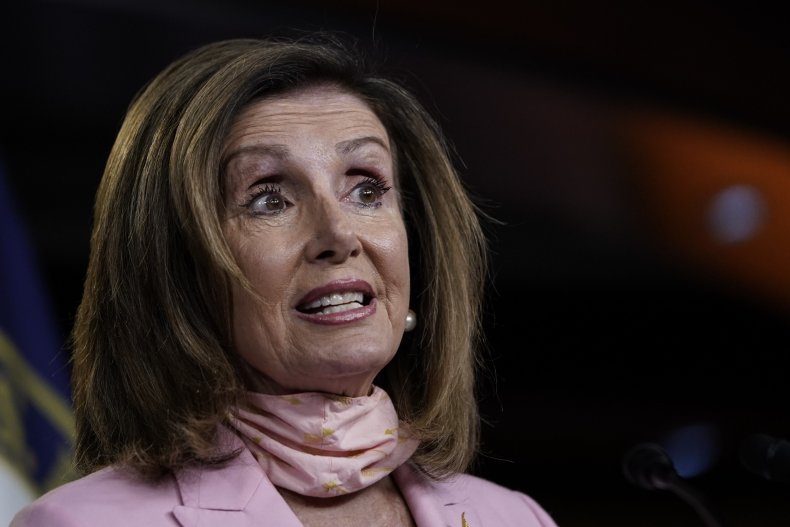 Republican California state Senator Brian Jones branded Pelosi's comments "dangerous."
He tweeted: "Speaker Pelosi's cavalier condoning of rioters' destruction is disgusting and dangerous."
Rep. Mike Rogers (R-AL) said Pelosi "sided with the mob against law abiding Americans."
Her comments come amid a spate of statues being torn down in protests, with demonstrators toppling those where the person they depict has had a problematic history.
A number of Columbus statues have been targeted across the United States.
Democratic presidential candidate Joe Biden said he believes statues of Columbus should be protected.
President Donald Trump has made clear his opposition to statues being pulled down, having threatened that those who target monuments which are federal property could face up to 10 years in prison.
Newsweek has contacted Pelosi, the White House, Biden and the other lawmakers for comment.