Nancy Pelosi: Democrats 'Pretty Much There' in Budget Deal as Biden Meets With Joe Manchin
House Speaker Nancy Pelosi said Sunday that Democrats are "pretty much there" in reaching a deal on the social spending bill, as President Joe Biden is set to meet with Senator Joe Manchin (D-WV) to discuss last-minute negotiations.
Speaking on CNN's State of the Union, Pelosi expressed confidence that the reconciliation bill would move forward quickly as Democrats seek to pair it with a bipartisan infrastructure bill by the end of the month.
"We're almost there. It's just the language of it," Pelosi told host Jake Trapper on Sunday, adding that "90 percent of the bill is agreed to and written."
"Senate [Majority] Leader [Chuck] Schumer, Senator Manchin and the president are having a meeting on some of the particulars that need to be finalized, and I'm optimistic that we can do that," she added.
Democrats are hoping to pass the spending bill to include measures on climate action, child care, health care and education in tandem with the infrastructure package through a budget reconciliation process. Since the Senate chamber is split 50-50, Democrats will need all members of their party to vote for the bill in order for it to pass.
However, moderate Democratic Senators Joe Manchin and Kyrsten Sinema have expressed opposition to the originally proposed $3.5 trillion budget on the bill. Now the bill is somewhere in the $2 trillion range, with Manchin stating earlier this month that he would be open to a figure between $1.9 trillion to $2.2 trillion.
On Sunday, Biden will host both Manchin and Schumer in Delaware in hopes that the lawmakers will make inroads on the framework, according to Politico. Previous measures such as the Clean Electricity Performance Program, which would incentivize utilities to use clean energy sources, have been taken out of the package after Manchin expressed opposition.
Other issues, including Medicare expansions, increasing tax rates on corporations, and free community college, may also be overhauled as Democrats seek to make last-minute adjustments. Negotiations now hinge on making enough cuts to get Manchin and Sinema onboard, while also ensuring that enough progressive priorities are maintained.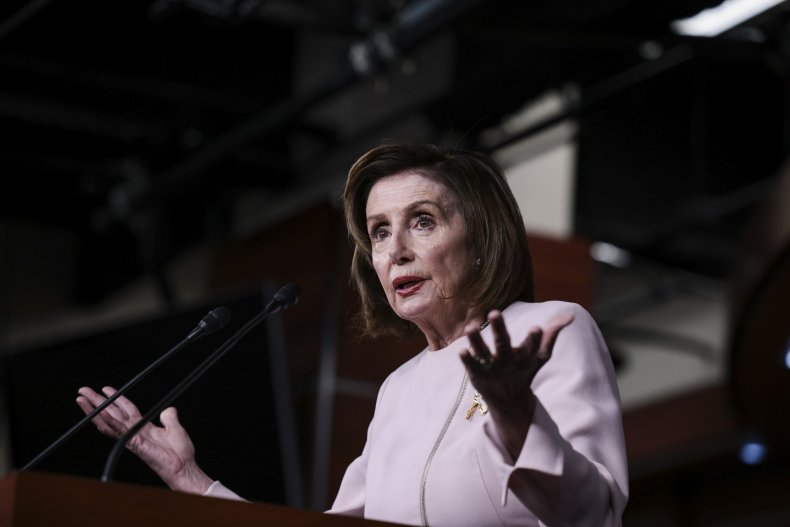 On Sunday, Pelosi said that while the social spending bill is less than what was originally projected, she feels confident that there will be sufficient legislation to meet Biden's goals.
"It is still bigger than anything we have ever done in terms of addressing the needs of America's working families," she told CNN. "We will have something that will meet the president's goals. I feel very confident about that, even though it will be different from what we originally proposed."
Newsweek contacted the White House for additional comment but did not hear back in time for publication.