Former House Speaker Nancy Pelosi repeatedly avoided questions about whether Vice President Kamala Harris is the best running mate for President Joe Biden in 2024 in an interview with Anderson Cooper.
The Democrat, who last week announced that she'll run for re-election to Congress next year, told Cooper on CNN: "[Joe Biden] thinks so, and that's what matters."
After Cooper asked if Pelosi agreed with what Biden thinks of Harris, the former House speaker said that the vice president is "very politically astute."
"I don't think people give her enough credit," Pelosi said, adding that "of course" her values align with the president's.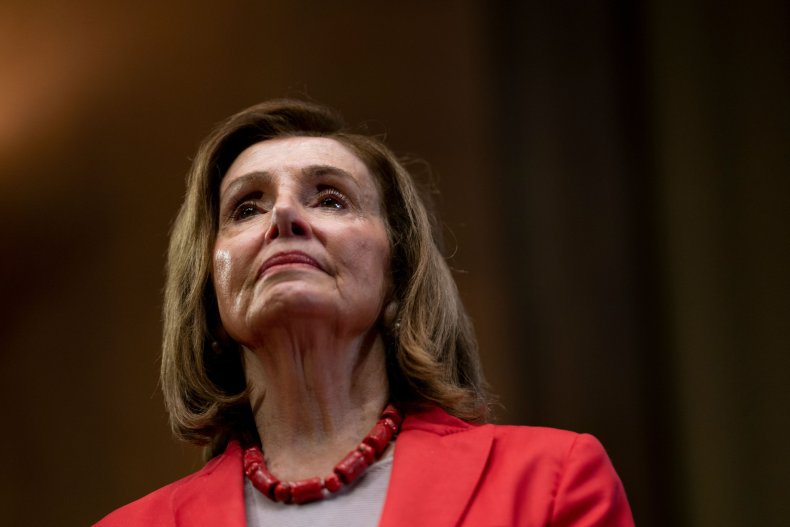 "People don't understand she's politically astute. Why would she be vice president if she were not?" Pelosi added. "When she was running for attorney general in California she had 6 percent in the polls. Six percent in the polls. And she politically astutely made her case about why she would be good...and became attorney general."
"People shouldn't underestimate what Kamala Harris brings to the table," she said.
After her tepid praise of Harris, Cooper asked for a third time whether Pelosi thought she was the best running mate for Biden.
Pelosi responded: "She's the vice president of the United States. People say to me, 'Why isn't she doing this or that?' Because she's the vice president, that's the job description. You don't do that much. You're a source of strength, inspiration, intellectual resource, and the rest, and I think she's represented our country very well at home and abroad."
Aaron Bennett, spokesperson for Pelosi, told Newsweek on Thursday about the interview with CNN: "Last night, Speaker Emerita Pelosi, as always, heaped praise on the vice president—saying that she is values-based, politically astute and represents our country very well at home and abroad. Today on Morning Joe, Pelosi reiterated her staunch, unequivocal support for the Biden-Harris team."
On Morning Joe, Pelosi said: "The Biden-Harris team is our team. We're very proud of it. And we're all going to work very hard to make sure that they are re-elected."
Harris has been handling difficult tasks since taking office, including tackling issues like poverty, violence, corruption and climate change, considered the root causes of migration from Central America.
Biden's choice of Harris as his running mate for 2024 has been the subject of debate since the president announced he was running for re-election earlier this year, especially as the vice president's popularity has taken a plunge since she took office in 2021—as has Biden's.
As of September 11, polls show that 52.7 percent of Americans disapproved of Harris, according to polling aggregator FiveThirtyEight, while 39.5 percent approved of the vice president. By comparison, 54.4 percent of Americans disapproved of Biden as of September 12, while 40.9 percent approved.
On January 21, 2021, a majority of 54.7 percent of Americans approved of Biden, while 55.2 percent approved of Harris as of April 1, 2021.
Harris' popularity suffered greatly in the first two years of the Biden presidency due to the issues she was tasked with, including immigration, a challenge which Harris found no easy win to bring home.
Update 9/15/23, 3:10 a.m. ET: This article has been updated to include a comment from Nancy Pelosi's spokesperson.