Nancy Pelosi Makes Huge Flip-Flop Over Stock Trading Ban
House Speaker Nancy Pelosi has said she would accept a ban on Congress members owning and trading individual stocks, appearing to back track on her previous stance.
The Democrat has previously opposed a ban on the controversial practice, which has come under fire in recent months, arguing the U.S. was a free market.
At her weekly press conference on Wednesday, however, Pelosi revealed she had asked the House Administration Committee to produce new stock-trading legislation. She expected "they will have it pretty soon," she said.
In addition, Pelosi said she wanted any stock-trading limitations to also apply to the judicial branch of government, including the Supreme Court.
"It has to be governmentwide," she told reporters. "The judiciary has no reporting. The Supreme Court has no disclosure. It has no reporting of stock transactions, and it makes important decisions every day."
Disclosure rules on stock ownership and trading already apply to Congress members and those in government.
They are required to disclose their stock trades and trades made by family members under the 2012 STOCK Act and those disclosures have to be made within 45 days.
The act makes it illegal for members to use information from their work for personal gain.
Pelosi's own disclosures last year showed trades in Apple, Amazon, Tesla and Microsoft.
Her financier husband, Paul Pelosi, made trades worth around $5 million in big tech companies last year.
During a press conference on December 15, 2021, Pelosi appeared to rule out banning members of Congress and their spouses from trading stocks.
When she was asked directly whether she supported a ban, she said: "No, I don't."
"We have a responsibility to report [...] on the stock," Pelosi said.
Asked why such trades shouldn't be stopped, she replied: "Because this is a free market and people—we are a free market economy. They should be able to participate in that."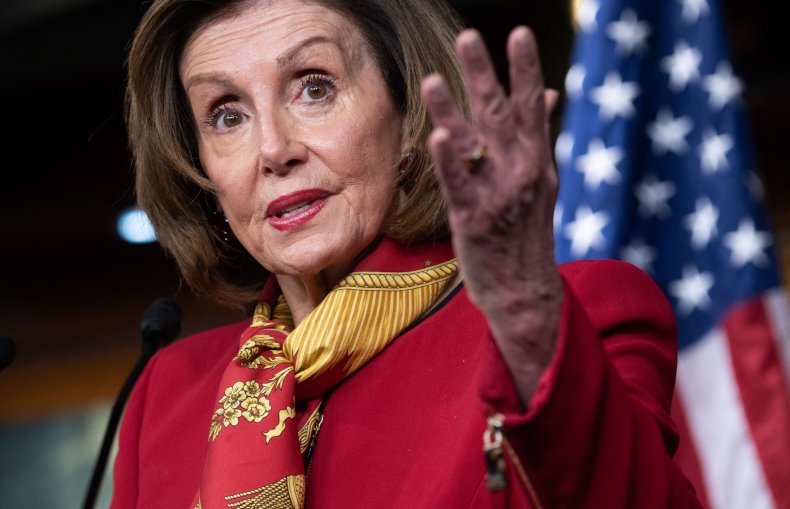 Pelosi's attitude appeared to soften to a degree by January 20, 2022 when she told journalists at a press conference that she could be willing to back a stock trading ban if members of Congress wanted one.
Nonetheless, she appeared skeptical of the idea and said that allegations of insider trading were a matter for the Department of Justice.
"Now, if the impression that is given by some that somebody's doing insider trading, that's a Justice Department issue," Pelosi said.
"That's a Justice Department issue, and that has no place in any of this. But, to give a blanket attitude of 'we can't do this and we can't do that because we can't be trusted' - I just don't buy into that. But, if Members want to do that, I'm OK with that," the speaker said.
In late January, a bipartisan group of 27 lawmakers wrote a letter calling on Pelosi and Minority Leader Kevin McCarthy to ban members of the House from owning or trading in stocks.
Democratic Senators Mark Kelly of Arizona and Jon Ossoff of Georgia also introduced a bill in January—the Ban Congressional Stock Trading Act—that would require members of Congress, their spouses and dependent children to place stock portfolios into a blind trust.
Newsweek has asked Nancy Pelosi's office for comment.