U.S.-China Relationship Faces Critical Weeks to Avoid 'Crisis': White House
House Speaker Nancy Pelosi's visit to Taiwan on Tuesday has left U.S. and China relations in a rocky place as the U.S. braces for a response from Beijing to Pelosi's stop on the island.
White House National Security Council Strategic Communications Coordinator John Kirby told reporters that although the U.S. doesn't want to see Pelosi's trip "spiral into any kind of a crisis or conflict," and while President Joe Biden is working to keep lines of communication with Chinese President Xi Jinping open, it will ultimately "depend a lot on how China behaves over coming days and weeks."
The House speaker visited the capital of Taipei on Tuesday in the first visit to the island by a high-level U.S. official in 25 years. The Chinese Communist Party had cautioned that it would take "forceful action" should she visit, although no hostile response has taken place yet.
On Tuesday, Kirby said that the president respects Pelosi's decision to go to Taiwan, as he does with the overseas travels of all congressional lawmakers, and noted that the trip was "perfectly consistent with American policy, going back decades and supported by both parties."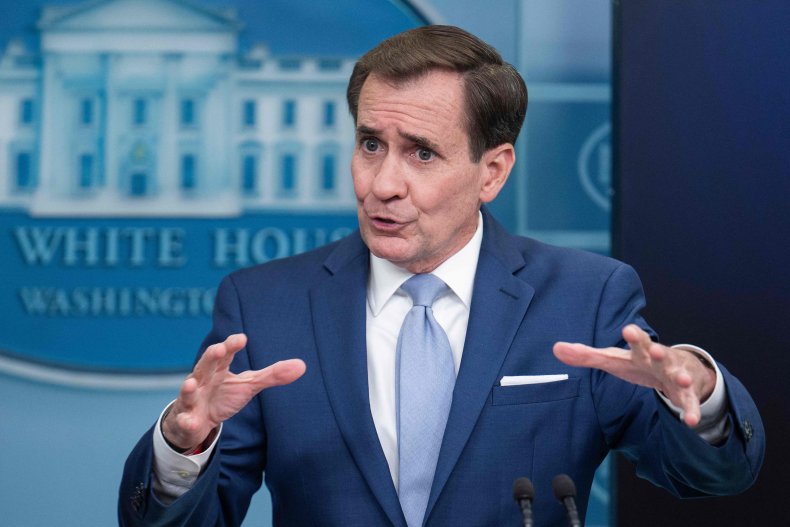 The last time a House speaker visited Taiwan was in 1997 when Republican Newt Gingrich traveled to the island.
Kirby stressed that there is "no reason for China to take what is a perfectly legitimate and consistent travel by the speaker of the House and turn it into some pretext for amping up the tensions or create some sort of crisis or conflict."
"She's not acting, we're not acting, in any way inconsistent with the way we've been acting now, for decades, since the Taiwan Relations Act was passed into law in the late '70s," Kirby said.
He said that while the U.S. remains firm in its long-held stance on the One China Policy—reiterating that the nation does not support Taiwan independence but does support the territory's right to self-defense—the White House would watch and monitor any threats coming from China.
Pelosi's trip came after Biden spent two hours on the phone with Xi last week, explaining to his Chinese counterpart that he does not control Pelosi and that she has the right to make her own decision.
But Beijing seemed unsatisfied with that answer, telling reporters that "China is standing by, the Chinese People's Liberation Army will never sit idly by, and China will take resolute responses and strong countermeasures to defend its sovereignty and territorial integrity."