Is Nancy Pelosi's Time As Democrats House Leader Over?
Speaker of the House Nancy Pelosi has been leading Democrats in the House of Representatives for almost 20 years, but her political future is once again the subject of speculation as her party looks set for major midterm defeats.
Pelosi previously said she would not remain in the leadership beyond 2022, yet has made no formal announcement that she will not seek to continue following this year's midterm elections.
CNN reported in December that Pelosi had not ruled out staying in the top job after the midterms, citing sources familiar with her thinking, and her announcement in January that she's seeking re-election in her district has added to the debate about her plans.
Pelosi was elected to lead House Democrats following the 2002 midterm elections and took up her post as House Minority Leader in January 2003. She served in the role until becoming Speaker of the House in 2007. Following another round as House Minority Leader in 2011, she was reinstated as Speaker in 2019. She is the first woman to lead either party in Congress and the first female speaker. Pelosi is also the first former speaker to return to the role since the 1950s.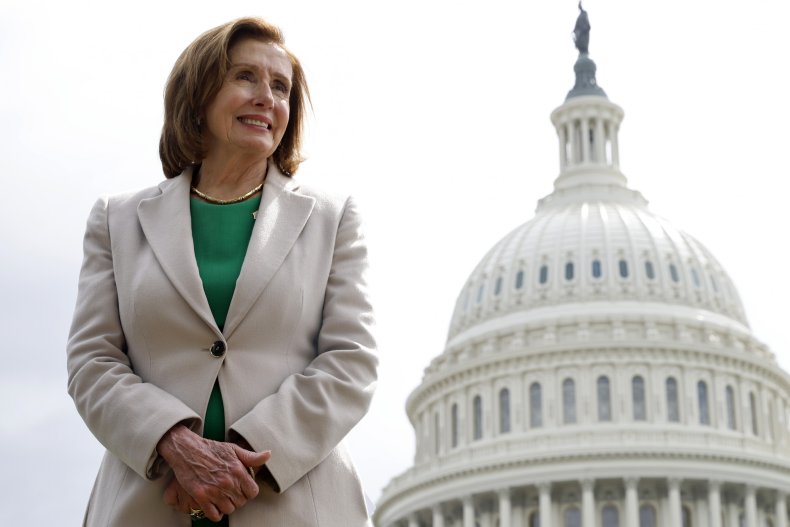 Pelosi's Polls
A Morning Consult poll conducted in February found that 60 percent of registered voters surveyed believed Pelosi should step aside from the Democratic leadership. Another 24 percent said she should remain and 16 percent did not know or had no opinion.
However, the poll also found that 49 percent of Democrats wanted her to remain in the role, compared to 33 percent who thought she should leave, and 18 percent who did not know or had no opinion.
Analysis from YouGov America found that Pelosi had an unfavorable rating of 54.3 percent as of June 9, 2022, while 38.2 percent of registered voters had a favorable view of her and 7.5 percent didn't know.
Those numbers are unlikely to affect Democrats' thinking, however. The outcome of this year's midterms—and the potential loss of the House—are far more likely to decide Pelosi's future.
Poll tracker FiveThirtyEight's generic congressional ballot showed Republicans with 44.6 percent support to Democrats' 42.7 percent support as of June 28. A recent upset loss in a Texas House district with a large Hispanic population and a history of electing Democrats also appears to be a bad sign for the party heading into November.
If Democrats lose the House this year, Pelosi's position could become significantly more difficult.
Promising To Leave
In 2018, Pelosi struck a deal with some House Democrats who were threatening to vote against her re-election bid. She agreed to allow a vote on term limits for the top three leadership positions and to abide by the proposed term limits even if the measure didn't pass.
The proposal would have prevented Democratic leaders from serving beyond the 117th Congress, which is the current Congress, but it never came up for a scheduled vote due to a partial government shutdown and was then shelved.
Nonetheless, in November 2020 Pelosi said she would abide by the unofficial limits.
"There was a move to put limits on the leadership and the chairs of committees. They said they were going to do it, they didn't do it," the California congresswoman said. "But what I said then was whether it passes or not, I will abide by those limits. I can't wait to be working with Joe Biden...I don't want to undermine any leverage I may have, but I made the statement."
Pelosi has since batted away questions about her future and that has led to speculation that she could try to remain as leader into 118th Congress. It's also possible that Pelosi has chosen not to announce her retirement due to fears of becoming a lame duck during her final months.
Choosing a Successor
Though it is not yet clear whether Pelosi will seek to remain as leader, if she chooses to step down House Democrats will proceed to elect her successor. It's not possible to know who the candidates might be at this stage but there has been speculation for some time that New York Representative Hakeem Jeffries is the favorite.
Jeffries has been chair of the House Democratic Caucus since 2019 and at age 51, he is significantly younger than the top three Democrats in the House, all of whom are over 80. Jeffries would therefore represent a new generation of Democrats but that doesn't guarantee he'll win an open race without Pelosi in it.
There are further implications of Pelosi retiring. If she respects the unofficial term limits proposed in 2018, it's not clear that Hoyer and Clyburn will follow suit. If they do, that would mean an entirely new leadership team at the top of the party—potentially leading the minority in a Republican-controlled House.
In their 2022 book, This Will Not Pass: Trump, Biden, and the Battle for America's Future, political reporters Jonathan Martin and Alex Burns wrote that not even Pelosi's husband knows when she plans to retire. She may still surprise Democrats with her decision.
Newsweek reached out to Nancy Pelosi's office for comment.