Nancy Pelosi Touts 'Progress' on New Stimulus Deal, But Blames Republicans for Delays
Speaker of the House Nancy Pelosi, a California Democrat, said that there has been "progress" on economic stimulus negotiations but blamed Republicans for ongoing delays.
Trump on Saturday tweeted: "OUR GREAT USA WANTS & NEEDS STIMULUS. WORK TOGETHER AND GET IT DONE. Thank you!" During an interview with CBS News' Face the Nation, Pelosi was asked if the president's tweet suggested an agreement had been reached.
"No, it means that we want to see that they will agree on what we need to do to crush the virus, so that we can open the economy and open our schools safely." the top Democrat said.
Asked whether they are closer to a deal, Pelosi responded: "Well, we're making progress."
She suggested Republicans are holding up further stimulus. "It just depends on if they understand what we have to do to crush the virus," Pelosi said. "You can't just say we need to do something, but we're going to let the virus run free."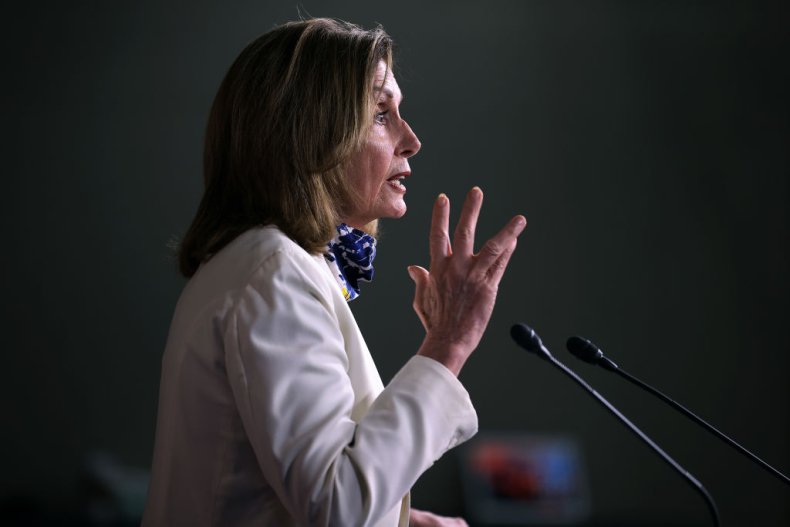 Newsweek reached out to the White House and Senate Majority Leader Mitch McConnell's press secretary for comment, but they did not respond by the time of publication. McConnell, a Kentucky Republican, suggested on Saturday that he had discussed stimulus with Trump during a phone conversation. The president is currently hospitalized at Walter Reed National Military Medical Center after being diagnosed with COVID-19.
"Just had another great call with @POTUS. He sounds well and says he's feeling good. We talked about the people's business — fighting the pandemic, confirming Judge Barrett, and strengthening the economy for American families," McConnell tweeted.
Negotiations surrounding another round of financial stimulus to address the economic fallout of the pandemic have been mired by delays since summer. Although lawmakers came together in a bipartisan way in March to pass the $2 trillion CARES Act stimulus package, a second round of stimulus has been stymied by partisan disagreements.
In May, the Democrat-controlled House of Representatives passed the $3 trillion HEROES Act, but it was rejected by the GOP-controlled Senate and the White House has a Democratic "wish list." Negotiations remained at an impasse until late July, when McConnell unveiled the $1 trillion HEALS Act, but that failed to garner even enough Republican support to pass the Senate. Republicans in September attempted to pass a significantly smaller package, which was unsuccessful as well.
Many GOP lawmakers are concerned about the high price tag of stimulus packages, and disagreements remain over funding priorities. However, all sides are supportive of sending another round of $1,200 direct stimulus checks to most Americans. While Republican and Democratic proposals have included additional federal unemployment insurance for jobless workers, Democrats aim to renew $600 payments included in the CARES Act while GOP lawmakers want a lower amount.
On Thursday evening, the House passed a $2.2 trillion package following unsuccessful negotiations between Pelosi and Trump's Treasury Secretary Steven Mnuchin, who has been leading stimulus discussions for the White House. Mnuchin had put forward a $1.62 trillion package as a compromise, but disagreements remained.
Prior to the House vote, Mnuchin said that Trump had given the greenlight to raise the price tag significantly. The president "instructed us to come up significantly, so we have come up from the trillion-dollar deal that we were working on earlier," the treasury secretary told Fox Business on Wednesday.