GOP Senator Suggests New Stimulus Deal Could Pass In 'Tight Time Frame' With Limited Republican Support
Senator Mike Braun, an Indiana Republican, suggested on Thursday that a new COVID-19 stimulus package could pass through the Senate in a "tight time frame" with limited GOP support.
Negotiations between Treasury Secretary Steven Mnuchin and Speaker of the House Nancy Pelosi, a California Democrat, resumed this week, with both sides expressing optimism about a compromise, after months of deadlock. The Democrat-controlled House of Representatives postponed a vote on a new $2.2 trillion relief package on Wednesday, as Mnuchin and Pelosi agreed to negotiate further. Republicans and the White House have expressed concerns regarding the high price tag, previously putting forward significantly smaller packages.
"For many Senate Republicans, it will be the top line figure, regardless of the content," Braun, who sits on the Senate Budget Committee, said during an interview with CNBC's Squawk Box. "That was reflected in ours, but that doesn't mean that you might not get 10 to 15, maybe 20 Republicans in the Senate that may go along with what the Senate Democrats would be OK with," the GOP senator explained.
"It will happen, I think, in a tight time frame," Braun added, pointing out that Senate Republicans want to move forward with the confirmation process of President Donald Trump's Supreme Court nominee Amy Coney Barrett.
Newsweek reached out to Mnuchin and Senate Majority Leader Mitch McConnell, a Kentucky Republican, for comment, but they did not respond by the time of publication.
If McConnell agreed to put a stimulus deal between Democrats and the White House to a vote, it could potentially pass with the support of 10 to 15 Republicans as Braun suggested. The GOP-controlled Senate is currently composed of 53 Republicans, 45 Democrats and two independents who caucus with their Democratic colleagues.
Several prominent Republicans, including Senators Rand Paul of Kentucky and Ted Cruz of Texas, have expressed significant opposition to the high price tags of previous stimulus proposals. But the White House appears less concerned about the large number. Although Mnuchin said that $2.2 trillion would not happen, he told Fox Business on Wednesday that Trump "instructed us to come up significantly, so we have come up from the trillion-dollar deal that we were working on earlier."
Negotiations over a new round of economic stimulus have made little headway since the spring. While lawmakers came together in a bipartisan manner to pass the massive $2.2 trillion CARES Act in late March, they have remained at an impasse over a follow-up package. In May, the Democrat-controlled House of Representatives passed the $3 trillion HEROES Act, but GOP lawmakers dismissed this as a "wish list."
Then in July, McConnell and the White House put forward the $1 trillion HEALS Act. But that failed to garner even enough Republican support to pass in the GOP-controlled Senate. In early September, Senate Republicans put forward a smaller package, dubbed the "skinny" stimulus proposal. But that was blocked by Democrats and Paul.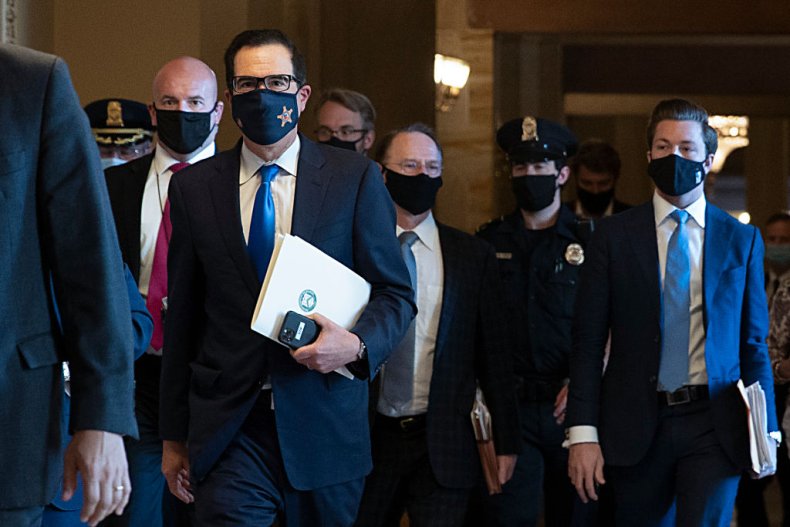 Roll Call reported on Wednesday evening that Mnuchin has now offered a $1.62 trillion plan to Pelosi, as negotiations continue. While areas of disagreement remain, Democrats, Republicans and the White House all support providing another round of $1,200 direct payments to most Americans.
Additionally, a new stimulus package would again provide additional federal unemployment benefits, although the weekly amount remains under negotiation. While Democrats want to renew the $600 per week that was included in the CARES Act—which expired at the end of July—the Trump administration plan offers just $400.
The discussions continue as unemployment and new jobless claims remain at historic levels, despite improving over the past couple of months. More than 800,000 new unemployment claims were filed in the week ending September 26 as nearly 12 million workers filed continuing claims, according to the Department of Labor's weekly report released Thursday.
Numerous industries have also warned that they may be forced to cut thousands of more jobs in the coming months without further federal assistance.