'Skinny' Stimulus Plan From Republicans Branded 'Emaciated' by Sen. Schumer
Senate Minority Leader Chuck Schumer (D-NY) has criticized a so-called skinny stimulus bill expected to be proposed by Republicans in the upper chamber of Congress and suggested emaciated would be a more apt description.
Republicans in the Senate are expected to bring forth the cut down proposals next week, amid stalled talks on securing a bipartisan agreement.
Democrat figureheads Sen. Schumer and House Speaker Nancy Pelosi (D-CA) have been in discussions with Treasury Secretary Steve Mnuchin and White House Chief of Staff Mark Meadows, in a push to agree a deal suitable to both sides of the aisle.
No such breakthrough has come, with each side insisting they want to breach the impasse but blaming the others apparent lack of compromise for the delay.
"Democrats have negotiated in good faith and we have offered to meet our Republican counterparts in the middle, but the White House has refused to make any significant compromise," Schumer said in a letter to Senate Democrats.
Taking aim at the suggested skinny proposals, he said: "According to reports, the Republicans are now moving even further in the wrong direction. In the upcoming session, Leader McConnell and the White House may cut their original, inadequate, $1 trillion 'skinny' bill in half.
"Republicans may call their proposal 'skinny,' but it would be more appropriate to call it 'emaciated.'
"Their proposal appears to be completely inadequate and, by every measure, fails to meet the needs of the American people. With no money for rental assistance, no money for nutrition assistance, and no money for state and local services, the census, or safe elections, Leader McConnell and Senate Republicans would be making another unacceptable and ineffective attempt at providing relief."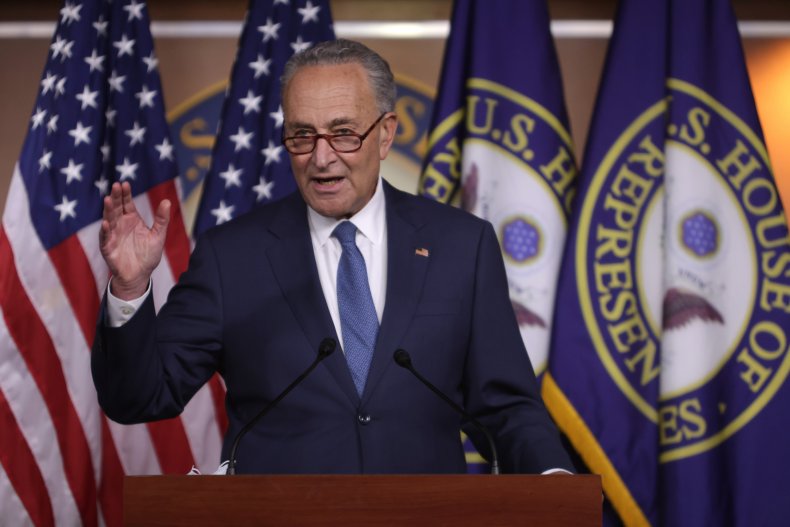 Senate Majority Leader McConnell (R-KY) has spoken of his doubt an agreement on a deal can be reached, though expressed his belief further relief is needed.
Schumer said a bipartisan agreement would also be his ideal outcome.
"As the pandemic continues to spread and our economy continues to falter, the American people need our help and deserve a bipartisan and bicameral bill that meets the needs of the nation," he said.
"We should strive for, and hope we can achieve, another comprehensive, bipartisan bill that meets the moment facing our nation."
Mnuchin also earlier this week said he and President Donald Trump want to move forward and would like to see an agreement reached amid the stalled talks.
The HEROES Act, proposed by Democrats, was passed by the House in May, though described as dead on arrival upon reaching the Senate.
A major point of contention has been spend, with the Republican Senate leadership and the White House looking to spend around $1 trillion, while the HEROES Act proposed around $3.4 trillion be spent.
The Dems have said they would compromise at a $2.2 trillion cap, though the White House has continued the push to spend less but expressed openness to potentially spending more further down the line. Democrats have pushed for a package to be encompassing of all the issues they wish to address, rather than tackling points in a piecemeal fashion.
As talks have rolled on to no avail, many people feel a deal will not be reached by Congress at any point, according to polling.
This comes despite the bipartisan calls for further relief and the suggestion that voters on both sides agree upon certain key aspects of stimulus, such as another round of economic impact payments being made.
Newsweek has contacted Schumer, McConnell and the White House for further comment.