Nancy Pelosi: Trump's Stonewalling 'Beneath the Dignity' of Presidency, Hopes Democrats Don't Impeach
President Donald Trump continues to rebuff Democrats' demands as they conduct congressional investigations into his administration for potential abuses of power and obstruction. House Speaker Nancy Pelosi on Thursday labeled the tactics as "a joke" while reiterating her hope to avoid initiating impeachment proceedings.
A White House letter refusing to turn over documents and testimony requested by House Democrats as part of a sweeping investigation infuriated Judiciary Committee members Wednesday, giving way to Democratic Chairman Jerrold Nadler's threats to impose "very large" contempt fines and even potential jail time for those who refuse to comply with subpoenas. White House counsel Pat Cipollone categorized Democrats' information demands as having no "legitimate legislative purpose" and were pursuing an "unauthorized 'do-over'" of the Mueller report and, therefore, should cease their inquiries.
"That letter that came from the White House was a joke, beneath the dignity of the presidency of the United States, in defiance of our Constitution. Shame on them," Pelosi said. "It says the president is above the law and Congress has no right to investigate any of the actions of the president, hold him accountable in any way."
The letter didn't sit well with other Judiciary Committee Democrats either, who indicated to Newsweek that the White House's refusal to comply with subpoenas was making it increasingly more difficult to avoid impeachment proceedings.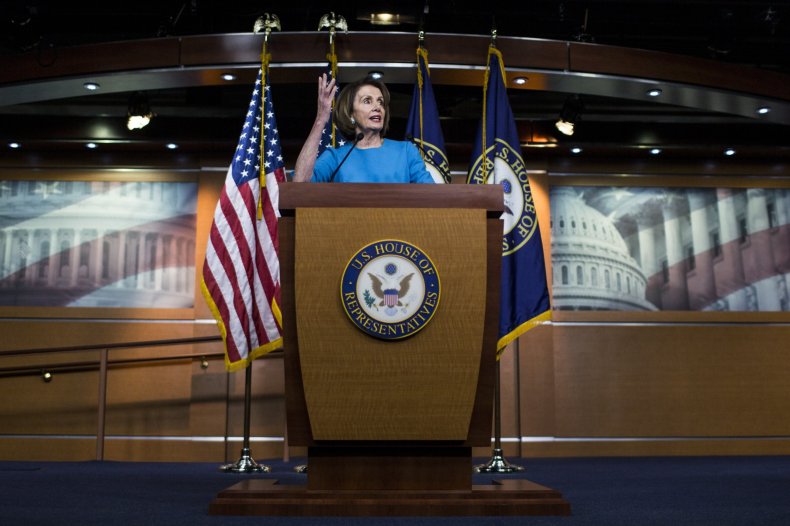 "I think this sort of behavior definitely raises the specter of us being forced to proceed with an impeachment proceeding for the obstruction of Congress' investigative responsibilities," said Representative David Cicilline, a Rhode Island Democrat and Judiciary member.
Nadler told reporters that "the president's posture now is making it impossible to rule out impeachment or anything else."
The speaker pushed back on Cipollone's assertion that Congress lacked "legislative purpose," saying that the Constitution grants them the authority to conduct oversight and investigate for potential impeachment.
"One of the purposes that the Constitution spells out for investigation is impeachment," she said. "So, we can say, and the courts would respect, that we need this information to carry out our oversight responsibilities. Among them is impeachment. It doesn't mean you're going on an impeachment path, but it means, if you had the information, you might."
Since retaking the speaker's gavel and ushering in one of the most diverse and progressive class of freshmen Democrats, Pelosi has repeatedly tamped down calls from the liberal wing of the party to begin impeachment. Time and again, she's labeled Trump as "not worth it" and told her Democratic caucus to continue down the path of investigating and collecting evidence before determining what—if any—drastic measures they should take. Rank-and-file Democrats, for the most part, continue to fall in line, as is apparent by various committees subpoenaing Trump officials and documents, in addition to enforcing those subpoenas with contempt proceedings when individuals fail to cooperate.
Pelosi emphasized that "nothing is off the table" when it comes to enforcing the subpoenas, as Nadler and Democrats weigh whether or not to take the inherent contempt route that would allow Congress to jail and/or fine individuals found to be in contempt by the full House. Attorney General William Barr was found to be in contempt by the Judiciary Committee last week.
Prompted whether the party was prepared to justify their demands for documents and testimony by telling a court that the party is prepared to seek impeachment, Pelosi said, "We hope we don't have to do that. We hope that they would respect their oath of office and respect this separation of powers."