Nancy Pelosi: Trump's Family Or Staff Should 'Have an Intervention for the Good of the Country'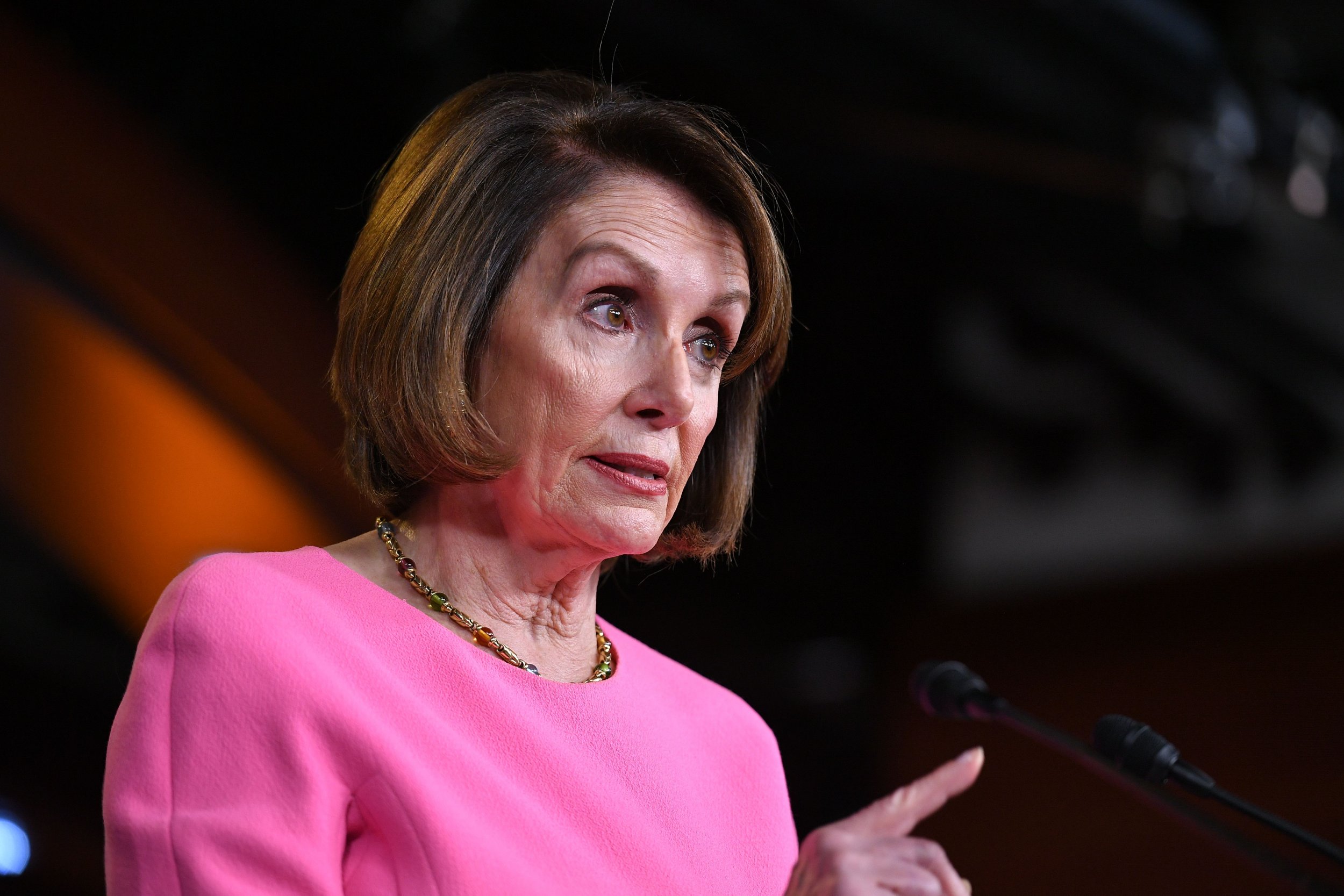 In an extraordinary news conference Thursday, House Speaker Nancy Pelosi lambasted President Donald Trump on the heels of a failed infrastructure agreement, calling into question his leadership capabilities and accusing the White House of "just crying out for impeachment."
The speaker suggested that Trump should be presented with "an intervention," in light of Wednesday's meeting where an allegedly furious president abruptly scrapped a $2 trillion infrastructure deal and scolded her and her Democratic colleagues for investigating his administration.
"Again, I pray for the president of the United States," Pelosi said. "I wish that his family or his administration or staff would have an intervention for the good of the country."
The California Democrat offered a similar prayer for Trump immediately following Wednesday's White House meeting, in which she and other Democratic leaders said he stormed out without discussing the details of a previously agreed upon deal to fund repairs for America's crumbling roads and bridges.
"I can only think that he wasn't up to the task of figuring out the difficult choices of how to cover the cost of the important infrastructure legislation we had talked about three weeks before," Pelosi said.
The meeting marked the third such one in recent months featuring herself, Senate Minority Leader Chuck Schumer and Trump that ended with drama but no deal. Now, Pelosi called into question whether Trump was truly the one at the helm of the administration.
"I said one time, 'Who's in charge here? Because you agree, and then all of a sudden something changes,'" she said about a conversation with the president. "He says he's in charge, and I suspect that he may be, even more so since yesterday because I don't think that any responsible assistant to the president of the United States would've advised him to do what he did."
In addition to his frustration with Democrats' various probes, Pelosi accused Trump of being upset that the party's leadership has not proceeded with impeachment proceedings amid growing calls from rank-and-file members to do so. She has long warned Democrats—both publicly and privately—not to succumb to what she considers the president's impeachment trap and denied to the press that there was any sort of division in the party on impeachment.
"What he is doing is an assault on the Constitution of the United States," Pelosi said of the White House's stonewalling of Democrats' investigations. "The president's behavior, in terms of his obstruction of justice, it's very clear. It's in plain sight. It cannot be denied. Yes, these could be impeachable offenses, but…we want to follow the facts to get the truth to the American people...and that the president is engaged in a cover-up."
Earlier that morning, White House press secretary Sarah Sanders reiterated Trump's stance that he will not work with the Democrats until their House investigations end.
"It's real simple—you can't go down two tracks," Sanders told CNN. "We're either gonna have to agree that we want to solve problems for the country…or we can fight."