Full-Time Nanny Claims She's Not Allowed To Eat Family's Food: 'I Quit'
A full-time nanny has shared that she quit her role after the family she worked for banned her from eating any of their food, and even wrote it into her contract.
The young woman shared her experience on TikTok in a viral video that has had over 1.8 million views. Brenna, who uses the name @braonain1 online, regularly posts content about her job as a nanny and currently works in Utah. She gained a following of 200,000 while working across the globe as an au pair in the U.K.
Despite most of her content advocating work as a nanny, her latest experience wasn't so great, as Brenna claimed a family refused her any of their food in the house.
Nannies, unlike babysitters, are expected to provide childcare, do school runs, prepare meals and essentially act as a placeholder family member for the day.
"POV: When the family you nanny for doesn't let you eat their food, so you bring the most random s**t," she wrote on-screen
Brenna showed that she had packed a plain bagel, protein chips, an orange, a lemon, banana, soup and water. For Brenna, it wasn't the added task of having to provide her own food that was a problem but the principle itself. "I've been a nanny for four years and never had a family do this, but I'm trying to make it work," she explained in a comment.
According to the nanny, the rule was even written into her contract—something that left viewers shocked. Her attempt at sticking it out, however, proved unsuccessful, as she shared that she eventually quit the job just days later.
Viewers were split by the family's rule on food, with many claiming that providing snacks and permission to eat food should be the norm, while others cited similar in-home jobs that don't offer this.
"I couldn't imagine not letting our nanny eat our food," wrote one user.
"I feel like this is a red flag on how they might treat you in the future," added another.
Some commenters felt differently.
"Home health aides don't usually eat the food in the homes they work in so i don't know. I don't really see a problem," noted one user.
Another voiced similar thoughts, writing: "I work in a home and would never expect to be provided food. I bring my own food and work 12 plus hour shifts."
According to Karen's Nanny Agency in Chicago: "There is really no norm on whether to provide food for the nanny or not. Some people would provide food because it is the polite thing to do. Generally, the etiquette surrounding this varies by family."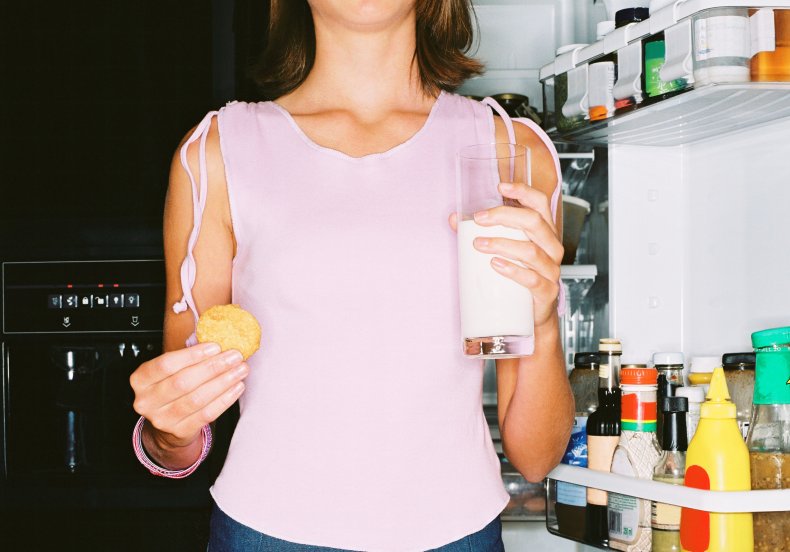 The company explained in a self-published article that some families encourage nannies to "help themselves" to the food in the house or make their own food with the groceries in the fridge, while others choose not to.
"A full-time, live-out nanny would usually pack her own lunch and would occasionally eat dinner in the family home if you have a last-minute schedule change. A part-time nanny would also bring her own food for lunch or may eat with your kids if she is in charge of the meal preparation," the company explained.
Being expected to bring your own lunch, however, is distinctly different from not being able to eat food as per a contract. It's also something outside the experience of most nannies, but not all, as shown by other comments on Brenna's post.
"I forgot my lunch bag during a 12 hour shift and the dad boss said 'you can have one granola bar' and followed up with 'I check the garbage,'" claimed one nanny.
Another family however shared a completely different outlook, claiming that they bought their nanny "special snacks and made her dinner. Literally anything for the person who takes care of my kids for me."
Newsweek contacted Brenna for comment.