National Guard Deployed Across U.S. In Case of Post-Election Unrest
National Guard troops have been pictured deploying in states across the U.S. as the race for the White House is in the final stretch. Ostensibly a precautionary measure, the citizen soldiers are deployed under the orders of state governors to help with Election Day issues, such as filling in as poll workers in civilian clothing, supporting medical services, and lending cyber-security expertise.
Against the backdrop of a volatile summer of civil protests, the specter of antifa, the rise of militia groups, frequent clashes between Donald Trump and Joe Biden supporters, and even plots to kidnap governors, the Guard could also be called on to help local and state police deal with any post-election unrest.
Philadelphia residents will likely be familiar with the Guard on their streets, as they were deployed to support police as the city has seen running nights of civil unrest following the police shooting of Walter Wallace Jr.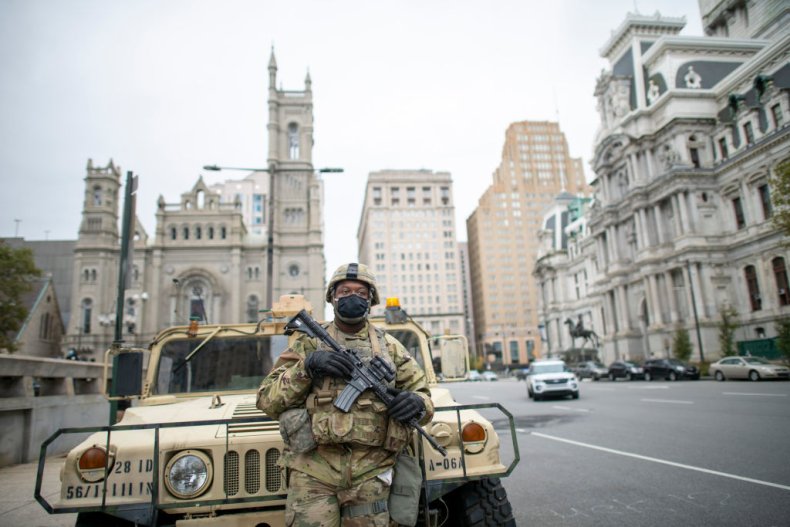 Massachusetts Gov. Charlie Baker issued the order on Monday for 1,000 National Guardmen to be activated.
"The goal here is to basically be supportive of local communities," Baker said at a press conference. "We've heard from a number of our colleagues in local government who asked us to make the guard available, if need be, later in the week."
Last week Newsweek reported how members of the Wisconsin National Guard will be assisting state election officials on Election Day, after an announcement by Wisconsin Governor Tony Evers's office.
In a press release sent to Newsweek on Thursday, Evers's office said roughly 400 members of the state's National Guard would function as poll workers. Wisconsin has suffered a shortage of election workers, many of whom are senior citizens, because of the COVID-19 pandemic.
"As Wisconsin faces an urgent crisis with more than 200,000 positive cases of COVID-19 across the state," Evers said, "the help of the Guard will be needed to ensure that election day goes smoothly and that voters and election officials alike have the assistance they need."
National Guard members in Kentucky are also expected to be utilized at polling places as support for election officials.
In the event of civil unrest, Alabama's National Guard is expected to provide units to the U.S. eastern region. In a statement published by the Military Times, the Alabama National Guard said that members chosen for that duty will "work in cooperation with local law enforcement in a supporting role."
In Texas, it was announced National Guard troops were expected to be sent to Austin, Dallas, Fort Worth, Houston and San Antonio before Election Day.
During a news conference last week, Texas Governor Greg Abbott said that the Texas National Guard were being deployed "in the event that there are any protests after the elections are concluded, that we will have adequate personnel in place to make sure that we will be able to address any protest that could turn into riots."
Abbott declined to reveal the number of troops being sent throughout the state.
Photos and video of the National Guard moving into positions have been posted to Twitter.
Posting a picture from Philadelphia of troops, one user said: "I've done a lot of things this year that I never expected to even in my wildest dreams. Packing a go bag for the next week is right at the top of that list. Seeing the National Guard protect an already looted Walmart with assault rifles also is on that list."
Also posting a picture from Philadelphia was Peter Krajewski @VoodooMediaTV who said: "Election 2020. National Guard on patrol in downtown Philadelphia, Pennsylvania."
Elsewhere, the Freedom's Defense Fund @FreedomsDF showed a picture of troops alongside a report about troop movements.
NBC News photographer George Mycyk filmed teh Guard arriving in Chicago.
Update 11/3/20, 13:45 p.m. ET: This article was updated to include more information about the National Guard deployment.