National Pizza Day Deals at Domino's, Papa John's, Little Caesars and More
National Pizza Day is today, and restaurants across the U.S. are celebrating with deals and discounts. With restaurants like Domino's and Little Caesars offering customers discounted pizza, and brands like Papa John's and Red Baron hosting contests, there are plenty of ways to honor this day dedicated to pizza.
This time of year is perfect for pizza fans, as National Pizza Week only took place in January.
National Pizza Day Deals
Alex's Awesome Sourdough
Casey's General Store
Chuck E. Cheese
Domino's
Little Caesars
Papa John's
Pasqually's Pizza and Wings
Pizza Hut
Pizza Time.xyz
Red Baron
Alex's Awesome Sourdough
Alex's Awesome Sourdough is offering a buy-one-get-one deal at every Sprouts location until February 10. The sourdough based frozen pizza comes in three varieties: mushroom, sunflower pesto, and mozzarella.
Casey's General Store
On National Pizza Day, Casey's General Store is offering two large single topping pizzas for $7.99 each. If you miss out on this offer, Casey's is also offering a buy one get half off any large pizza deal throughout the month of February.
Chuck E. Cheese
Chuck E. Cheese is celebrating National Pizza Day with a buy-one-get-one deal—get a free medium one-topping pizza when you purchase a large one-topping pizza, when you dine-in or order carry out. This deal is valid on February 9 only and does not apply to online ordering websites or third-party delivery.
Alternatively, Chuck E. Cheese is also offering free delivery via DoorDash in the U.S.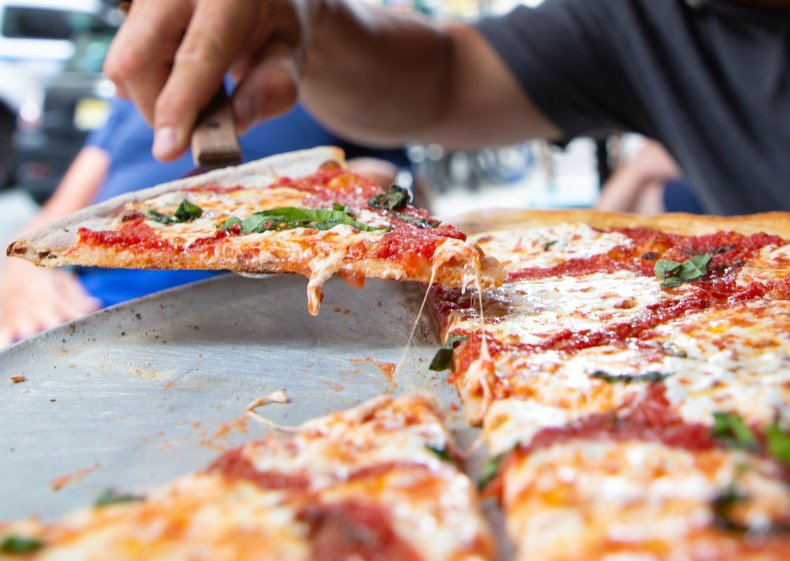 Domino's
Domino's is offering customers a large three-topping pizza or a 10-piece wing deal for $7.99 for carryout orders, and the choice of two or more select menu items for $5.99. Offers may vary by location, so check with your local Domino's for more information.
Little Caesars
Little Caesars is offering customers a large, round, three-topping pizza for $6.99 at participating locations through February 28, so you can celebrate National Pizza Day all month long.
Papa John's
Papa John's is selling its new Epic Stuffed Crust Pizza with one topping for $12 throughout the rest of February and is offering 25 percent off regular menu items with the promo code PEPSI25.
Pasqually's Pizza & Wings
Get a free large cheese pizza with a purchase of $25 or more when you order on pasquallyspizza.com, using the promo code PIZZADAY. Or, get a free large cheese pizza with a purchase of $25 or more via DoorDash or GrubHub, with no promo code necessary.
Pizza Hut
Get $5 off orders of $25 or more at Pizza Hut with the code VISAFIVE. Why not make the most of the code and try Pizza Hut's new Detroit-style pizza?
Pizza Time.xyz
PizzaTime.xyz, a pizza catering service for virtual parties and meetings, is offering a free pizza for every ten pizzas purchased, when booked before February 14 for parties taking place anytime in February.
Friends, family, or colleagues can set up a virtual pizza party with PizzaTime.xyz by selecting a date and entering the participants' email addresses. The pizza catering service will then send participants a link inviting them to choose a pizza, and on the day of the party, participants will receive a link to a virtual meeting and a pizza delivery at the right time.
Red Baron
Red Baron is giving 55 families each a year of free pizza, in honor of the 55th Super Bowl and National Pizza Day. To enter the contest, head to @redbaronpizza on Instagram and follow the account, tag a friend, and leave a comment stating your favorite Red Baron pizza and why it's your favorite. The contest will close on February 12.