National Rifle Association Throws Weight Behind Cawthorn Reelection
Following a rocky few weeks after accusing fellow GOP colleagues of inviting him to cocaine-fueled orgies, Republican North Carolina Congressman Madison Cawthorn's favorability may be increasing from his recent endorsement by the National Rifle Association (NRA).
During an interview in late March on the Warrior Poet Society YouTube channel, Cawthorn said he was invited to sexual get-togethers and witnessed drug use among politicians he looked up to, causing major backlash from GOP members including Republican House Minority Leader Kevin McCarthy. Following intense scolding from McCarthy, an April poll shows Cawthorn's ballot favorability dropped.
McCarthy said Cawthorn had "lost his trust" and that "he needs to take steps to turn his life around, or else there could be consequences," according to CNN's Capitol Hill reporter Melanie Zanona.
Cawthorn is now thankful for the NRA endorsement, hoping to win back GOP support.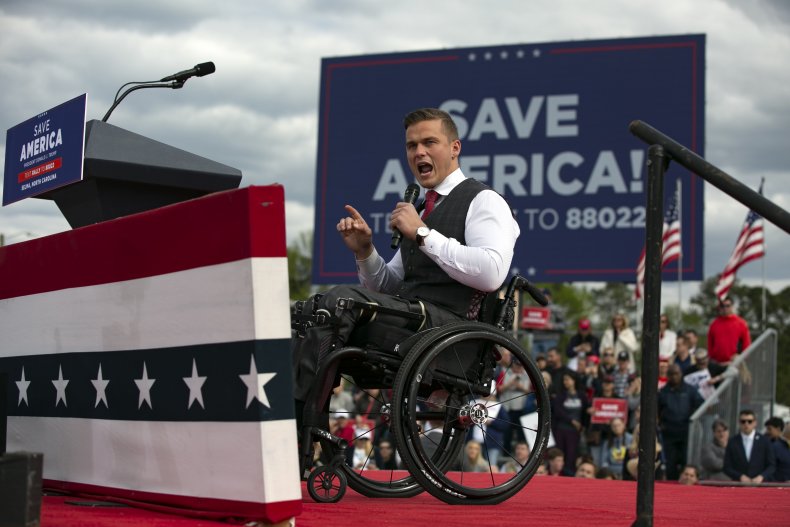 "Honored to be endorsed by the NRA for my reelection to Congress!," Cawthorn tweeted. "I will never stop fighting for your right to keep and bear arms!"
A recent poll memo obtained by Carolina Journal suggested that Trump-affiliated Cawthorn may be "in danger" as he gears up to go against fellow GOP members for western North Carolina's 11th Congressional District seat.
Campaign pollster Glen Bolger with Public Opinion Strategies conducted a survey April 2-4 with 300 North Carolina GOP voters likely to vote in the primary.
Bolger claimed Cawthorn's ballot support has dropped from 52 percent to 44 percent in the past three weeks.
Last month, Cawthorn led the polls by 32 points against GOP candidate Chuck Edwards, 52 percent to 20 percent. In the recent survey, Cawthorn lost 8 percent while Edwards gained 4 percent.
Cawthorn's recent NRA endorsement may be the boost he needs to win back GOP voters.
The NRA gives an "A" to candidates with a proven record of supporting the Second Amendment, while those who don't receive an "F" rating. Cawthorn was recently given an "A" rating from the association.
Cawthorn's rating makes him a "solid[ly] pro-gun candidate. A candidate who has supported NRA positions on key votes in elective office or a candidate with a demonstrated record of support on Second Amendment issues," according to the NRA.
While struggling in the polls, embarrassing pictures of Cawthorn surfaced on the internet Friday showing the congressman in lingerie. The photos were obtained by Politico.
"I guess the left thinks goofy vacation photos during a game on a cruise (taken waaay before I ran for Congress) is going to somehow hurt me? They're running out of things to throw at me," the congressman tweeted.
Newsweek reached out to the NRA and Cawthorn for comment.