Trump Rally-Goers Believe Cawthorn's Orgy Claim: 'Why Make That Up?'
Attendees of former President Donald Trump's North Carolina rally on Saturday said they believed GOP Representative Madison Cawthorn's claim that high-profile individuals in Washington, DC, invited him to an "orgy" and did cocaine in front of him.
In a March interview with Warrior Poet Society, Cawthorn said that leaders he "looked up to" invited him to an "orgy" and did a "key bump of cocaine" while he looked on. The North Carolina Republican contended that the popular Netflix show House of Cards, which presents the fictional story of a corrupt political couple in Washington, is largely representative of reality in the nation's capital.
Cawthorn received backlash and condemnation from fellow GOP lawmakers in Congress, who rejected the claims. House Minority Leader Kevin McCarthy, a California Republican, met with Cawthorn and later told reporters that Cawthorn exaggerated and said things that were false. McCarthy asserted, "he did not tell the truth" and that Cawthorn had "lost" his trust.
Despite the scandal, Trump welcomed the GOP lawmaker with open arms to speak at his rally in Selma. Those in attendance also expressed strong support for the Republican congressman, with some saying they believed his claims about how Washington, DC, operates.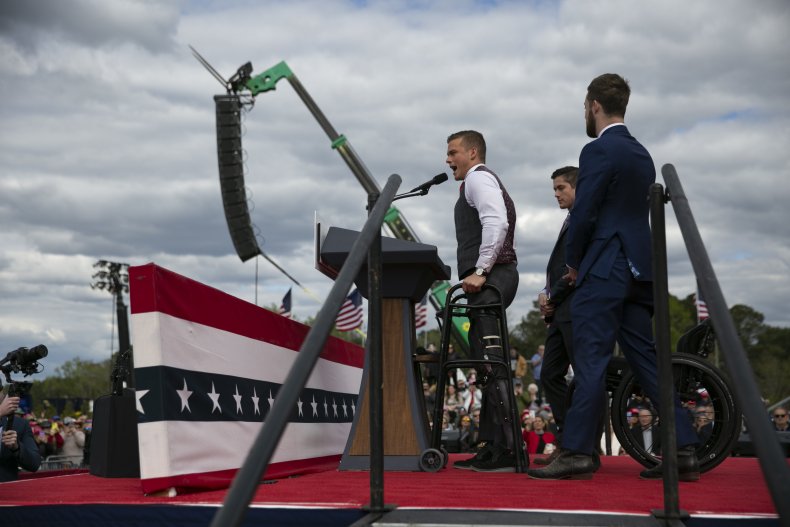 "I don't think he's lying," one rally-goer, Karen Mitchell, told The Daily Beast. "Why make that up?" Mitchell said that lawmakers were upset with Cawthorn because they "don't want anyone to know what they're up to."
Dylan Franklin, another attendee, appeared to dismiss the controversy, suggesting it wasn't a big deal. "It's murky water, especially in DC," he told The Daily Beast. "I don't know what to believe these days." Franklin additionally said, "I definitely like him," referring to Cawthorn. "He is the new wave that we need in America."
Bruce Wilson, a 20-year-old business student in attendance, told the digital publication that Cawthorn is "on the same pedestal" as Trump.
While the North Carolina Republican received substantial backlash from fellow lawmakers in Congress, other prominent conservatives have voiced support for him and his remarks. Trump ally and right-wing strategist Roger Stone has repeatedly insisted that Cawthorn was telling the truth and did not change his story when he spoke to McCarthy.
"Congressman Madison Cawthorn just told me that he has NOT retracted his claims about sex fueled orgies among DC elites. Why would anyone believe anything said by RINO Kevin McCarthy or repeated by CNN?" Stone wrote in a Telegram post to his followers. The prominent conservative is well-known for promoting conspiracy theories and misinformation.
Stone later reiterated the same claim in an interview with InfoWars. "I can tell you firsthand that these parties happen. I can tell you that they continue to happen. I can tell you that Madison Cawthorn told me yesterday that he had not retracted what he said."
McCarthy "heard about it. It sparked some outrage," Lauren Witzke, who unsuccessfully ran as a Republican for Senate in Delaware in the 2020 election, said during an interview with The Stew Peters Show. "It's upset some people in the GOP that Madison Cawthorn would have the audacity to expose them for the orgy-attending, drug-sniffing, children-raping people that they are."
Notably, Cawthorn did not allege in his recent interview that he witnessed or knew of minors being sexually exploited by Washington, DC, elites.
In an April 1 statement, Cawthorn said: "My comments on a recent podcast appearance calling out corruption have been used by the left and the media to disparage my Republican colleagues and falsely insinuate their involvement in illicit activities."
During the Trump rally on Saturday, the former president spoke very favorably of the GOP congressman. "He loves his country and he loves his state, and I'll tell you that he's respected all over the place," the former president said. "He's got a big voice, Madison Cawthorn." Trump previously endorsed him for reelection in March of last year.
Recent polling suggests the freshman representative is well-positioned to return to the House for a second term. An internal memo reported by Carolina Journal last week highlighted polling by Cawthorn's top GOP primary rival. It showed that the incumbent Republican is 20 points ahead, although that lead has dwindled somewhat from 32 points in March.