National School Walkout: NRA Responds to Anti-Gun Protests With Photo of AR-15 Assault Rifle
As tens of thousands of students across the U.S. walked out of their classrooms to protest against gun violence, the National Rifle Association felt it necessary to promote a glamorized photo of the very same weapon used to massacre 17 people in Florida.
While the demonstrations marking one month since the shooting at the Marjory Stoneman Douglas High School in Parkland unfolded , the NRA tweeted an image an of AR-15 assault rifle, adorned with an American flag along with the caption: "I'll control my own guns, thank you."
The tweet was sent just after 11:30a.m. ET, around 90 minutes after students began staging their walkouts for 17 minutes—one for each victims of the 14 February shooting at the Parkland school.
The timing of the tweet of an AR-15 rifle, which was also used to kill 49 people at the Pulse nightclub in Orlando, Florida, 58 people at the Route 91 Harvest music festival in Las Vegas, and 20 children at Sandy Hook elementary in Newtown, Connecticut, did not go unnoticed by other Twitter users.
"Disgusting. On a day that kids are marching asking for their lives NOT to be in danger, you post a picture of the weapon that killed so many of their friends and family members," wrote Roberto B.Renzetti. "Have you no humanity left? How many kids' deaths do you need to realize you're wrong?
Phoenix Winterborn added: "Schools get shot up with an AR-15 and you have the audacity to post up one up during the student walkouts to establish REASONABLE gun control. Just wow."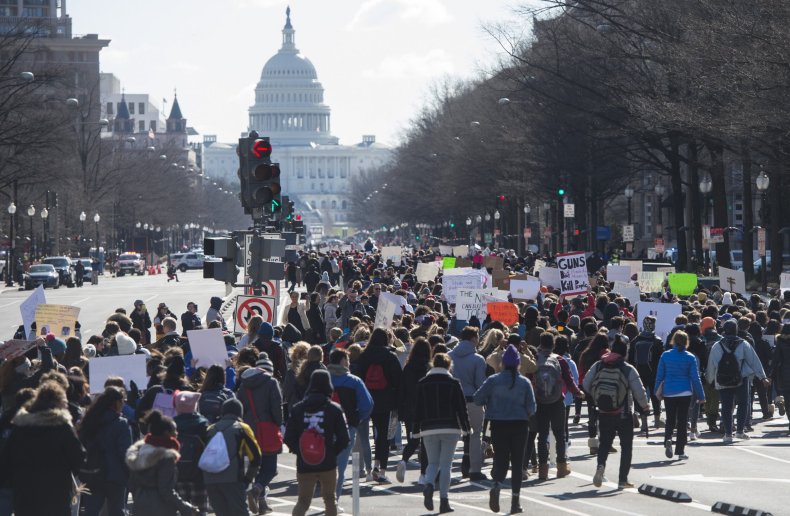 The NRA and the politicians they back have come under constant criticism during the movement to impose stricter gun laws in the US. Among some of the measures demanded by protesters include tighter background checks and a complete ban of the sale of assault rifles, such as the AR-15.
As reported by USA Today, the photo which was tweeted out during the huge walkouts came from a July 2016 article by the NRA which describes the AR-15 as the "Musket of its era".
"As the standard firearm of its day, the AR-15 does not represent some bizarre over-extension of the right to keep and bear arms. It is the very core of that right," the article adds.
The mass protests by students is believed to be one of the biggest ever organised in the U.S.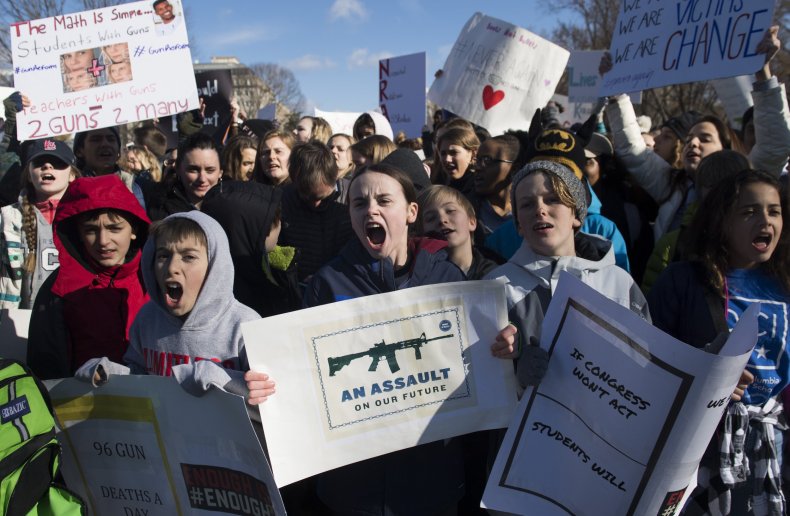 "We're sick of it," said Maxwell Nardi, a senior at Douglas S. Freeman High School in Henrico, Virginia, told the Associated Press. "We're going to keep fighting, and we're not going to stop until Congress finally makes resolute changes."
Explaining her reasons for taking part in the march, Iris Foss-Ober, 18, a senior at Washburn High School in Minneapolis, added: "Enough is enough. People are done with being shot."