NATO De Facto at 'War' With Russia in Ukraine, Kremlin Says
President Vladimir Putin's spokesperson has claimed that NATO is "de facto" at war with Moscow, citing the transatlantic alliance's deepening support for Ukraine as Kyiv continues to fight against Russia's full-scale invasion of the country.
In an interview with the Russian Izvestia newspaper published Tuesday, Dmitry Peskov condemned NATO's "united front" and accused the alliance of exacerbating Russia's conflict with Ukraine, which has been ongoing since 2014.
"NATO countries are effectively showing a united front not as our maneuver enemies, but as adversaries," Peskov said. "Their intel has been working against us round the clock, while their weapons, as Putin said in a recent interview, are being supplied to Ukraine for free to shoot at our military."
"Commitments are made and collective decisions are made within NATO on new supplies, on new batches of weapons with a constant increase in their technical level," Peskov added, referring to the sophistication of Western weapons now being sent to Ukraine after a year of lobbying by Kyiv and its advocates.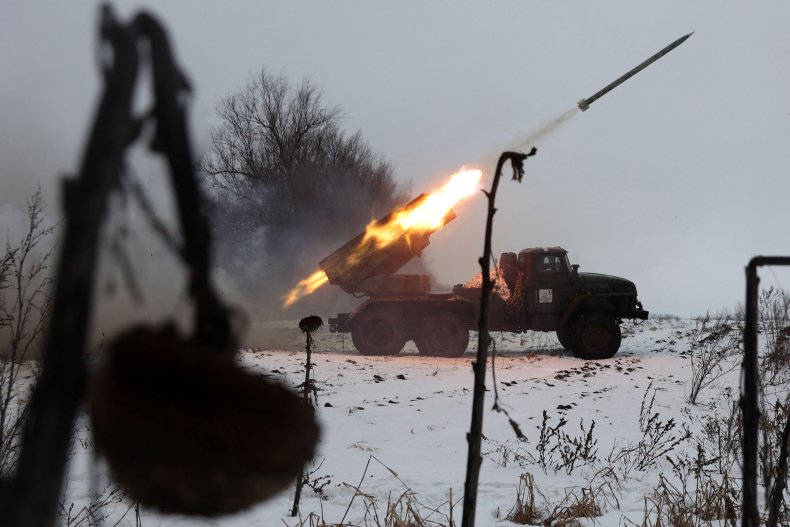 NATO nations like the U.S., U.K. and France, Peskov said, "are now in the same organization that is de facto fighting with us, is in a state of direct armed confrontation with us, given their weapons in Ukraine.
"There is no need to hide anything, to invite anything, you need to call a spade a spade. They should understand this, although it is probably noticeable how sensitive they are in this area, they repeat every time that they do not want to be parties to the conflict."
Putin and his top officials have used every opportunity to frame Russia's latest invasion of Ukraine as a preemptive and defensive war against NATO. The alliance has long been considered an existential threat by Russian nationalists, and its steady expansion—and cooperation with non-member states like Ukraine and Georgia—cited as evidence of a plot to encircle and smother Moscow.
The collective NATO-European Union response to Moscow's invasion of Ukraine is further proof, the Kremlin claims, of a grand Russophobic plan to defeat and dismember the country.
In an interview with the Rossiya-1 television channel that aired on Sunday, Putin said his NATO adversaries "are sending tens of billions of dollars in weapons to Ukraine," adding, "this really is participation."
"This means that they are taking part, albeit indirectly, in the crimes being carried out by the Kyiv regime," Putin said, using the Kremlin's terminology for President Volodymyr Zelensky's democratically-elected government.
Western nations, Putin said, have "a single aim—to break up the former Soviet Union and its main part—the Russian Federation." Only then, the president suggested, "will they maybe accept us in the so-called family of civilized peoples but only separately, every part separately."