Zelensky Cites 'Aviation Taboo' as Reason West Won't Send Fighter Jets
Ukrainian President Volodymyr Zelensky says an "aviation taboo" is responsible for Western allies refusing to send fighter jets to aid in his country's war against Russia.
President Joe Biden is among the world leaders who have declined to provide jets to Ukraine despite a sustained pressure campaign. During his nightly televised address on Monday, Zelensky said that Ukraine's Air Force had been doing "a great job" but lamented the country's lack of "modern aviation" capabilities.
The Ukrainian president also suggested that the "taboo" may have been to blame for emergency workers being killed and wounded in a Russian "terror" attack using Iranian-made drones.
"The day began with an attack by Iranian drones," Zelensky said. "Three employees of the State Emergency Service in Khmelnytskyi were wounded, two were killed ... that is why we need the aviation component of air defense—modern combat aircraft—to protect the entire territory of our country from Russian terror."
"Air defense is complete only when it is backed by aviation. Modern aviation," he continued. "We will be able to fully protect the sky when the aviation taboo in relations with our partners is lifted."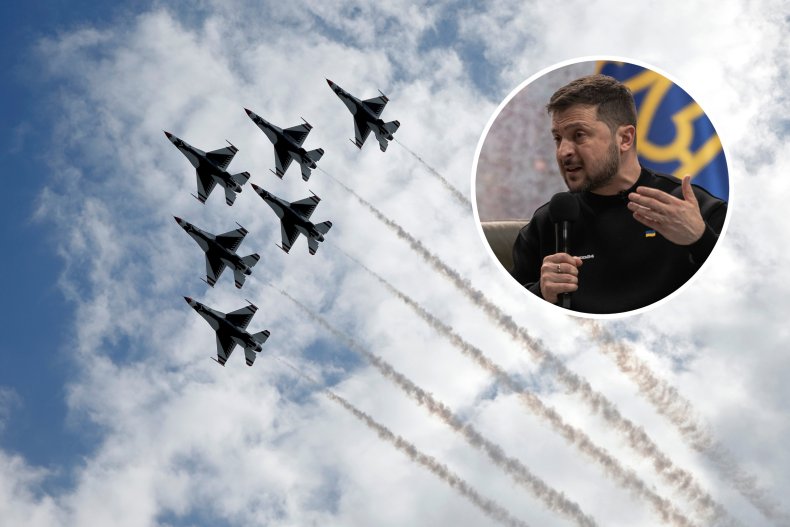 Biden said during an ABC interview on Friday that he was "ruling out" sending F-16 fighter jets to Ukraine "for now." The U.S. president said that military officials had determined there was no reason to provide them.
"No, [Zelensky] doesn't need F-16s," Biden said. "There is no basis upon which there is a rationale, according to our military now, to provide F-16s."
Jake Sullivan, Biden's national security adviser, defended the president's position during a CNN interview on Sunday, arguing: "Ukrainian fighters can retake territory that Russia currently occupies" with existing equipment.
"F-16s are a question for a later time," Sullivan said. "And that's why President Biden said that, for now, he's not moving forward with those ... The mission at hand is to have a successful counteroffensive where Ukraine is able to take back its own territory."
Some Republican lawmakers have criticized Biden and his administration for refusing the send the jets, with Senator Dan Sullivan of Alaska calling the decision "a real blunder" during a Sunday interview on NBC's Meet the Press.
Newsweek has reached out to the White House for comment.
Retired U.S. Air Force Colonel Jeffrey Fischer told Newsweek last week that sending F-16s to Ukraine could provide "air superiority for Ukrainians" and bring the war to a "rapid conclusion."
Zelensky has also appealed to other NATO countries for fighter jets in recent months. Poland, U.K., France and Germany are among the countries that have joined the U.S. in declining to provide the jets.