Belarusian President Alexander Lukashenko shocked the world when a fake bomb threat forced a passenger plane to divert to Minsk where security forces arrested prominent dissident journalist Roman Protasevich and his partner.
The operation was shocking in its brazenness, prompting condemnation from the international community and threats of additional sanctions against Lukashenko and his authoritarian regime, clinging to power in spite of mass protests that erupted after last year's disputed presidential election.
Lukashenko has retained power through brutality and fear. Security forces, keen to suppress the simmering revolution, arrested and tortured thousands. Backed by Russian President Vladimir Putin, Lukashenko has resisted calls for fresh elections and dialogue and is now intensifying an assault on the country's surviving free media.
But for all the harsh words, the European Union, NATO, and the U.S. have so far hesitated to apply the most stringent sanctions demanded by Belarusian dissidents and human rights groups. Lukashenko's vicious reprisals saved his regime last year, and appear to have at least bought him some time in power.
Pro-democracy campaigners and dissidents told Newsweek that Lukashenko's latest authoritarian stunt could act as a model for other dictators worldwide unless democracies take meaningful action.
"You are not safe anywhere," said Natalia Kaliada, a Belarusian dissident and pro-democracy campaigner who has been living in exile in the U.K. for a decade.
Kaliada and her husband, Nikolai Khalezin, fled Belarus on New Year's Eve in 2010, soon after Kaliada was accidentally released from prison by security services thanks to a clerical error.
The couple—who now run the Belarus Free Theater in London—still regularly receive death threats, including those published in the main Belarusian government newspaper, Sovietska Belarus.
Death threats have increased since the recent protests, Kaliada told Newsweek. Asked whether she felt more in danger after Protasevich's arrest, she replied: "I never felt safe."
Kaliada recalled how in the past, Belarusian protesters and dissidents would be arrested, abused, and killed "behind closed doors." But Lukashenko has seemingly unleashed his security apparatus in the wake of the recent unrest.
"They are open to killing in front of the whole world," Kaliada said. "They are open to hijacking an airplane in front of the whole world. They've been badly scared."
EU and NATO nations have struggled to protect dissidents living in their territory. High-profile assassinations have killed dissidents in the U.K., Germany, Turkey, among other states.
Whether from Russia, Chechnya, Saudi Arabia, China, Belarus, or elsewhere, dictators have shown themselves willing and able to reach their fiercest critics, even those living under presumed protection abroad.
Russians have been poisoned in London and Salisbury. Others—including rich and powerful oligarchs—have been found dead in suspicious circumstances around the U.K.
A Chechen was shot dead in Berlin in 2019, and another was able to escape a hammer-wielding would-be assassin who waited in his apartment in Sweden. A prominent Saudi journalist was murdered and dismembered in the Saudi consulate in Istanbul.
Now a Belarusian dissident journalist has been dragged from a commercial plane that was merely transiting Belarusian air space on its way from Athens, Greece to Vilnius, Lithuania.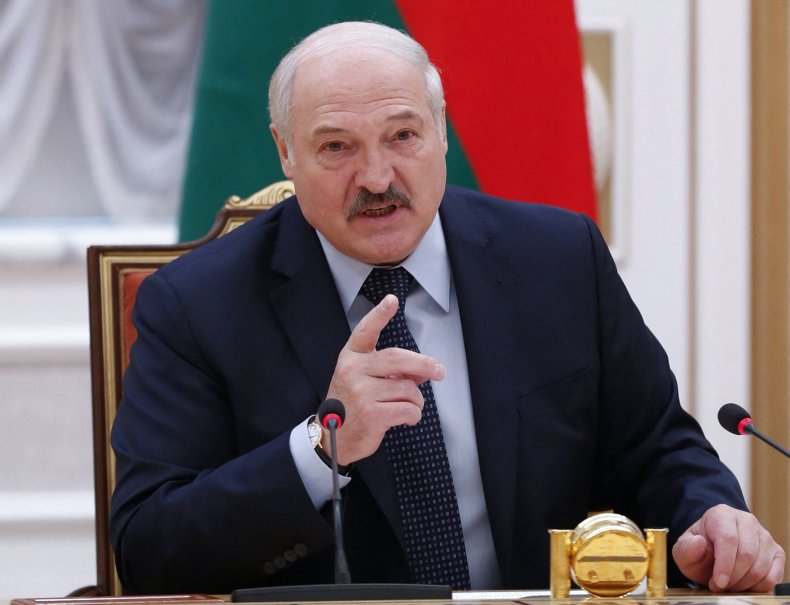 President Joe Biden said the operation was a "direct affront to international norms," vowing continued support for Belarusian protesters.
European Council President Charles Michel called the arrest an "international scandal" and headed a session in which EU powers agreed "forceful" new sanctions on the regime.
NATO released a statement this week in which it "strongly condemns" the diversion of the Ryanair flight and Protasevich's arrest: "This unacceptable act seriously violated the norms governing civil aviation and endangered the lives of the passengers and crew."
But NATO, as a military organization, has a limited role to play beyond tough rhetoric and support for its members' protests.
Any troop reinforcements in the countries bordering Belarus could be considered provocative, as would increased activity by NATO aircraft around now-deserted Belarusian air space.
Military posturing might backfire, playing into Lukashenko and Putin's efforts to frame anti-authoritarian movements as a Western-backed fifth column.
Fabrice Pothier, who was the director of policy planning at NATO until 2016, said the hijacking and arrest is not NATO business.
"I don't think NATO can do too much in terms of military reinforcement," Pothier told Newsweek. "I don't think doing anything within the NATO alliance would do anything to send a message to Lukashenko."
Rather it is the EU that will take the lead, though the bloc has been criticized for its perceived lack of action in holding Lukashenko, Putin, and others to account.
"They have the names of so many officials in the security and police services, it won't be that difficult to impose more specific, and obviously harder, sanctions," Pothier said of the potential EU response.
But finding unity across the bloc is no mean feat. Softer actions or mere rhetoric is easier to agree on: "I think in this case, they need to go beyond symbolic and start hitting harder."
Failure to act could encourage copycats, those who spoke to Newsweek warned.
"The problem is the authoritarian regimes that are actually, to a large extent around Europe, taking advantage of what they see as a fairly weak response in general," Pothier said. "Therefore they keep on pushing the envelope on the kind of bold actions they're willing to take."
"They do learn from each other very much," said Tatyana Margolin—the director of the Eurasia Program at the Open Society Foundations—about authoritarians worldwide.
"Other autocrats are watching and they will do this," she told Newsweek. "They will not necessarily grab a plane, but they will do another egregious thing to repress dissidents abroad."
Lukashenko's embattled position may have prompted such a stunning violation.
"His regime is really hanging on by a thread," Margolin said. "He's really playing by quite different rules because he has crossed every red line there ever was...he has very little to lose."
The move might further endear Lukashenko to his vital Moscow backers, she added. "This is sending a message to Russia that you're not likely ever going to get a more anti-Western leader in Belarus. I am your best bet."
Margolin said another message Lukashenko wanted to send was: 'You're not going to be okay if you're out of Belarus.'
Now, she added, foreign powers must make sure that threat doesn't stand: "It's important to not move on—this has to remain an issue on everyone's agenda."
While Lukashenko clings on, his opponents in the West will need a strategy to undermine him while also protecting those he—and others—wishes to silence.
"This is a difficult question, not just for NATO but for Western democracies in general," Pothier said. "How do they help protect dissidents without necessarily being seen as intruding in sometimes what are domestic political issues?"
This is particularly true for Protasevich, who allegedly served in the far-right Ukrainian Azov Battalion militia in the war in Ukraine against pro-Russian separatists.
The Azov Battalion is an extremist organization that U.S. lawmakers have pushed to designate a Foreign Terrorist Organization. Protasevich's documented links to the force could be embarrassing for his international advocates.
More protection might bring with it greater danger for dissidents and certainly less freedom. "How do you have this done without putting a target on their backs?" Pothier asked.
"Because the more you have that the more you're making them a threat, potentially, to those regimes which tried to reduce their freedoms. This is clearly a new front line. How democracy should push back is one of the questions we face."
Dissidents might also be uncomfortable with more scrutiny from their host nations, particularly in countries where governments are sliding to the kind of authoritarian, anti-free press stance so many fled in the first place.
In Hungary, Poland, and others, officials have been fighting their own battles with progressive protesters and what they consider disloyal journalists.
Maryia Sadouskaya-Komlach left Belarus for Poland 15 years ago to set up a radio broadcaster in exile, expecting a relatively short stay.
Sadouskaya-Komlach managed to return to the country briefly during the recent protests after the death of her mother this year, suspecting she slipped through the net given how busy the security services were suppressing the demonstrations.
She told Newsweek she has kept a low profile in Poland, perhaps protecting her from the worst harassment others face.
Through her work for the Free Press Unlimited organization, Sadouskaya-Komlach said she knows of several individuals and their families who have been harassed, kidnapped, or killed while in exile.
"The bureaucratic systems in the European countries are not fit to protect journalists and dissidents individually, unless you're a VIP," Sadouskaya-Komlach said.
It is especially difficult for dissidents to get asylum status, she said, adding that the Lukashenko regime uses Interpol notices and other measures to pressure European nations to harass, detain, and expel dissidents from their nations.
Some European nations have stronger support systems. Finland, Estonia, Latvia, Lithuania, and others have been lauded by human rights groups for their willingness to accept dissidents and their work to support them.
Italy, too, has strong frameworks given its history of battling the Mafia. "These best practices are not shared among European Union countries," Sadouskaya-Komlach said.
Sadouskaya-Komlach suggested that European countries must develop better counter-intelligence cooperation and border monitoring to catch spies and would-be assassins.
Asylum and visa processes must also be opened up to dissidents, she added, and intelligence officers should also maintain regular contact with those deemed at risk, particularly in nations bordering Belarus.
Sadouskaya-Komlach recalled two meetings with Polish intelligence around a decade ago but said the contact gave her little comfort.
"They were mostly interested to learn if I could pose any threat to the Polish society as some of the political refugees at that time appeared to be KGB informants," she said. "Coming from a country like Belarus and being summoned to 'friendly talks' like that adds stress and a feeling of insecurity."
Airlines are now avoiding Belarusian air space and the national carrier, Belavia, is banned from operating in the EU. But activists want more.
"Politicians need to concentrate not on Belavia, they must concentrate on Lukashenko," Kaliada said, noting she is among those demanding an International Criminal Court arrest warrant for the dictator. "They must concentrate on those people who hijacked the airplane."
Kaliada said international action must be more "systematic and strategic." There have been three rounds of sanctions to date, but "it's not working," she added.
In the meantime, Kaliada, Sadouskaya-Komlach, and other dissidents will continue their work under the threat of retribution from their homeland.
"You just don't think about it...you need to continue to feel sane," Kaliada said when asked about the danger she, her husband, and others have long faced from Minsk.
"The government is still waging this retaliation against anyone who covered the protests last year in a fair and open manner and didn't self-censor," Sadouskaya-Komlach said. "Of course I am worried, I just hope that common sense will win."
"The truce scares dictators," Kaliada said. "But we need to insist that we are not scared."