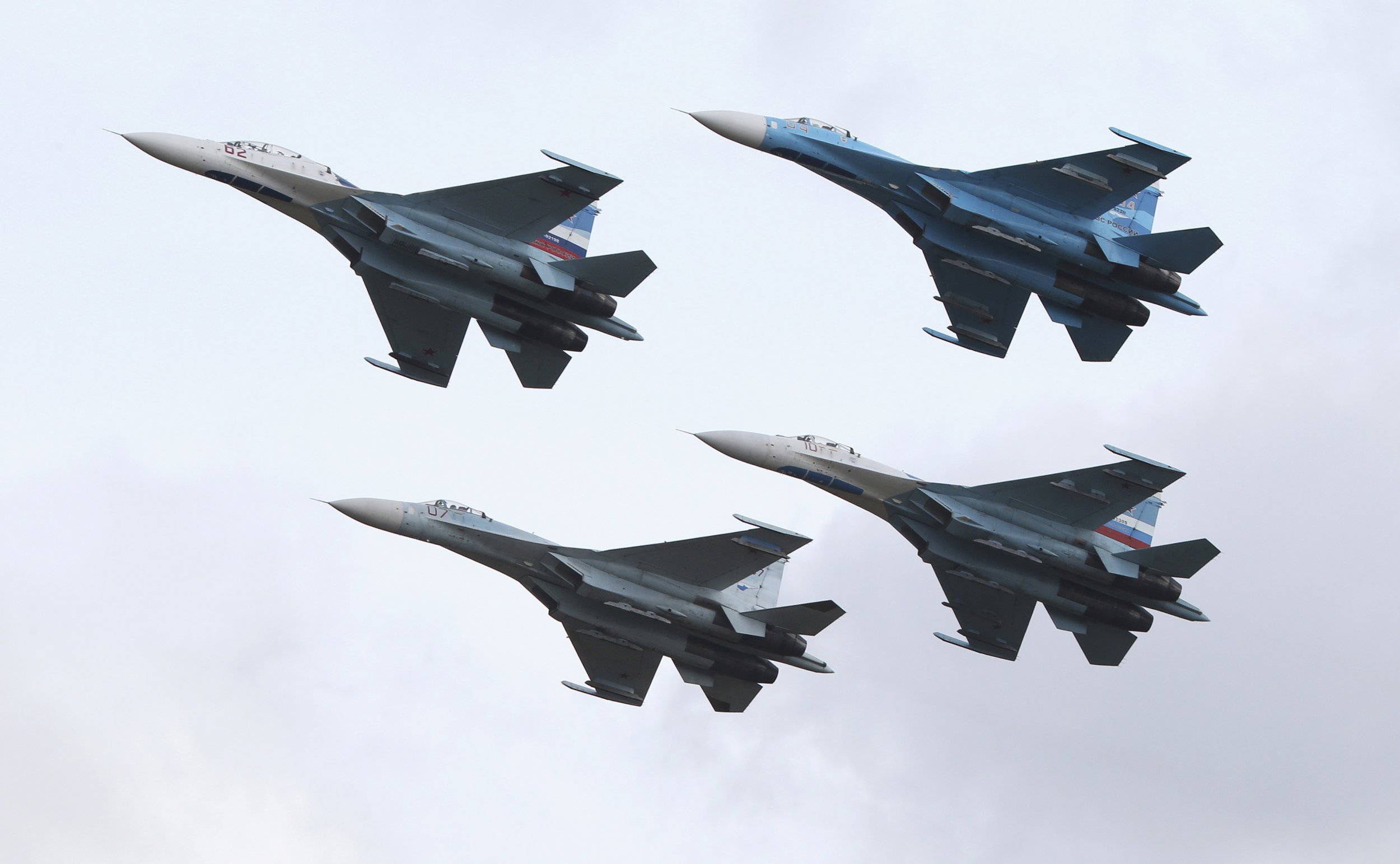 NATO jets intercepted a skein of Russian combat aircraft, flying alongside Russian bomber planes above the Baltic Sea last Tuesday and Thursday—twice in a week, Lithuania's government reports.
The uptick of Russian approaches to the airspace of Estonia, Latvia and Lithuania since Moscow's annexation of another former Soviet territory—Crimea in 2014—has unnerved and convinced them that the Kremlin may harbor similar designs for their lands. Although Russia has denied it would attack any NATO state, its reinforcement actions and posturing for offensive, not defensive maneuvers, has kept nerves on the alliance's eastern flank on edge.
According to Lithuania's Ministry of Defense, which currently hosts the multinational police mission of jets from NATO that assist in preventing incursions into the country's airspace, Russian jets approached allied airspace February 14 and 16.
NATO jets scrambled to escort a similar formation both times—an Il-22 bomber, tailed by two Su-27 fighters. The flights appeared to be a round trip from mainland Russia to its enclave of Kaliningrad and back. In both cases only the Il-22 had its transponder on. Only one of the flights, the second one, followed a submitted flight plan, which only detailed the movement of one of the three planes.
Russian, so called, patrol flights, involving unannounced forays around and towards European airspace with transponders off, have increased since 2014. The Baltic Sea connection between Russia's mainland and the Kaliningrad enclave is particularly tense as it passes abeam of allied airspace constantly.
Near misses between such Russian jets and other aircraft, including passenger liners, have prompted concern in Europe that such a foray could result in an inadvertent crash. However, in 2015 Russia's Minister of Defense Sergey Shoygu said Moscow plans to continue and expand what they viewed as "regular practice."