NATO Snub Shows Trump Is Too Toxic to Be Boris Johnson's 'Friend'
British Prime Minister Boris Johnson will be breathing a sigh of relief this week despite a fractious visit from President Donald Trump and his fellow NATO leaders.
Hurricane Donald passed without wreaking havoc on Johnson's general election campaign, as many British media and political figures expected or—in the case of the U.K.'s opposition parties—hoped.
The president was on his best behavior for the host, having apparently got the message that any off-script interventions could damage Johnson's chances in the December 12 vote.
Reports prior to the visit indicated that Johnson's team were carefully planning the prime minister's movements to avoid being seen alongside Trump and being associated with the president's divisive rhetoric.
Trump remains deeply unpopular in the U.K.—a June poll found that just 21 percent of Brits had a positive opinion of him—and the mere association could have dented Johnson's support just days ahead of Britain's general election.
The president allowed himself to be uncharacteristically cowed, perhaps a reflection of his precarious domestic situation and his desire for Johnson to prevail in the electoral race. After all, the alternative—Labour Party leader Jeremy Corbyn— is a life-long social justice campaigner, committed socialist and vociferous critic of the president.
But while he stuck to script on British politics, Trump's bellicose instincts were on full display elsewhere as he piled into new spats with American allies, even while NATO General Secretary Jens Stoltenberg stubbornly promoted the unity of the alliance.
But for Johnson and his Conservatives at least, things could have been a whole lot worse. "If you're Conservative campaign headquarters, you're congratulating yourself on the way things have gone," Nick Witney, a senior policy fellow at the European Council on Foreign Relations, told Newsweek.
This was the president's third visit to the U.K. as president. Each previous trip brought with it a whirlwind of negative headlines, with Trump happily lambasting the British government on a range of grievances
But this time Trump showed his hosts unusual restraint upon arriving in London, telling reporters he planned to "stay out of the election." And despite the best efforts of journalists covering his visit, he largely succeeded.
Trump did note he had always been "a fan of Brexit" and thought Johnson—who was born in New York and until recently was a U.S. citizen—would "do a good job," he refrained from more dramatic interventions.
Asked if he would be able to work with Corbyn—who he recently said would be "so bad" for the U.K.—for example, Trump said he could "work with anybody."
Trump and the U.S. loom large over the race, in which Johnson and the Conservatives remain favorites. Johnson has vowed to "get Brexit done" if the British public hands his party a majority in Parliament, and could finally pull the country out of the European Union more than three years after the referendum.
In such an event, the Conservatives will want to pivot towards the U.S. to soften the political and economic blow of leaving the world's largest single market.
Trump has already promised that the U.K. would be at the front of the queue for a wide-ranging free trade deal, but many Britons fear this would force them to accept more deregulation, lower food hygiene standards and looser environmental controls.
One of the biggest concerns is that American companies will be given free access to the treasured National Health Service, allowing them to drive up the cost of healthcare and help destroy what is widely considered one of the country's greatest achievements.
The opposition parties are campaigning hard on the issue. Last week, for example, Corbyn shared details of talks between U.S. and U.K. negotiators held during Prime Minister Theresa May's premiership. The meetings, Corbyn claimed, showed that U.S. officials were seeking exactly the kind of access many Brits fear.
A vote for Johnson, Corbyn and his supporters argue, is a vote for American hypercapitalism and all the ills that come with it.
Both Johnson and Trump have dismissed Corbyn's assertions. On Tuesday, Trump said he wants "nothing to do" with the NHS, and suggested the U.S. would still not be interested even if it was handed to him on a "silver platter."
This marked a departure from a previous suggestion that everything—including the NHS—would be "on the table" in discussions over a future trade deal with the U.K.
But Brits remain skeptical. Both Trump and Johnson have long histories of misdirection and falsehoods, and Wednesday's national newspapers reported the latest NHS pledges with a dubious air.
Asked how much weight he put in their promises, Witney simply replied:
"Absolutely none at all...both men will say anything that comes into their head."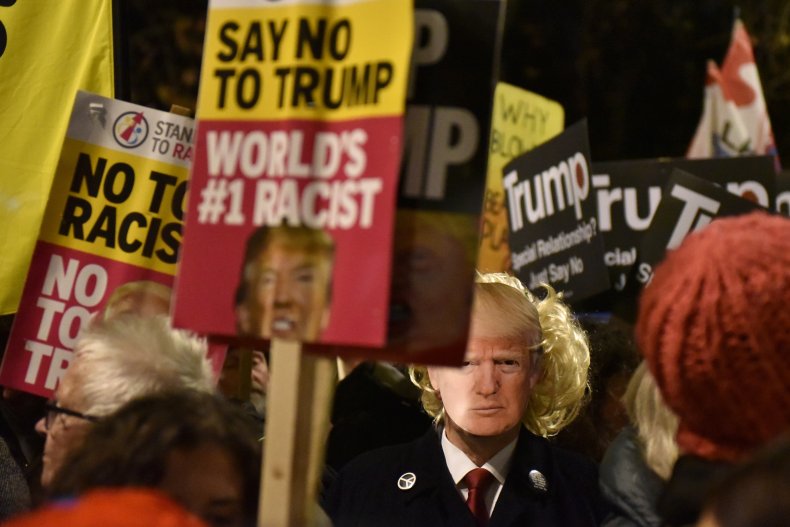 Johnson and Trump—whose similarities in off-kilter manner, divisive politics and even unusual hairstyle have not gone unnoticed—had very little public interaction during the president's visit.
There was no open bilateral meeting and both gave relatively brief responses to questions on their relationship—a far cry from the effusive praise Trump has lavished on his "friend" in the past.
Witney said Trump is "certainly" considered toxic abroad, both by fellow leaders and their constitutions. "It's no wonder the idea was to minimize contact," he said of Johnson's approach.
The pair did meet during a drinks reception for NATO leaders at 10 Downing Street—"in secret and under the cover of darkness," as Witney described it.
The media was not invited and details of their conversation remain guarded. The prime minister did not even want to be snapped welcoming Trump at the door of the prime ministerial residence.
It is unusual for the host of a NATO nation and the leader of its most important member to be so inconspicuous, and speaks to the difficult political situation for both men. Trump may wish to appear more presidential as his impeachment battle rages in Washington.
"Everything that he does—whether it's international, domestic" is governed by how news will play domestically, Witney argued of Trump. "The only thing that matters to Trump at the moment is getting reelected and avoiding impeachment."
Still, Trump did not mince words during his visit, even if he held off wading into the British political mire. On Tuesday, he said French President Emmanuel Macron's description of NATO as experiencing "brain death" were "insulting" and "very, very nasty."
It was quite the about-turn from Trump, who has repeatedly made headlines for maligning the 70-year old alliance.
At last year's summit in Brussels, the president even reportedly threatening to ditch the alliance unless other nations increased their military spending.
Trump's marathon press conference performances on Tuesday left journalists reeling and fellow world leaders seemingly mocking the president.
Macron, Johnson, Canadian Prime Minister Justin Trudeau and Dutch Prime Minister Mark Rutte were caught on camera at a reception at Buckingham Palace, apparently joking about Trump and blaming his verbose briefings for arriving late.
At one point, Trudeau told fellow leaders he saw Trump's aides' "jaws drop to the floor" while the president was speaking.
Trump lashed out at Trudeau in a press conference on Wednesday, describing the prime minister as "two-faced." The president then announced he was canceling a press conference and would leave the meeting early, heading directly back to Washington, D.C.
Though Johnson was apparently in on the jokes, he dismissed suggestions he had been laughing at the president as "nonsense" and—thus far at least—seems to have escaped Trump's wrath.
Witney noted that Trump's visit was always likely to bring some controversy, most likely related to relations with America's closest allies.
"I'm sure there's been a great deal of diplomatic urging of Trump to mind his neck in which, by his standard, he did," he said.
Regardless, Trump "doesn't like his allies," Witney explained. "He despises them and resents them and thinks they're all freeloaders, essentially picking the pockets of the U.S."
Despite the drama, Johnson will be counting the two stormy days as a win. Trump may have undermined the alliance, but at least he hasn't cost Johnson the premiership.