Neal McDonough's Wife And Kids Fuelled His Eisenhower 'AHS' Role: "Family first, me second"
In "Death Valley," the second half of American Horror Story Season 10, the most important thing to Neal McDonough's character President Dwight D. Eisenhower is family, even in the face of a deadly alien invasion.
For McDonough it is the exact same, and it was his love for his wife Ruvé and their five children that helped inform his performance as the 34th President of the United States in the horror franchise.
Speaking to Newsweek about the character, the actor said he felt a kinship with him as they both believe in putting "family first, God first, me second."
In Episode 9, "Blue Moon," Eisenhower is faced with a difficult decision; condemn thousands of American citizens to a life of alien experimentation and impregnation, or save his wife Mamie (Sarah Paulson) from certain death.
With the aliens threatening to kill the possessed Mamie, Eisenhower decides to protect the most important person in his life and gives in to the extraterrestrials, and later allows them to take over Area 51.
For McDonough this seemed like a reasonable decision because it is something he'd do himself if he was forced to make the tough call: "The most important thing in Eisenhower's life was his wife, and the most important thing in my life is my wife Ruvé.
"So, for me, with these aliens, selling my soul and this and that, you can say what you want but for Eisenhower, and for Neal McDonough, it was 'I need to do whatever it is to protect my wife.' It was the same thing with Eisenhower, it's the same thing with me."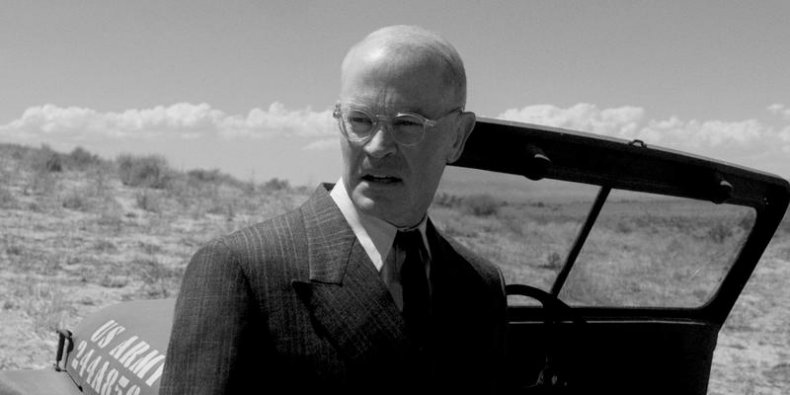 Referencing how his character would have felt in the moment, and how he wanted to delve into his psyche, McDonough added: "To sign that as they're torturing my wife, of course I'm going to sign, of course I'm going to do anything because that's my weak spot and the aliens knew that.
"You can say anything about me but if you say anything about my wife I think we're going to have a problem, I'm that kind of guy. So, Eisenhower as I found it was very similar to me in that way: family first, God first, me second.
"And, so, to play it with that simplicity really made Eisenhower pop, and you really understood who Eisenhower was and that he really didn't want to do those things that so many people [would] want to do."
As well as exploring the origins of the Area 51, "Death Valley" also examines several other conspiracy theories like whether the 1969 Moon Landing was faked and filmed by Stanley Kubrick, or whether Marilyn Monroe was murdered.
Reflecting on that, McDonough said: "It's interesting how Eisenhower historically was in charge with Area 51 and what was signed and what was done no one will ever really know.
"The only reason why I'd want to be President of the United States would be so I could know the secrets of the things we talk about in this episode.
"It's interesting in that way. Again, who knows what really happened, are they taking big leaps? Yes.
"Obviously number one it's for entertainment value, but what Ryan [Murphy] does is he treads very carefully on what is a possibility or plausible, instead of over-the-top non-factual [stuff]. He plays with the truth and then blows it open, and that's what I like about it, it's very different."
He went on: "The thing I love about American Horror Story is that it really makes you think 'what did happen?,' 'Did these things actually happen?,' 'Was it even close to it?' If there is an iota of truth in it. then maybe.
"That's what gets you thinking, that's what I love about Science Fiction is no one really knows exactly, but to have a discussion about it, it makes you think maybe there is something bigger than us out there.
"Me being a devout Catholic, people say how can you believe in aliens? But who's to say, how can we be so egotistical as humans to think that God wouldn't want to have something else, someplace else? He made us in his likeness, He may have made things not in his likeness, I don't know!"
McDonough makes his AHS debut in "Death Valley," and it was an experience he loved so much he can't wait to come back.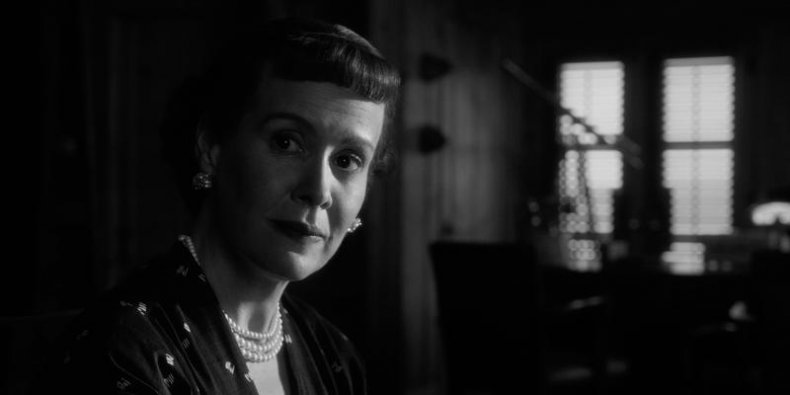 "I loved it," the actor gushed. "To have such a great part from the incredible Ryan Murphy is incredible in itself and to go to work everyday opposite Sarah, who is just a powerhouse of talent, and then Cody [Fern] who is a fan favourite.
"But then [also] to work opposite Craig Sheffer who took a bunch of years off to look after his family and take care of personal problems, or personal issues I should say, is back with a vengeance as Nixon."
He added: "Everyone on set, they're all champions and everyone wants to be a champion, and when you play on that kind of team your game just gets elevated because it just does, and Ryan Murphy set that tone for everyone by giving us great situations to act in, and great words to play with."
McDonough had particularly kind words to share about Paulson, who has starred in the horror franchise since its first season and now is also an executive producer on the show.
He said of his co-star: "What she brought to Mamie Eisenhower, I'm not sure any other actress would have the confidence to pull off an accent of that time and do it so perfectly.
"And as an Executive Producer what she puts into it also to make sure everything's running correctly, it was really just wonderful to play opposite her for these four episodes. It was a lot of fun I have to say."
American Horror Story Season 10 finale airs on FX on October 20, and the episode will be on Hulu the next day.