Nearly 12-Foot Alligator Kills Woman's Pet Dog in Violent Attack
A woman's pet dog was reportedly violently attacked and killed by a nearly 12-foot long alligator while out for a walk.
According to a report from WOFL, an unnamed Winter Garden, Florida resident was taking her two dogs on a walk on Thursday evening. While one of the dogs ran near the waterfront chasing ducks, the alligator attacked.
"The [The Florida Fish and Wildlife Conservation Commission] dispatched a contracted nuisance alligator trapper...in response to an incident involving a dog," the FWC confirmed with Newsweek.
"The woman noticed that her dog had encountered an alligator and was bitten," they added in an additional statement obtained by WKMG.
The rogue alligator reportedly was measured to be over 11-feet in length. "An 11-foot, 6-inch alligator was removed [from the scene]," the FWC added in its statement to Newsweek.
The dog later passed away due to the injuries it sustained in the attack, according to WOFL.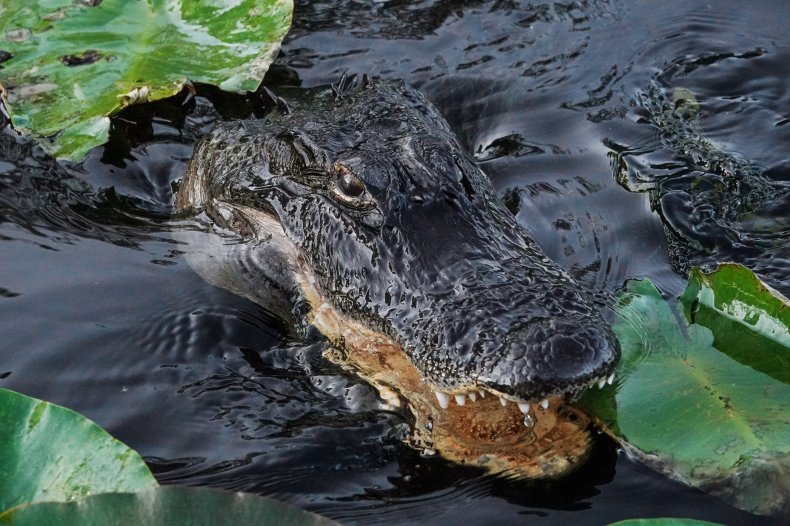 The FWC noted in its statement to Newsweek that "alligators become more visible and active during warm weather months" in the state of Florida. According to the FWC website, of the approximate 1.3 million alligators found across the 67 counties in Florida, an average of "seven unprovoked bites per year that are serious enough to require professional medical treatment" have occurred over the last 10 years.
In 2020, the FWC reported there were no fatal instances of an alligator biting a human, which happened a recorded number of 12 times in the year.
"The likelihood of a Florida resident being seriously injured during an unprovoked alligator incident in Florida is roughly only one in 3.1 million," the FWC reported.
However, they warn that alligators are most likely to bite individuals near the water. "Alligators are opportunistic feeders and will eat animals that are readily available to them," they reported on their website. "Opportunity is the primary factor that causes an alligator to pursue prey."
The FWC does note that alligators hardly bite humans other than for food, which is why it is illegal in the state to feed wild alligators. "The FWC places the highest priority on public safety and administers a Statewide Nuisance Alligator Program [SNAP]," the FWC added in its statement to Newsweek. "The goal of SNAP is to proactively address alligator threats in developed areas, while conserving alligators in areas where they naturally occur."
They encourage residents to use SNAP's services should they come across a nuisance alligator themselves that they believe to be a threat to people, pet or property.
This alligator attack appears to be the latest in a series of violent interactions. A 29-year-old woman was found dead on the evening of July 4 with a host of alligator bites across her body; her family later confirmed she passed away in an alligator attack. Another woman, also in Florida, out walking her dog was allegedly bitten by a 7-foot alligator.
Meanwhile in Louisiana, footage went viral earlier this week in which a woman appeared to try to kick an alligator in the face to get it to exit a busy road, even as the gator bore its sharp teeth.