Nearly 60 Percent of Americans Think Those Without COVID Vaccine Should Work From Home: Poll
As more Americans become eligible to get a COVID-19 vaccine, the majority of them say people who aren't immunized should be allowed to work from home.
A new Reuters/Ipsos poll found that 56 percent of Americans say that unvaccinated workers should stay home and 60 percent want to work for an employer "who requires everyone to get a coronavirus vaccine before returning to the office."
Many people have been working from home for almost a year after the coronavirus pandemic first caused offices to shutter. A Gallup poll conducted earlier this year found that more than half of Americans are working remotely.
Now that vaccines are becoming widely available, nonessential workers are preparing to head back to the workplace. Last April, 70 percent of Americans said they were working from home—a figure that fell to 58 percent last September and to 56 percent this January.
The pandemic has also resulted in soaring unemployment rates after many employers forced to layoff their staff and close their businesses due to the economic fallout of the coronavirus. Although fewer Americans are filing for unemployment, millions remain jobless and layoffs continue across the nation.
In the week ending March 6, only 709,000 workers filed first-time claims for state unemployment benefits—47,000 lower than the week before, according to the Labor Department.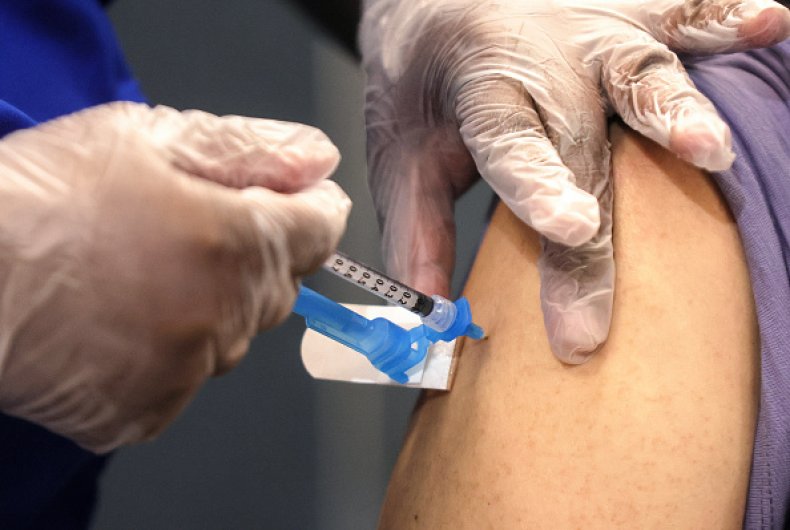 With more than 98 million doses of the vaccine administered, the U.S. is on track to reach President Joe Biden's goal of delivering 100 million doses to Americans in his first 100 days in nearly half the amount of time estimated.
About 18 percent of the U.S. population has already received at least one dose of the vaccine and during his presidential address on Thursday night, Biden announced that he would direct states to make all adults eligible by May 1.
Americans are increasingly interested in getting vaccinated, with most saying they are "very interested" in getting immunized. The new national poll surveying more than 1,000 Americans found that 54 percent of respondents agreed with this statement, up from the 41 percent that expressed the same level of enthusiasm in January and the 38 percent found in a May 2020 poll. Another twenty-seven percent said they were not interested in getting vaccinated.
Most also agreed that vaccines should be required for travelers. More than 60 percent of participants said unvaccinated people should not be allowed to travel on airplanes and 55 percent said those individuals should not be allowed at public gyms, movie theaters or public concerts.
While there is some split among party lines, almost half of Republicans, who have been generally less concerned about COVID-19, agreed that Americans going to gyms and movie theaters or travelling on planes should be required to be vaccinated.
The Center for Disease Control and Prevention has stated that those who have been fully vaccinated can safely gather indoors with unvaccinated people who are not high risk without face masks.
Newsweek, in partnership with NewsGuard, is dedicated to providing accurate and verifiable vaccine and health information. With NewsGuard's HealthGuard browser extension, users can verify if a website is a trustworthy source of health information. Visit the Newsweek VaxFacts website to learn more and to download the HealthGuard browser extension.