Can I Hug My Grandchildren After COVID Vaccination? CDC Guidelines Explained
Some COVID-19 precautions have been eased for those who have been fully vaccinated, under new guidelines issued by the U.S. Centers for Disease Control and Prevention (CDC).
Fully vaccinated grandparents—who have been unable to hug and interact with their grandchildren—can do so now, but with some safety measures taken in certain situations. "The level of precautions taken should be determined by the characteristics of the unvaccinated people, who remain unprotected against COVID-19," the health body advises.
People who have been fully vaccinated can do the following:
Gather indoors with fully vaccinated people without wearing a mask.
Gather indoors with unvaccinated people from one other household (such as visiting relatives who all live together) without masks, unless any of those people or anyone they live with has an increased risk for severe illness from COVID-19.
Fully vaccinated people who have been around a person infected with COVID-19 do not need to stay away from others or get tested—unless they have symptoms.
"However, if you live in a group setting (like a correctional or detention facility or group home) and are around someone who has COVID-19, you should still stay away from others for 14 days and get tested, even if you don't have symptoms," the CDC said.
People are considered fully vaccinated two weeks after their second dose in a two-dose series (such as the Pfizer or Moderna vaccines) or two weeks after a single-dose vaccine(such as Johnson & Johnson's Janssen vaccine).
"If it has been less than 2 weeks since your shot, or if you still need to get your second dose, you are NOT fully protected. Keep taking all prevention steps until you are fully vaccinated," the health body adds.
Can I hug my grandchildren?
Those who have not been vaccinated but are from a single household without any members at risk of experiencing severe COVID-19 illness can visit fully vaccinated people indoors without anyone wearing masks.
The CDC explains: "Fully vaccinated grandparents can visit indoors with their unvaccinated healthy daughter and her healthy children without wearing masks or physical distancing, provided none of the unvaccinated family members are at risk of severe COVID-19."
However, "if the unvaccinated people come from multiple households, there is a higher risk of SARS-CoV-2 transmission among them," the health body warns.
Therefore, all those involved in a gathering of unvaccinated people among multiple households should take precautions such as wearing a mask, maintaining a six-foot distance and gathering outdoors or in a well-ventilated space.
"If fully vaccinated grandparents are visiting with their unvaccinated daughter and her children and the daughter's unvaccinated neighbors also come over, the visit should then take place outdoors, wearing well-fitted masks, and maintaining physical distance (at least 6 feet). This is due to the risk the two unvaccinated households pose to one another," the CDC says.
Other recommendations that remain in place
Those who have been fully vaccinated should still:
Avoid medium or large-sized gatherings.
Delay domestic and international travel.
Look out for COVID-19 symptoms, especially if you've been around someone who is sick. Those with symptoms should get tested and stay home and away from others.
Follow the safety guidance at your workplace.
See the CDC website for more information.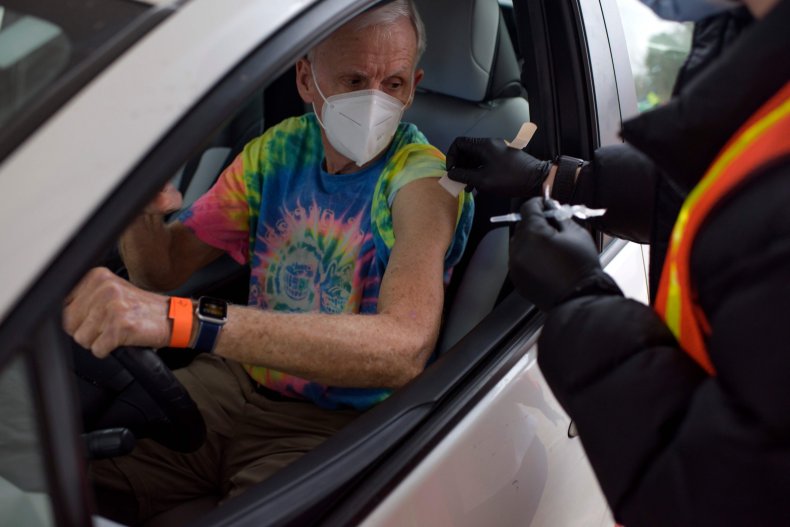 The wider picture
Coronavirus has infected more than 118.1 million people, including over 29.1 million in the U.S., since it was first reported in Wuhan, China.
More than 2.6 million people have died worldwide and more than 66.9 million have recovered as of Thursday, according to Johns Hopkins University.
The graphic below, produced by Statista, illustrates countries with the most COVID-19 vaccine doses administered per 100,000 people.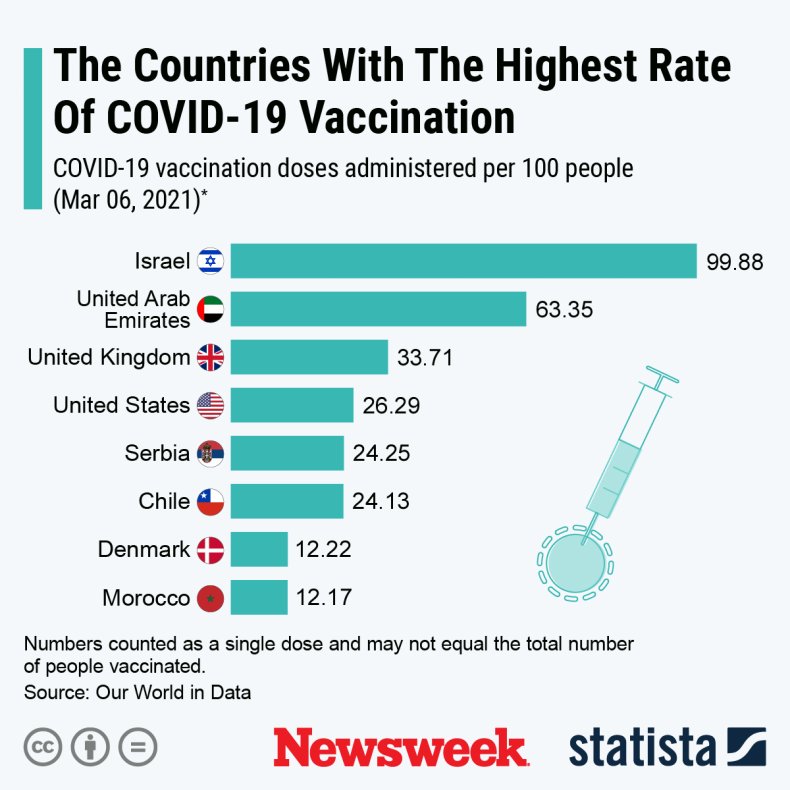 The graphic below, produced by Statista, illustrates the spread of COVID-19 cases in the U.S.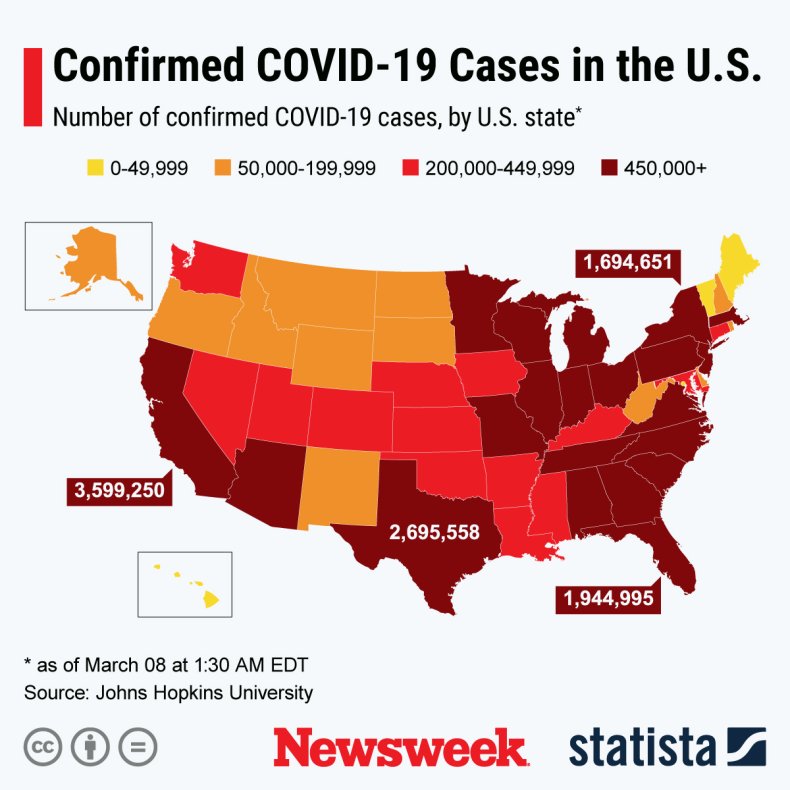 Newsweek, in partnership with NewsGuard, is dedicated to providing accurate and verifiable vaccine and health information. With NewsGuard's HealthGuard browser extension, users can verify if a website is a trustworthy source of health information. Visit the Newsweek VaxFacts website to learn more and to download the HealthGuard browser extension.