Nearly 60 Percent of Biden's Cabinet Appointments So Far Are Obama Officials
As President-elect Joe Biden assembles his Cabinet, several familiar faces have been reinstated to their positions in presidential politics. Of the 19 individuals Biden has appointed so far, nearly 60 percent are officials from the Obama administration.
Among this list are Commander Lloyd Austin, who Biden nominated as his defense secretary and who served as the commander of the United States Central Command under former President Barack Obama, as well as Alejandro Mayorkas, who has been tapped as the secretary of homeland security, a department he served in during the Obama years.
Denis McDonough, who served as the White House chief of staff during Obama's second term, has been nominated as Biden's secretary of veteran affairs.
Avril Haines is expected to serve as director of national intelligence in the new Cabinet. She was previously the deputy national security adviser under Obama and the first woman to be deputy director of the CIA.
Biden has selected Linda Thomas-Greenfield as his cabinet's U.S. ambassador to the United Nations. In the Obama administration, Thomas-Greenfield had served as the secretary of state for African Affairs.
Cecilia Rouse, who was a member of Obama's Council of Economic Advisers, has been nominated to chair the council under the new administration.
Last month, Biden's transition team announced that former Secretary of State John Kerry would serve as the inaugural special presidential envoy for climate, a Cabinet-level position with authority over energy policy and climate issues.
Tom Vilsack is expected to resume his previous role as agriculture secretary in the incoming administration, and Ron Klain is set to serve as chief of staff again. However, come November, Klain will be the White House chief of staff rather than chief of staff to the vice president, a role he served for both Biden during Obama's presidency and Al Gore during Bill Clinton's presidency.
Klain is not the only one to serve in three different administrations. Of the Obama officials Biden has picked for his Cabinet, Anthony Bilken and Janet Yellen have also held top-level positions in the Clinton administration.
Bilken, who has been nominated as secretary of state, previously served as the deputy assistant to the president and national security adviser to the vice president under the Obama administration. During Clinton's presidency, he served in the State Department and on the National Security Council.
Yellen, who has been tapped as treasury secretary, was nominated by Obama as chair of the Federal Reserve. She chaired the Council of Economic Advisers during the Clinton administration.
Asked about the influx of former officials, the Biden transition team told Newsweek that the president-elect wants to avoid taking a gamble on rookies who may be facing increased pressure because of the uncertain political landscape that the new administration will face.
"Amid the crises facing the country, President-elect Biden is building a team of qualified and competent leaders to get things back on track and advance his bold agenda to build back better," spokesperson Sean Savett said.
"Each of the President-elect's nominees are forward-thinking, crisis-tested and experienced, and they are ready to quickly use the levers of government to make meaningful differences in the lives of Americans and help govern on day one," he added.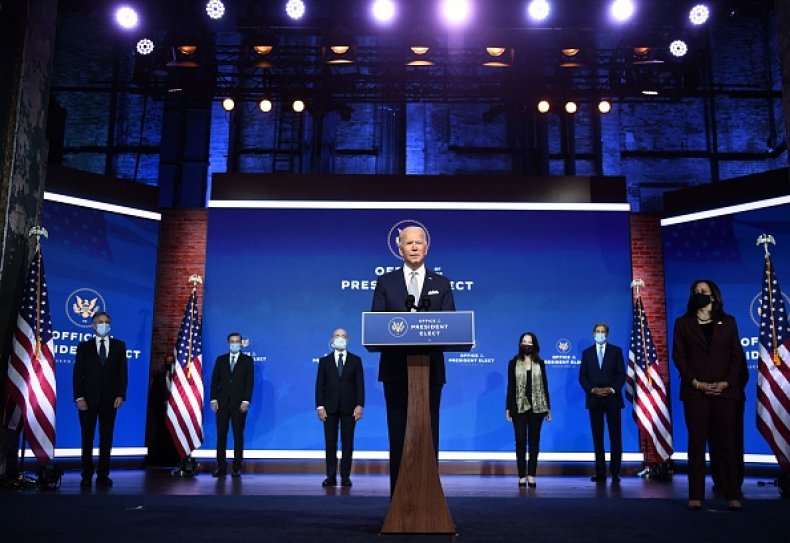 While more than half of Biden's current appointments are Obama officials, the president-elect has named some newcomers to his Cabinet.
Attorney General of California Xavier Becerra has been nominated as secretary of health and human services, Representative Marcia Fudge of Ohio has been nominated as housing secretary, and former Michigan Governor Jennifer Granholm has been nominated as energy secretary.
Former South Bend, Indiana, Mayor Pete Buttigieg has been chosen as transportation secretary and Representative Deb Haaland of New Mexico has been chosen as secretary of the interior. Buttigieg is the first openly gay Cabinet nominee, and if confirmed, Haaland will be the first Native American Cabinet secretary.
Biden has also nominated Neera Tanden as director of the Office of Management and Budget, Katherine Tai as United States trade representative and Michael Regan as administrator of the Environmental Protection Agency.
On Tuesday, Biden announced he had picked educator Miguel Cardona as education secretary.
There are still five Cabinet-level positions up for grabs, although the transition team did not comment whether those roles would be filled with former officials or fresh faces. Biden still needs to appoint the next attorney general, labor secretary, commerce secretary, small business administrator and director of the CIA.
This story was updated to include Joe Biden's nomination of Miguel Cardona as education secretary.