Most Americans Worried U.S. Will Be Drawn Into Russian War: Poll
A new poll says that most Americans are concerned that the United States will eventually enter the Russian-Ukrainian war.
As the NATO-EU summit on the conflict begins Thursday, the survey from the Associated Press and the NORC Center for Public Affairs Research revealed Americans' opinions on the war and President Joe Biden's handling of it. The poll shows the vast majority of Americans are at least somewhat concerned that the U.S. will be pulled into a war with Russia, with nearly half very or extremely concerned.
Only 43 percent of those polled said Biden has been handling the conflict appropriately. And 64 percent said they are extremely or very concerned about a direct threat to the U.S. from Russia's influence around the world.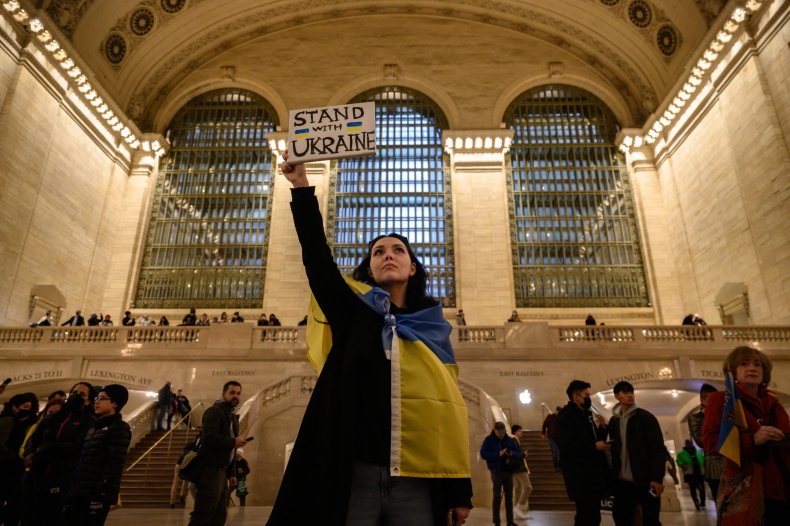 The poll's release comes at a critical moment for the United States' response to the Russian-Ukrainian conflict. Members of NATO, including the U.S., and the European Union began the emergency summit in Brussels to discuss potential courses of action against Russia. Biden is expected to push for further economic sanctions against the country in retaliation for its continuing assault on Ukraine.
"How many years are we gonna watch this happen and then have to step in anyway?" asked Rachel Collins, a poll respondent. "It just feels inevitable, and, in the meantime, we're just watching all these people suffer."
Some respondents said Biden has not been doing enough out of fear of Russian retaliation. "He's scared. He's scared of Putin," said David Stoddard. "He's scared of Xi [Jinping, China's president]. He's scared of everything."
The sanctions that the U.S. has already enacted against Russia have been viewed favorably by both Republicans and Democrats, according to the poll. In particular, the survey shows bipartisan support for the decision to ban Russian oil from U.S. ports. Still, Ukrainian officials are calling for more action from the U.S., since it is one of the few countries that have banned Russian oil.
"This is definitely not acceptable," said Oleg Ustenko, one of Ukrainian President Volodymyr Zelensky's economic advisers. "We want [the distribution of Russian oil] to be stopped immediately. We do not support the idea that we will continue discussions. It should be done right away during this visit of President Biden."
However, Ustenko said that he and other Ukrainian officials are confident that more countries will eventually join the U.S. in banning Russian oil. These include European countries that are very reliant on the oil.
"We do think they are going to agree on that. This is our expectation," he explained. "We don't have a plan B. This is our plan, and we hope we are going to be heard."
The Associated Press and the NORC Center for Public Affairs Research poll had 1,082 participants and was conducted from March 17 to 21. The poll's margin of error was plus or minus 4.0 percentage points.
Updated 3/24/2022, 9:49 a.m. ET: This story has been updated to include additional information and background.