Meghan Markle, Prince Harry Did Interview for Publicity, Not to Defend Themselves: Poll
Almost half of Brits believe Meghan Markle and Prince Harry did their Oprah Winfrey tell-all for publicity—despite claims of racism and suicidal feelings, polling for Newsweek suggests.
The Duchess of Sussex said she "didn't want to be alive anymore" and was told by aides that admitting herself to a mental hospital would make the palace look bad.
She said an unnamed royal expressed concern about whether their baby's skin would be too dark and suggested plans to change the rules so Archie would not be a prince or get security may have been race related.
However, a survey of 1,500 U.K. adults shows 48 percent believe the couple did the interview to promote themselves while 36 percent felt it was to defend themselves, while 16 percent did not know.
The results—based on research conducted by Redfield & Wilton online yesterday—shows a cynical attitude towards Meghan and Harry's bombshell tell all.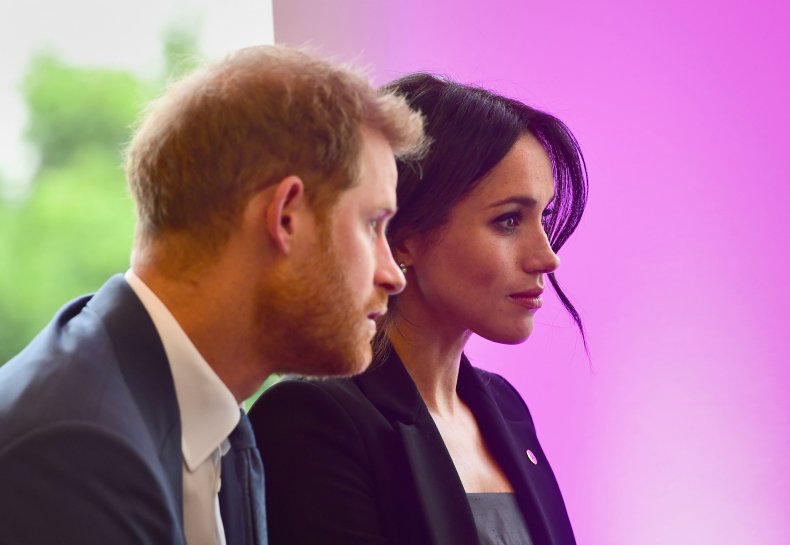 And 51 percent thought the couple should not have done the tell-all compared to 29 percent who said they should have done it.
A fifth said they did not know whether the bombshell sit down was a good idea or not.
Of those who watched or read about the interview, 47 percent thought the royal family came off worse while 39 percent thought Harry and Meghan came off worse.
The data suggests 45 percent of Brits believe the royal racist who made the skin color remarks should be named while 34 percent said they should not.
The royal family should apologise for Meghan's treatment, according to 41 percent of people surveyed, while 35 percent said they should not.
Asked whether the royal family was racist, 30 percent said they either "agree" or "strongly agree" while 38 percent either disagreed or strongly disagreed.
And 37 percent say their view of the press is worse than before while 13 percent say it is more positive now and 16 percent do not know.
Asked whether the British media was racist, 44 percent said it was while 22 percent said it was not and five percent said they did not know.
Meghan told Oprah: "All around this same time, we have in tandem the conversation of he won't be given security, he's not going to be given a title and also concerns and conversations as to how dark his skin might be when he's born."
Prince Harry told Oprah that Queen Elizabeth II avoided meeting him in early January 2020 while he was trying to tell her about their royal exit plans.
The duke said: "She'd just invited me. The Queen's busy. She's busy all week. Do not come up here. Okay.
"So I rang her from Frogmore [Cottage, his U.K. home]. And that night. And said, I was thinking about coming anyway.
"But I hear you're now busy. And she said, yes, I have something in my diary that I didn't know that I had.
"And I said, well, what about the rest of the week? She goes, well, that's busy now as well. Okay. I didn't want to push because I kind of knew what was going on."