Cat Enjoying Walk With Neighbor's Dogs Delights Viewers: 'Part of the Pack'
A video of a neighborhood cat taking a stroll with a pair of local dogs has made a lot of people happy on TikTok, with over 2 million views so far.
In the video, a dog owner is filming himself taking two dogs for a walk, a yellow Labrador and a bulldog, when a gray and white cat walks past them on the street, walking in the opposite direction.
The cat stops, appears to think for a second, then joins the two dogs on their walk. The caption on the video, which was posted to the TikTok page @englishbulldog_emmie, reads: "Just a Bulldog, her Lab brother & Neighbor Cat."
One user said: "I like how the cat is part of the pack."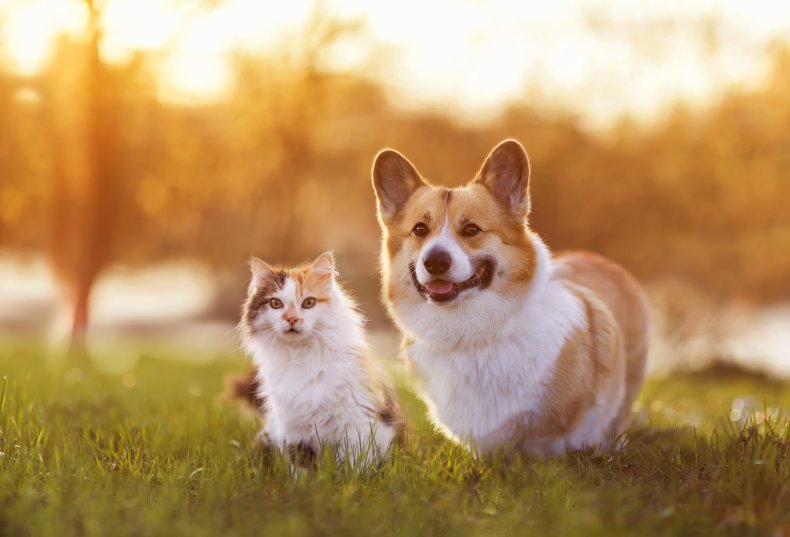 In other videos, the neighborhood cat can be seen waiting for the dogs and walking around the area with them.
The original poster explained: "He has a home but sleeps at our house sometimes too, he's not a stray, he's just social."
"There's something so cute about dogs being well behaved around cats," said one user.
Dogs and cats are sometimes thought of as mortal enemies, but these days the internet is flooded with evidence that they can get along like the best of friends.
If you are introducing the two species in your home for the first time, it's sensible to take precautions.
"When you first introduce a cat and dog, make sure the cat is at the dog's eye level," advises pet product manufacturer Nylabone. "You should also keep a firm grip on both animals, which will provide them with a sense of security. If one of the animals seems either aggressive or frightened, immediately remove the cat and try again at a later time. You don't want to force the situation and make matters worse."
Psychology Today reports that "a survey of homes with both dogs and cats revealed cats were more likely to threaten dogs. Observations of dogs threatening cats were rare." One of the reasons cats tend to antagonize dogs more is that they are in earlier stages of domestication.
Among the video's commenters, Professor Munch said, "Bro was walking by then was like 'you know what, you guys are a vibe I'm tagging along!'"
Tengqunizam wrote, "So cute he forgot for a second he was a cat."
And Chacha_gmom said, "Cat wants to be in the gangsta gang."
Newsweek has reached out to @englishbulldog_emmie for comment.
Do you have funny and adorable videos or pictures of your pet you want to share? Send them to life@newsweek.com with some details about your best friend and they could appear in our Pet of the Week lineup.