Cat Wants to Be an 'Only Child' Again After Owner Gets Annoying Dog
On average, a cat sleeps 16 to 20 hours daily, but a peaceful nap seems a distant memory for this feline constantly annoyed by her owner's dog.
In a viral TikTok video shared to @widget.mas, Olive, the dilute calico, can be seen lying on the bed, while Widget, the 2-year-old pup, repetitively nudges her with his nose.
The clip is captioned, "Olive says wouldn't it be nice if she was an only child again," and has racked up 4.6 million views and 815,300 likes since it was shared on February 7.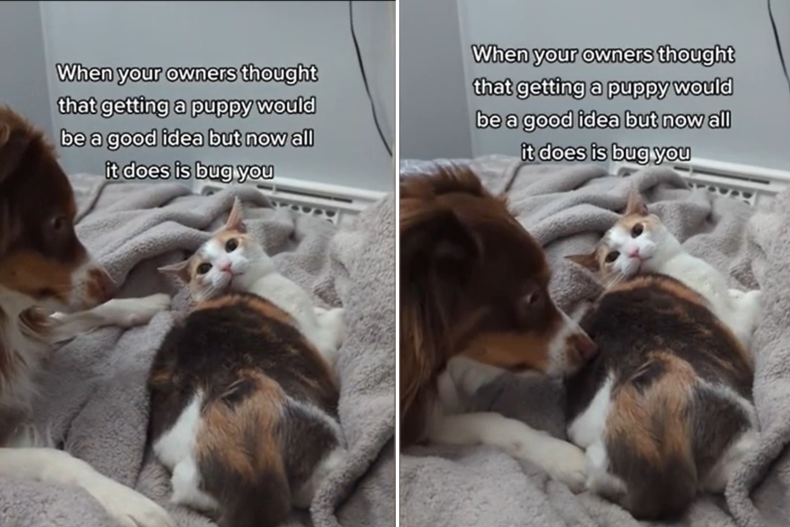 Their owner Carly Thomas, 27, told Newsweek that her pets have a love-hate relationship.
Thomas, from Kitchener, Canada, said: "A lot of people think that Olive and Widget never get along because of the videos I post. But you can often find them curled up on the couch together, napping in the sun.
"Olive wasn't too happy when we first brought Widget home at 8 weeks, but she warmed up to him quickly. Sometimes, she wants to be chased by Widget as a game. She is like the older sister, and he is an annoying little brother."
Can Cats and Dogs Be Friends?
These domestic pets are known for being arch enemies, but it isn't always that way. Sometimes, they become best friends, and sometimes even have secret alliances.
The American Kennel Club has shared tips on creating a happy home for a cat and dog:
It is best to introduce a puppy to a cat.
Non-sporting dogs like bulldogs are a good match for cats as they are friendly and easygoing.
Avoid large breeds like hounds as they have hunting instincts that cats could trigger. This is because, when small animals move quickly, a sight hound's reaction is imminent.
What Do the Comments Say?
The viral clip has more than 2,200 comments, and some TikTok users were concerned about the cat's well-being.
One user's comment, with more than 14,000 likes, read: "Airplane ears but no swatting or fleeing... are they deciding if they like it or not?"
It is possible for humans to determine a cat's mood by looking at their ears. If they are flattened against its head in "airplane mode," this means they are frightened or nervous, according to American pet food company Hill's Pet Nutrition.
Another user wrote: "That's one patient cat." Thomas responded and referred to Olive as an "angel": "She's very tolerant of literally everything."
Another comment read: "Dog is lucky kitty didn't decide to give him a smack smack."
Do you have funny and adorable videos or pictures of your pet you want to share? Send them to life@newsweek.com with some details about your best friend, and they could appear in our Pet of the Week lineup.