David Mamet's 47-year-old American Buffalo has been justifiably called a great American play. Neil Pepe, artistic director of New York's Atlantic Theater Company and director of the newest star-studded Broadway revival featuring Laurence Fishburne, Sam Rockwell and Darren Criss, talked to Newsweek about the play, its history and its enduring appeal.
There are many reasons why American Buffalo was a game-changer when it debuted in 1975. For a generation of theater creatives, it is a seminal work. Pepe told Newsweek, "I have so many friends, and colleagues and people who I admire in the theater world who cite this play as being a real turning point for them when they saw it, or read it or heard it.
"I think that has to do with a number of things. I think it takes the lid off working-class America. It's the language, the characters, the muscularity of the language and how Mamet is willing to present the truth of these guys. At the time it debuted, that was fairly explosive. And I think it's still as explosive because while it may be a small three-person play about three guys who are in the business of burglary who are trying to pull off their big shot, it's a play that, unexpectedly, gets into larger themes, which have to do with loyalty, honor, betrayal, treason. And it's about people who have been dealt the short end of the stick and are trying to make it in a society doesn't always help them.
"This a long-winded way of saying, while it's an incredibly well-constructed, well-told, well-written, brilliant story about three guys, thematically it ends up being quite universal to a lot of different people. Structurally it works really well and plot-wise too, but the language is just so thrilling to work on. And the characters—just spending time with these characters, both as a director and working with this group of actors, is both thrilling and unexpected."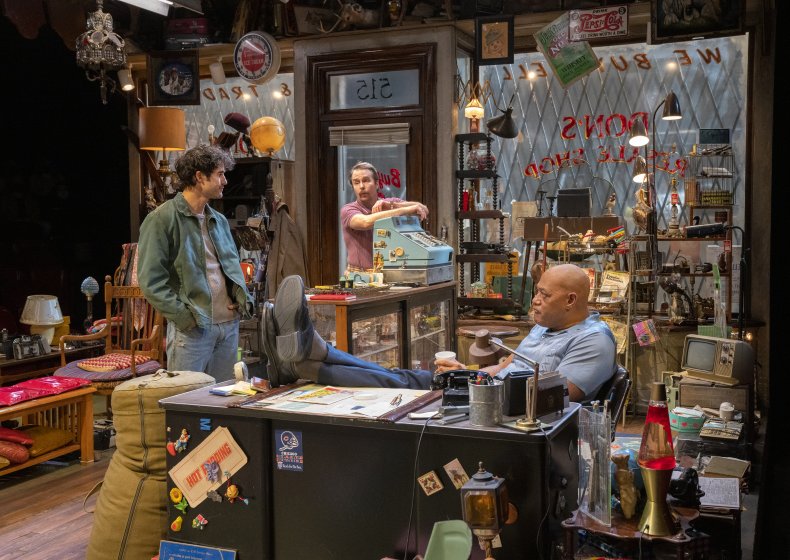 The language, which is vulgar, profane and ungrammatical, has also been described as poetic. Pepe agrees, he told Newsweek, "Other smarter people than I have pointed this out if you track it, a lot of [the language] is almost iambic. Mamet has such a great sense of rhythm, and he really pays close, detailed attention to how people actually speak—and then he kind of makes, for lack of a better word, poetry and music."
American Buffalo has been influential in many ways, both inside and outside of the theater community. One can see in some of the dialogue, the antecedents to the fanciful digressions into minutia and trivia that Quentin Tarantino would make iconic in Pulp Fiction. Pepe said that "a lot of people like Jez Butterworth and a lot of other playwrights talk about what this play and what Mamet himself did. So it definitely influenced a lot of people; and I think when it came out, it was quite explosive and a new thing—and it certainly made waves, as it continues to make waves.
"But it's quite thrilling that, for a play that's almost 50 years old, it still feels to me very, very fresh and alive to the times in which we're living."
Change of Pace
Aside from everything else, American Buffalo will likely have some crossover appeal, tapping the largely untapped market of coin collectors, those who have multiple editions of A Guide Book of United States Coins and/or A Handbook of United States Coins (both by R.S Yeoman). Not since Horace Vandergelder put a penny in his pocket has such a low level of U.S. currency had any currency on Broadway. For collectors, however, there is a lot of humor to be mined from the ineptitude of these bungling con artists. One could easily a third act, populated by American Buffalo's offstage characters, in which Bobby, Teach and Don are conned with their own "buffalohead" (not really a technical term; use Indian Head or Buffalo nickel if you are facing down a numismatist) nickels.
In the play, the undated (in the play) titular coin is, according to Pepe, "sort of a MacGuffin, but at the same time, it's almost like—what is what is that show on TV? Antiques Roadshow—It's like you didn't know that you had some valuable treasure in your attic. Here, some guy walks into the shop and says I'll buy that coin for $90, and all of a sudden, they're like: 'Oh my God, we've got a rich guy who must have a treasure chest of coins. We've got to rip off his house.' So the coin is the inciting event."
For what it is worth, there are only a few Buffalo nickels worth much, depending on the dates, location of the mint and condition. The odds on having a truly valuable one are up there with being struck by lightning while holding a winning lottery ticket. OK, maybe a little better than that, but don't spend a lot of energy looking for one.
One other side note: Someone on eBay is selling a Buffalo nickel for $2,500; that's Buy It Now. It is worn and has no date, which means if it were at auction it is worth about five cents.
Star Qualities
American Buffalo has always attracted big names Robert Duval, Al Pacino and John Leguizamo have all played Teach on Broadway, but in this production we have three stars. Fishburne, Rockwell and Criss are all stars in multiple arenas.
Pepe told Newsweek, "It's not only a great play story-wise and language-wise, the actors are also drawn to the characters. I mean, I've known Sam Rockwell for quite a long time. We first met as actors in the late '80s, and he's always talked about wanting to do Teach over the years. So he's sort of student of the play. And Laurence wrote a play of his own called Riff Raff—coincidentally, that was also done at Circle in the Square downtown [as was a production of American Buffalo with Al Pacino]—I think in the mid '90s. And that's a play that's very close, with similar structure, to American Buffalo. I remember talking to Laurence back then about how much he liked American Buffalo."
In theory, stars can sometimes make things difficult for a director, in practice, however, Pepe said that while these "are very well-known actors, what it comes down to, being in the room, is really about how gifted, how skilled they are.
"So as the director, it's really about setting up a frame, a structure where they can thrive, giving them a jumping off point so that they can play their best game—like a coach of a sports team. Sometimes, it's about getting out of the way.
"Especially in the case of Laurence and Sam: They're used to doing film stuff. So they'll come very, very prepared, and they'll be ready to do long takes. So sometimes I had to resist the temptation to stop them, because they're always working and they're always creating great stuff.
"And with Darren, who's not only got such an incredible skill set as an actor, he's also very passionate and hungry. It's kind of great because they're always bringing in exciting new stuff. It's really the excitement of deepening, of going as far as we can. That's that thrill of working with great actors who, frankly happen to be stars, which is which is of course helpful as well."
Atlantic's Season in the Sun
Along with such top-flight institutional theaters Irish Repertory Company, the Public, among others, the Atlantic is one of the jewels in New York's theatrical crown. For 37 years, it has been an incubator of fine theater. From serious dramas, (such as Dublin Carol), to comedies (especially a great revival of The Butter and Egg Man) to musicals Kimberly Akimbo, the Atlantic has been one of the premier go-to places for serious theater-goers for decades.
And recently, as artistic director of the Atlantic, Pepe has seen his company have an especially good year. While the Atlantic is not producing American Buffalo. the company's DNA runs through the show. "Both Mamet and I are members of the Atlantic, and actually Jordan Lage and Ray Anthony Thomas, who are understudying, are also both members.
"We've not only got our season going," Pepe adds, "but we have done [Dominique Morisseau's] Skeleton Crew that was just done on Broadway. [Martin McDonagh's] Hangman is now on Broadway. The musical adaptation of David Lindsay-Abaire's Kimberly Akimbo is scheduled to move to Broadway as is Stephen Adly Guirgis' Between Riverside Crazy."
But for now at Circle in the Square on Broadway, American Buffalo is theatrical coin of the realm.
American Buffalo is currently playing at Circle in the Square, 235 West 50th Street, New York. For tickets and more information go to AmericanBuffaloNYC.com.