Neo-Nazi Charged With Domestic Violence Highlights Mistreatment of Women in the Alt-Right, Analysts Say
In the world of white nationalism, Matthew Heimbach is an important player. He has led the Traditionalist Worker's Party (TWP), a neo-Nazi protest group that has been present at most of the major alt-right rallies of the Trump era, since its founding in 2013.
Related: Alt-Right Women Asked to 'Choose Submission' to Grow Political Movement
That's why when Heimbach was arrested Tuesday on charges of domestic battery, for allegedly attacking his wife in the presence of his child and choking a male TWP leader, the news made waves on the far-right. And not just because Heimbach was, according to a police report, having an affair with his political partner David "Matt" Parrott's wife.
In the aftermath of the incident, members of TWP openly speculated about the group's permanent dissolution at a time when the alt-right has already been rocked by infighting and defection.
But Heimbach's domestic violence charge also helps to underscore a much deeper problem with the alt-right than its efforts to be politically viable. The alt-right movement—which critics suggest is merely a rebrand of an older white supremacist ideology—has struggled mightily to recruit white women to their cause in part because of the abusive rhetoric and actions of movement leaders, analysts suggest. The alleged incident with Heimbach is not an isolated one—either in terms of his own violence toward women or the way in which women who are close to the movement are treated on the whole.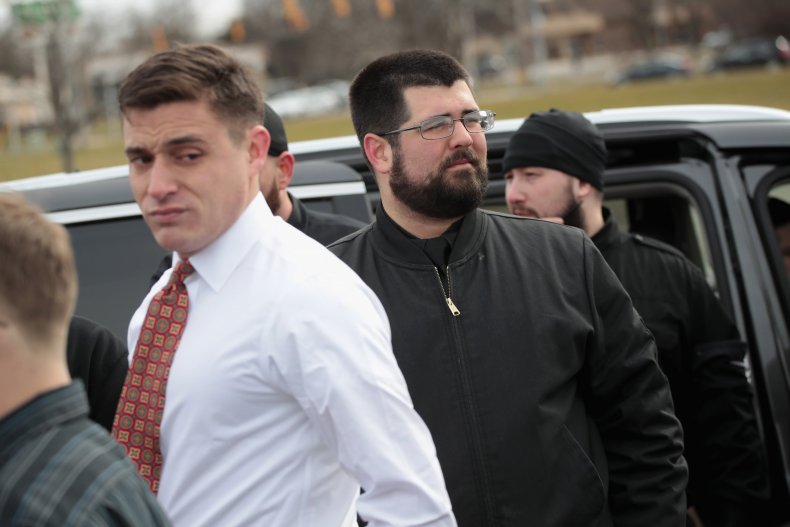 Heimbach, who did not respond to a request for comment, made family and the physical protection of women central to his pitch to new recruits of TWP. Around the time that he and his group protested a women's march in Knoxville, Tennessee, in January, he told Newsweek that the policies of his group were built to "empower women to their God-given honorable place as true equals to men in society through their unique role as mothers and wives." Considered by many to be an intellectual leader in the alt-right, Heimbach's group declared their mission statement to be "defending faith, family, and folk" against the evils of modern society.
Despite this reputation, however, Heimbach has occasionally tangled with women at protest events. He pleaded guilty to disorderly conduct in July of 2017 after repeatedly shoving Kashiya Nwanguma, a black woman who was protesting at a Trump rally in Louisville, Kentucky, in 2016.
Elisa Hategan, the author of Race Traitor, which is a memoir of her life inside of Heritage Front, formerly Canada's largest white supremacist group, told Newsweek that men like Heimbach are hypocritical when they claim to stand up for the opposite sex.
"Heimbach is not going to lose any street cred for being linked to domestic violence," Hategan told Newsweek about the story. "The men in these groups have no respect for women."
Hategan, who left Heritage Front as a teen, said that, behind the rhetoric promoting female support, women are typically outnumbered at what feels like a rate of "100 to one" in groups like TWP. She added that she once saw a man kick a woman directly in the face at an event.
Hategan claimed that women are typically given two roles in hate groups: either as wives and "baby factories" or to present a sexualized image that brings in new recruits, who were often men who had little sexual experience with women. Tony McAleer, a former member of the neo-Nazi group Aryan Resistance who today counsels recovering far-right extremists for the non-profit group Life After Hate, told Newsweek that he and everyone he works with have come across cases of domestic violence when working with the far-right.
"Often the relationship with women in these movements is abusive in nature, and they don't know how to leave," McAleer told Newsweek.
Researchers of the movement who spoke to Newsweek said that the story about Heimbach hurt the alt-right's credibility because it cut against the wholesome image that they have tried to present to the public.
What he allegedly did was "very much off-brand for the alt-right's vision," Jessica Reaves, a writer with the Anti-Defamation League's Center on Extremism, told Newsweek. Ryan Lenz, a researcher with Southern Poverty Law Center who has tracked Heimbach for years, suggested that the story was one of "toxic masculinity" and "about gender and power."
The coalition of alt-right figures who helped propel the deadly Unite the Right rally in Charlottesville, Virginia, has fractured in part because of the way white women have been discussed by some leaders. In a forum popular with the alt-right, influential movement figures like Brad Griffin, a self-described "southern nationalist," have accused writers of the neo-Nazi troll website Daily Stormer of sabotaging recruitment efforts by advocating the abuse of young women and underage girls.
Billy Roper, an Arkansas-based neo-Nazi, spoke on a white nationalist podcast about the latest troubling incident and appeared to blame the women in Heimbach's life for his current legal troubles, echoing the sentiments of others in the movement that were expressed on social media. Using an alt-right slang that connotes extreme feelings of pessimism, he worried aloud about how it might impact the morale of other white nationalists.
"Very tragic, and what you call a black-pill day," Roper said.