Experts Say ISIS Ramming Attacks Were Inspired by Palestinians, Not Vice-Versa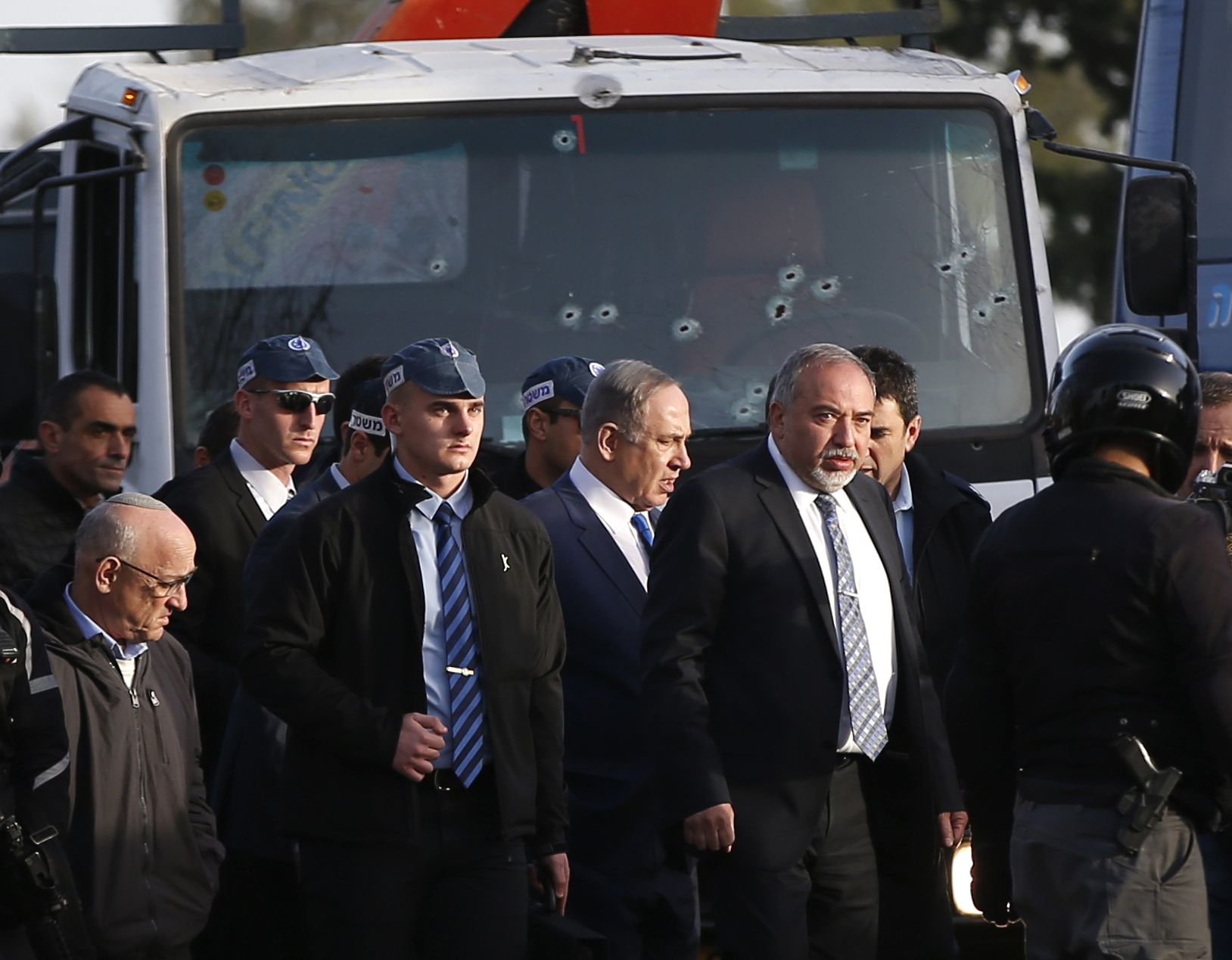 Benjamin Netanyahu, flanked by security service agents, spoke into the television camera. The truck attack that had just resulted in the deaths of four Israeli soldiers in the Jabel Mukaber neighborhood of Jerusalem was "part of the same pattern inspired by Islamic State, by ISIS, that we saw first in France, then in Germany and now in Jerusalem. This is part of the same ongoing battle against this global scourge of the new terrorism. We can only fight it together, but we have to fight it, and we will." Netanyahu, speaking on January 8, was referring to the ISIS-claimed truck attacks in Nice, which left 86 people dead on Bastille Day, and in Berlin, which left 12 people dead at a Christmas market in the center of the German capital.
Anyone reading Netanyahu's statement at face value would believe that the Islamic State militant group (ISIS) had inspired scores of Palestinians to conduct vehicle attacks in the group's name. The Jerusalem attack was perpetrated by a 28-year-old Palestinian named Fadi Qunbar. While Qunbar may have been inspired by the extremist group—evidence for that is yet to surface—this is not the case more generally in vehicle attacks perpetrated by Palestinians, experts say. They say that ISIS and other jihadist groups witnessed the success of vehicle attacks used for years by Palestinians, and then adopted those tactics for attacks in Western countries.
Read more: Security experts warn of uptick in vehicular terrorism after Nice attack
"If at all, ISIS emulates the Palestinian militants, not the other way around," says Yossi Mekelberg, associate fellow at the London-based international affairs think tank Chatham House. "Netanyahu is mainly a PR person and in the last year, two and a half years, he tried to connect the global war on terror with what happens [in Israel], because he thinks by that he can get more sympathy and more support."
Jihadist groups have viewed vehicle attacks in the same vein as Palestinians: they are an easy and reliable method to target their enemies. In 2013, Al-Qaeda had called on supporters to "use a pickup truck as a mowing machine" and to "mow down the enemies of Allah." ISIS has made similar calls since its rise in 2014.
Palestinians have been using vehicle attacks in the months and years before Nice and Berlin, and even before ISIS became a global phenomenon, not least because of the security barrier Israel constructed in 2003, effectively diminishing the ability for Palestinian militants to perpetrate suicide bomb attacks against Israelis altogether. In 2009, a Palestinian man rammed a bulldozer into a police car in Jerusalem, injuring two policemen; in 2013, another rammed a tractor into the gate of an army base, entering before Israeli soldiers shot him dead. According to The Jerusalem Post, there were at least five vehicle attacks by Palestinians between 2008 and 2011, including a truck attack.
While ISIS fights in the name of an ultra-conservative Islamist ideology that hopes to see their black flag flying across every corner of the world, experts say that Palestinian militants are primarily fueled by the territorial dispute between Israel and the Palestinians. Palestinians say attacks are the result of angst against an ongoing military occupation of east Jerusalem and the West Bank, violations at the contested Jerusalem holy site and continued building of settlements—which the majority of the international community considers illegal—in East Jerusalem and the West Bank.
"The tools that people use to carry out attacks don't have a religion, trucks don't have an ideology. They just require somebody to drive them," says Yousef Munayyer, executive director of the Washington D.C.-based think tank the U.S. Campaign for Palestinian Rights. "This is a question of utility and opportunity and tactics more than it is about ideologies. Israeli settlers have used their cars to run over Palestinian civilians in the West Bank. It's a tactic that can be used by lots of different people."
There has been an uptick in vehicle attacks against Israelis in the wave of violence by Palestinians that began in September 2015. Perceived Israeli violations at the Jerusalem holy site known to Muslims as the Haram al-Sharif, or Noble Sanctuary, and known to Jews as the Temple Mount, sparked the violence, Palestinians say. According to the Israeli Foreign Ministry, Palestinians have committed 51 vehicular attacks since September 2015.
The attacks, which have included stabbings, shootings and vehicular rammings, have left more than 30 Israelis dead, and have terrorized Israelis in Jerusalem, other Israeli cities and the West Bank. Some Israeli security experts believe that Palestinians have been inspired by the impact created by ISIS attacks in Europe, even if the tactic was not created by ISIS.
"The fact that this has been broadcast, the attacks in Nice and Berlin have been shown so many times in the international media, simply had the effect of drawing the attention of people that this is an effective instrument," says Uzi Arad, former national security advisor to Netanyahu and head of Israel's National Security Council, who adds that vehicle attacks are not a "new invention" in the region. "Sometimes it has this effect. People copy, people imitate, you see it coming and going. I think in that sense [Nice and Berlin] may have inspired this terrorist to do what he did."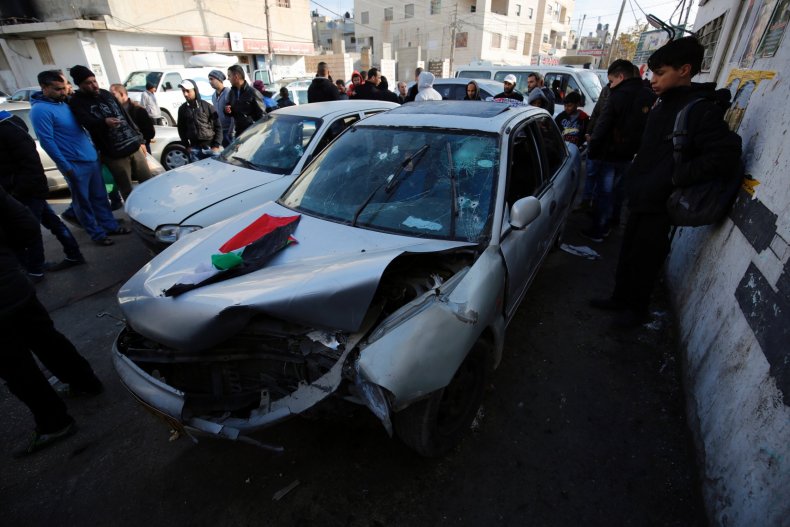 ISIS's propaganda has indeed reached into Palestinian communities, as Israeli President Reuven Rivlin warned it would in January 2016. Israeli authorities charged at least ten Arab residents of East Jerusalem with attempting to join ISIS in Syria last year. Salafist groups sympathetic to ISIS have also formed in the Hamas-controlled Gaza Strip, firing rockets into Israel in an attempt to break the ceasefire that has largely held since the seven-week conflict in the summer of 2014.
So far, Israeli security services have provided no evidence that shows Qunbar to be an ISIS supporter. Rather, an obscure Palestinian faction identifying itself as "The Martyr of Baha Alyan Collective," in reference to a Palestinian attacker who killed three Israelis in Jerusalem in 2015, claimed responsibility for the attack the day after the attack. It said it acted on "political motives" and promised more "revenge" attacks for Palestinian "martyrs" and "prisoners."
The group's claim has added weight to the argument that Palestinian vehicle attacks continue to be motivated by the politics of the region, rather than ISIS's expansionist strand of Islam. Palestinian officials say Israel should not try to link the attacks to ISIS.
"This is not a new talking point from Israeli propaganda. They have tried to compare the situation of Palestinian attacks against Israeli occupation with terror taking place against civilians," a Palestine Liberation Organization official, speaking on condition of anonymity, tells Newsweek . "Do we support the action? Of course not. No one would claim that Israelis don't suffer when their people are killed. But trying to compare this [to Nice and Berlin], it's cheap, it's very cheap. It's a long time now trying to score points. It's very dangerous trying to make Daesh [ISIS] get involved here, it's really irresponsible."