Forget Santa! Here's Why Netflix and Vanessa Hudgens Are The Real Heroes of Christmas
When Netflix began unravelling its epic Christmas cinematic universe (for the most part starring Vanessa Hudgens), fans were firmly glued to their screens, with a new festive team of Avengers to root for.
Romantic comedies find themselves in a genre of film that often finds itself as the butt of the joke and Netflix's investment in a whole saga of movies that cross dimensions and are referential to each other is worthy of attention.
This is not to dunk on more revered genres of film. We get it, we respect it, but for countless viewers, these movies offer a chance to escape the pressures and stresses of the real world and believe in a life more romantic.
"The worlds you're invited into are often familiar, mostly grounded in reality—even if there's a magical element at play, it's still within the context of the 'real world'—and inhabited by a glossier, shinier, more glamorous but still largely relatable group of people," Anna Mohr-Pietsch, film producer with MetFilm Production and specialist tutor at MetFilm School, told Newsweek.
"You can see yourself in there somewhere, but through an aspirational lens. The aches and pains of relationships are shown in romantic technicolour, and you can experience the entire emotional arc of a relationship in 90 minutes flat.
"It can be cathartic for some, energising for others. And on a basic level, I think people have always enjoyed watching subjectively beautiful people behaving romantically towards each other and achieving the happy ending that in real life is a ridiculous notion."
While the three identical strangers (or four if you include Brooke in The Knight Before Christmas) played by Hudgens in The Princess Switch trilogy might not immediately seem relatable, the idea of escaping our reality and getting to be someone else for a few days is something that will have crossed many people's minds at some point.
The popularity of romcoms as a genre has naturally been the subject of ebb and flow over the decades as different mediums for the plots to play out have emerged. Love and laughter has played out in TV series instead of just movies, like The Mindy Project and Jane The Virgin, while streaming platforms have created a new appetite for the genre.
For platforms like Netflix, creating a Christmas cinematic universe is not just responding to audience demand, it makes business sense, as Dr. Martha Shearer, Assistant Professor and Ad Astra Fellow in Film Studies at University College Dublin, told Newsweek.
"There's a clear value for an algorithm-driven platform of a cluster of films that can be tied to a specific time of year, so that once you start watching these films, as they're gradually released from November onwards, it's very easy to fall down a Christmas romcom-hole," she said.
"There's also something enjoyably ridiculous about them—they're not trying to make sense in a way that an older theatrically released, say, Julia Roberts film might have done. They don't take themselves seriously or expect you to either and there's something pleasurable about that."
The marketing of Christmas makes these types of low-cost movies an easy win for streamers, particularly in the case of franchises like The Princess Switch and A Christmas Prince, which can be brought back year after year.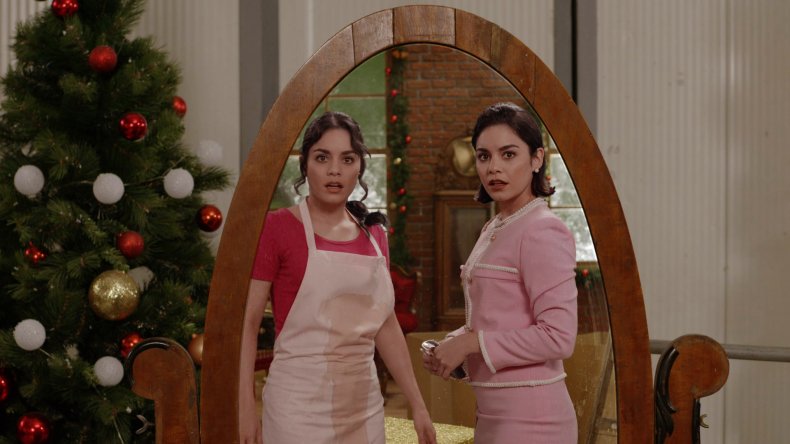 "Christmas has become almost a shorthand for kitschy romance," Mohr-Pietsch said, "The music is romantic, the lights are romantic, the mistletoe is romantic."
She continued: "It's also an event that we look forward to and prepare for each year, so it provides a natural setting for the climactic denouement of a relationship on screen – there's a time imperative, an opportunity for grand gestures, and a single day to hinge it all on."
Part of their charm, for lovers of the holiday season, is also how the festive period is represented. As Dr. Shearer explained: "Christmas plays a similar role to that of love in the romcom more traditionally, in that it's an overwhelming, unstoppable, magical force that you need to allow into your life."
Admitting to loving romcoms can often be met with sneers and confessions to enjoying secret "guilty pleasures."
Alice Guilluy, Deputy Programme Leader at MetFilm School, recently wrote a monograph on this topic: Guilty Pleasures? European Audiences and Contemporary Hollywood Romantic Comedy.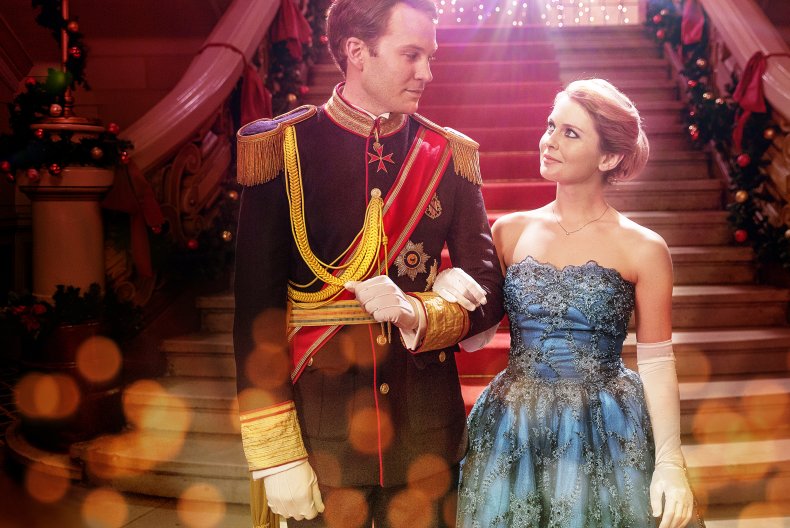 Guilluy told Newsweek: "I think romcoms have had an unfairly bad reputation for a long time, which is partly underpinned by sexism and classist assumptions about its target audience.
"There is a very patronising image of the romcom spectator as this gullible, overemotional woman who falls victim to the romcom fairytale. I've interviewed a fair few romcom audience members for my PhD thesis, and I have never met this phantom audience member!
"I have, on the other hand, met a lot of dedicated feminists who loved romcom, but felt quite conflicted about it."
She continued: "On the contrary, I would argue that romcom audiences are very genre-savvy. They know exactly what they want from the genre and its tropes, and love the happy-ending exactly for what it is: a fantasy."
Dr. Shearer agreed, adding: "Women can hold more than one thought in their heads, and can and do consume media critically. But also I don't see that the romcom is any more sexist than other genres about which this question is never asked."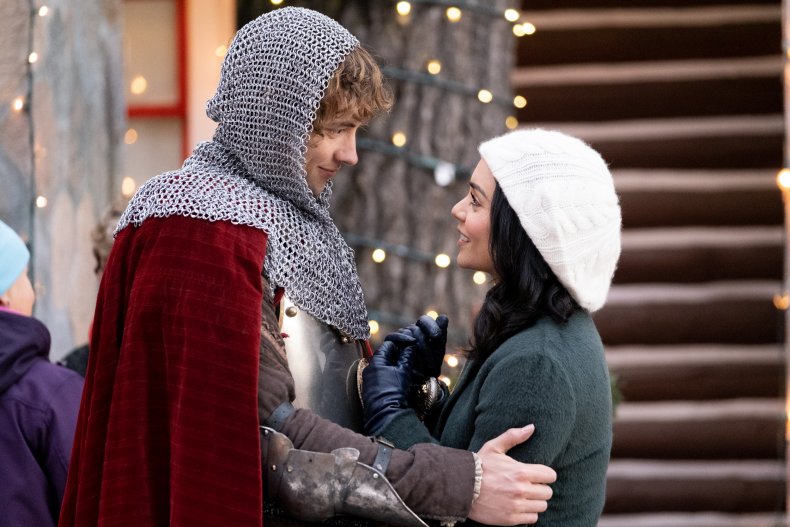 Perhaps the other driver of the bad reputation of romcoms is their not-so-inclusive history. In the past, romcoms have been dominated by straight, white characters, though that is beginning to change.
Sexist tropes like the damsel in distress are less and less common in modern works, while a more diverse range of love stories are being told, like the story of lesbian couple Abby (Kristen Stewart) and Harper (Mackenzie Davis) in Hulu's 2020 movie Happiest Season.
"Audiences want content, they want romance, and they want to laugh—that's actually a really simple ask, and it's not reliant on sexist tropes," Mohr-Pietsch said.
"There's absolutely no excuse for making romcoms today that still invest in sexist messages or that ignore diversity and inclusivity from a wider perspective, and I firmly believe that the only barrier we face is from unenlightened commissioners and distributors."
It's thanks to new formats presented by streaming services that more opportunities for inclusive works are available, Guilluy explained: "Feminist TV scholars have argued for a while that the open-ended, cycle nature of television has 'feminist potential': in film, the happily-ever-after is a rigid end point, where the usually straight, white, and able-bodied female lead is irrevocably tied into a union with a usually straight, white and able-bodied man.
"By contrast, in TV the continual potential of the next episode or next series opens up space for flexibility, change, and interrogation of those norms. It's interesting in that regard that one of Netflix's biggest rom-com hits, To All The Boys I've Loved Before, is a trilogy, which allows the lead character that freedom."
Perhaps that's yet another driver behind this complicated cinematic universe, while other, unrelated Netflix Christmas content includes a portmanteau of different teenage romances in Let It Snow, and stories explored across multiple episodes in series like Dash & Lily.
While the movies that occupy the original Netflix Christmas cinematic universe may not be the best romcoms on offer, they do deliver on fantasy and perhaps inspire more creators to generate new and inclusive ideas for the genre.
When it comes to what makes a great romcom, for Dr. Shearer it's a sense of emotional reality, Mohr-Pietsch said it's all about the dialogue, chemistry and "sparky, witty repartee," and Guilluy added that chemistry between other central characters and not just the main couple was important and said: "there's a reason Judy Greer is a romcom icon."
As for us, it's all about "the look," as Guilluy explained: "The screenwriter Alanna Bennett has talked about the importance of 'the look' to the genre: the scene where the hero—it's almost always the hero—gazes longingly at the heroine and the audience just knows."