Bling Ring Real Life Story: New Doc Attempts to Separate Fact From Fiction
You know what they say: There are two sides to every story, and somewhere in the middle lies the truth.
In 2008 and 2009, a group of young adults that would come to be known as the Bling Ring burglarized the homes of celebrities including Audrina Patridge, Lindsay Lohan, Paris Hilton, Rachel Bilson and Orlando Bloom. Ten years later, two of the group members, Alexis Haines (née Neiers) and Nick Norgo (née Prugo), who were both sentenced to jail time for their crimes, are telling their (often divergent) stories of what happened 10 years ago.
They disagree on a lot: Haines says that when Norgo started to give her and her family free Chanel bags and other expensive items, she thought he was just a generous Hollywood stylist; Norgo says no, Haines knew full well that he was giving her stolen property. She says that the night they broke into Orlando Bloom's house, she didn't know where she was going; he says she did. So what really happened all those years ago?
Lawrence Walford, executive producer of the new Netflix docuseries The Real Bling Ring: Hollywood Heist, told Newsweek, "One of the things that we struggled with throughout was their conflicting viewpoints, all the time. And as a filmmaker, when you're interviewing people, and...their version of events is different from someone else's, it's very tricky, because we don't get to choose which version is the right version, what we get to choose is [what] to show the viewer, what they're telling us....We can only tell the story that's in front of us."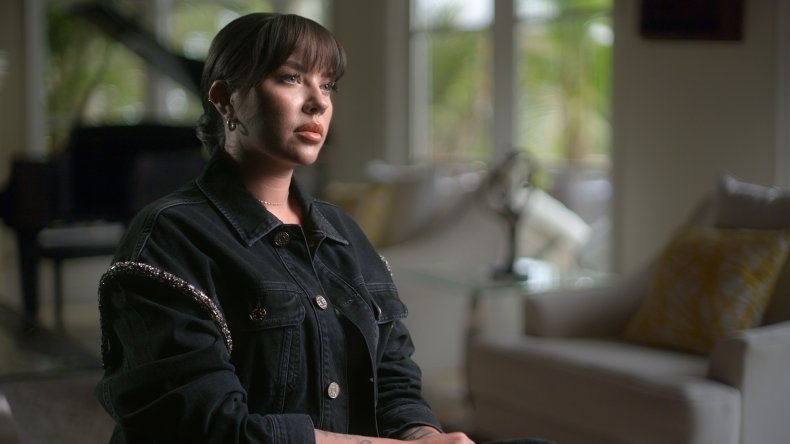 Director Miles Blayden-Ryall said about the process and what he asked of Haines and Norgo: "I asked [them] to tell us a story from their point of view at the time. And I think that was very important in terms of sort of getting to understand exactly what happened and why it happened."
The Bling Ring was easily vilified and became pop culture fodder. Sofia Coppola's 2013 film The Bling Ring starred Emma Watson as a Haines-like character named Nicki, who was the face of the gang. Haines says that's fiction, that she was barely involved, and it's one point on which she and Norgo agree: He is adamant that he and fellow member Rachel Lee were the masterminds. (No other members of the Bling Ring participated in the doc.)
For Blayden-Ryall, the importance of his series is stepping back from the immediate hot-take of a decade ago—that these kids were criminals, full stop—and looking at the culture that created them. "One of the things we've tried to get out is, it's very simple and reductive to just sort of say, 'Well, they're young, spoiled, celebrity-obsessed teens with nothing better to do.' But actually, it's a lot more complicated and complex. And that's what we intend to show throughout the series."
He added, "A lot of the reporting and media at the time basically just sort of pointed and wagged fingers at these young people for doing what they did. And it's not to say that they don't need to take responsibility for their actions—of course, they do—but...you've got to look at the wider context. You've got to look at their upbringing, their surroundings, the culture, the society they live in."
Haines' mother, Andrea Arlington, also appears in the documentary, and she and Haines bring in their own gray areas of memory when it comes to Haines' upbringing: Haines says her mother pushed her into pinup modeling; Arlington, herself a former Playboy model, says no, it was something Haines and her friend Tess Taylor, both teenagers, really wanted. Arlington says that when E! approached her about doing the series Pretty Wild with her daughters, she wasn't interested and only wanted to do real acting; Haines and her younger sister, Gabby, say their mom was super into it.
Says Blayden-Ryall, "We're perpetuating a sort of myth around celebrity and how valuable it is to be famous or to be looked at or to have attention or to have certain material possessions or an amount of money. You know, we are part of our culture, and we're part of that society. And so, you know, we do have to think about how that also fed into these crimes."
Reached for comment, Norgo told Newsweek, "The series did a good job at entertaining people while telling the story. I wish they focused a little more on the victims because it wasn't all fun and games. People that already had very little privacy and sense of security had it taken away from them by us. We were not the victims here. None of us. I just hope they all can heal and one day hopefully have their sense of privacy and security restored."
Newsweek has reached out to Haines and Arlington for further comment.
The Real Bling Ring: Hollywood Heist is currently available on Netflix.