When Is Netflix's 'Single's Inferno' Finale and What Prize Does the Winner Receive?
A real-life K-drama unfolds on Single's Inferno, a new Korean dating series on Netflix, which became the first Korean reality show to join the streamer's global top 10 ranking this week, according to FlixPatrol.
The show sees 12 singletons (six women and six men)—who all just happen to sport gorgeous, head-turning looks (some of whom we later find out are social media influencers and fashion models)—spend just over a week together on a remote island to get coupled up on a quest for true love.
Featuring pink sunsets, white sandy beach coasts and tanned, sculpted bodies—there's nothing hellish really about this particular inferno island.
But the singletons are supplied only with basic necessities (such as food ingredients, sleeping tents and washing facilities) and no devices are allowed during their stay on the island.
The cast are not permitted to reveal their ages or professions to one another and must rely simply on their "natural charm" to win each other over.
When Is Netflix's Single's Inferno Finale?
The finale of Single's Inferno—new episodes of which have been aired weekly since December 18—will be released on Netflix on Saturday, January 8.
What Prize Do Winners Receive?
The cast members are given a chance to potentially win an escape from the island and spend a night in "paradise" at a luxury hotel suite with a person of their choosing. At the end of every day, each singleton is asked to vote for the person with whom they'd like to escape the island.
For each voting round, either all the men or all the women are asked to make their choices in private, while the remaining half of the singles later each openly announce who they selected. But only those who chose each other are allowed to escape the island for an overnight date at the hotel.
Those who are matched get to wine and dine at the hotel and are allowed to reveal their ages and professions as well as answer any other questions about each other. But they must not reveal any details shared to the others back at the island.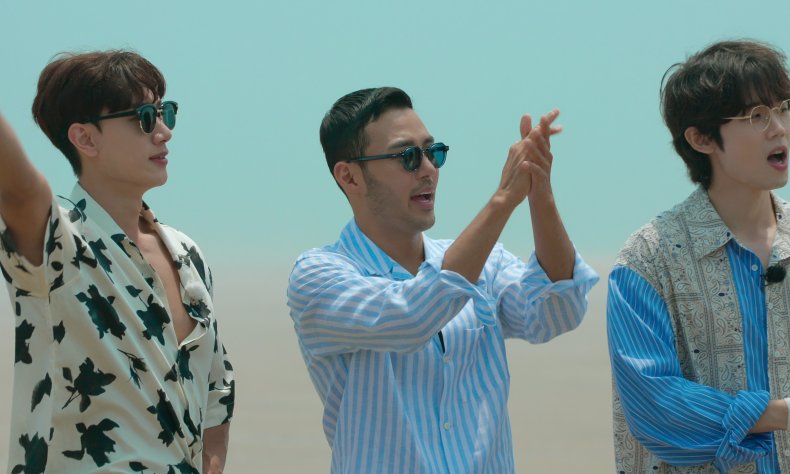 The singletons are also not allowed to select the same name twice when choosing the person with whom they'd like to escape the island.
On some days, they can also compete in games on the beach (such as racing to grab a flag in the sand) for a chance to win private dates on the island with one or more people of their choosing, enjoyed with a special luxury meal.
It's unknown yet whether there will be a special prize for those who get coupled up by the series finale or what other surprise twists await in the game that may affect the final voting round.
Key Cast Members and Love Lines to Watch
Song Ji-ah
The YouTube beauty content creator drew much attention from both the men and women on the show, who were blown away by her striking beauty when she first strutted down a walkway to meet the others on the island.
Her seductive, intense gazes and mystique vibe captivated the hearts of Kim Hyeon-joong and Choi Si-hun, who battle each other for her undivided attention.
Moon Se-hoon
Much has yet to be revealed about the identity of Se-hoon, who is among the last to win a chance to escape the island. From the get-go he has been smitten with Shin Ji-yeon (a delicate, soft-spoken college student studying neuroscience).
Despite being indirectly rejected by Ji-yeon, he maintains tunnel vision and by the cliffhanger end of the latest episode, Se-hoon declares he wants Ji-yeon to join him for an overnight hotel date. But will she finally give him a chance?
Oh Jin-taek
This tailor shop owner, who initially was heartwarmingly focused only on Kang So-yeon (a tall, sexy, sporty type who runs a boxing gym), later appears to be a bit of a dark horse.
After a very flirtatious hotel date with So-yeon (during which he said he'd only ever want to return for another hotel getaway with her), he later chooses the aforementioned Ji-yeon for a hotel date and during their getaway, he actually downplays the connection he had with So-yeon when asked about his date with the boxing gym owner. Ouch.
Cha Hyun-seong
Hyun-seong is among the three new singles who arrived on the island in a later episode and could be a game changer.
On arrival, he realizes he has prior connections with two other cast members from before the show. He happens to be gym buddies with Hyeon-joong, a close friend. He's also heard of Ji-ah before, as they were meant to work together on a project but their schedules clashed and it never came to fruition.
Hyun-seong later goes on a private yacht date with Ji-ah, who reveals Hyun-seong is the closest to her ideal type. Will Hyun-seong and Hyeon-joong still be friends by the end of the show?
Single's Inferno is available on Netflix.