Netflix Slammed After Teaming Up With Microsoft To Introduce Ad Breaks
Netflix has secured a deal with Microsoft to introduce ads on the streaming platform, and now people are threatening to cancel their subscriptions.
In April, Netflix announced the company would offer a lower-priced subscription plan that would include advertisements, in addition to their ad-free plans. On July 13, the streaming giant revealed its collaboration with Microsoft.
"Today we are pleased to announce that we have selected Microsoft as our global advertising technology and sales partner," Netflix wrote in a statement on its website.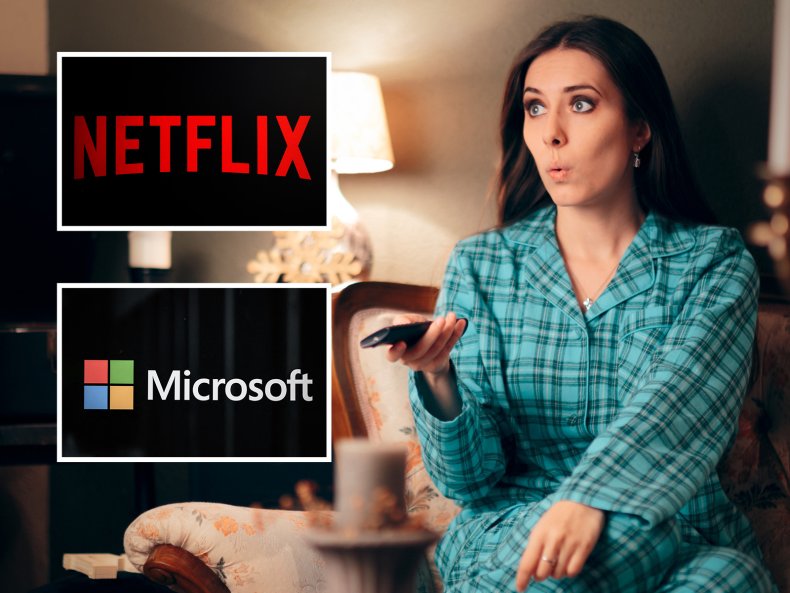 "Microsoft has the proven ability to support all our advertising needs as we work together to build a new ad-supported offering. More importantly, Microsoft offered the flexibility to innovate over time on both the technology and sales side, as well as strong privacy protections for our members," the statement continued.
The platform noted, however, that it's still in the "very early days" and they "have much to work through."
"But our long term goal is clear," the message continued. "More choice for consumers and a premium, better-than-linear TV brand experience for advertisers. We're excited to work with Microsoft as we bring this new service to life."
Many have taken to social media to criticize the streamer's decision, with several users claiming they would cancel their subscriptions if Netflix introduces ads.
"If Netflix starts ads, I might finally cancel my subscription after seven years," one person wrote via Twitter on Thursday, July 14.
Another agreed, writing: "The moment I see an ad on @netflix is the moment I'm canceling my subscription."
"LOL watch subscription prices go up to accommodate this new ad tier," a separate user added. "Imagine paying to watch ads in 2022? Wasn't their whole thing to not have ads? I can't believe I may live to see the demise of @netflix."
A fourth, meanwhile, fumed: "So we're going to pay for ads now!?! Bruhhhhhhhhh, Netflix and Microsoft no."
The Stranger Things streamer was initially opposed to adding in commercials, but it's been struggling to retain and add subscribers. Following its initial announcement in April, co-CEO Reed Hastings said the move "makes a lot of sense."
"Those who have followed Netflix know that I have been against the complexity of advertising and a big fan of the simplicity of subscription," Hastings said at the time. "But as much as I am a fan of that, I am a bigger fan of consumer choice, and allowing consumers who would like to have a lower price and are advertising-tolerant to get what they want makes a lot of sense."
Recently, the brand has been cracking down on subscription sharing too. Netflix is currently in the process of testing a new feature that would charge people to add multiple profiles to an account. In 2021, it introduced two-step verification in an attempt to curb password sharing.
Netflix was founded in 1997 by Reed Hastings and Marc Randolph. The brand initially sold and rented DVDs by mail, with the streaming aspect being introduced in 2007.