Netflix's 'Squid Game' Reality Show Condemned as 'Missing the Entire Point'
Netflix is facing a backlash for announcing the release of a new reality series based on Squid Game, with critics accusing the streaming service of completely "missing the point" of the series.
Squid Game: The Challenge is described as the "biggest reality competition series ever" and is based on the hugely successful Korean series about a group of people in severe financial hardship who risk their lives to play a series of deadly children's games for a cash prize.
The drama series holds the record as Netflix's most popular series of all time, with over 1.65 billion view hours in the first 28 days after its September 2021 premiere.
Now in an eerie case of life imitating art, the streaming giant is turning this terrifying drama series into a reality show with a staggering $4.56 million cash prize—the biggest lump sum cash prize in reality TV history.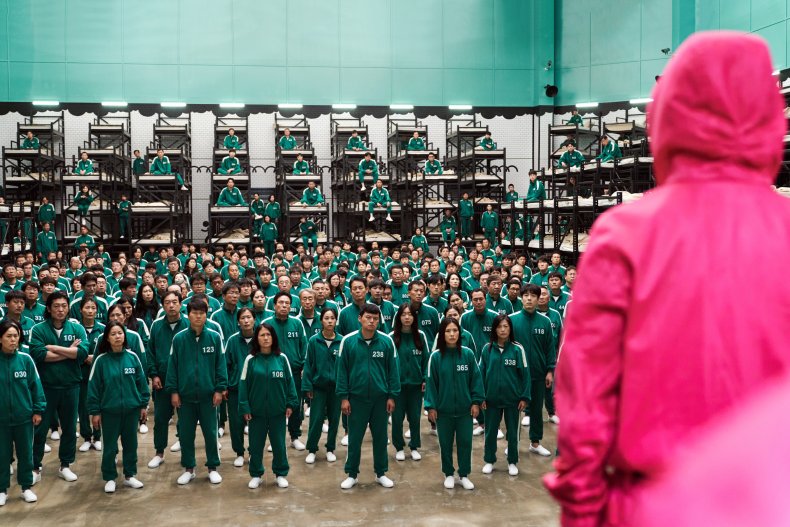 "We're grateful for his support as we turn the fictional world into reality in this massive competition and social experiment," Brandon Riegg, Netflix VP of Unscripted and Documentary Series, said in a statement.
"Fans of the drama series are in for a fascinating and unpredictable journey as our 456 real-world contestants navigate the biggest competition series ever, full of tension and twists, with the biggest ever cash prize at the end."
Some 456 real players will compete through a series of games inspired by the original show, all of which see losers die gruesome deaths.
However, not all were impressed. "I think someone missed the entire point of Squid Game..." tweeted journalist Shannon O'Connor.
While writer Mike Cecchini added: "The Squid Game reality series is perhaps the most absurd example of 'folks existing in a boardroom missing the entire point' I have ever seen in my entire life, and I lived through the late 90s, Dark Universe, and more."
Literary manager John Zaozirny tweeted: "I feel like Netflix may have missed the point of Squid Game?"
Many other Twitter users described the reality remake of Squid Game as "dystopian."
"Missing the entire point of squid game's anti-capitalist message and how it effects every day people like this is so dystopian. what the f***," said one Twitter user.
While another added: "Given how badly the blatantly obvious themes of Squid Game seem to have been missed, I'm expecting at some point a dystopian movie or show will have 'THIS IS A BAD THING' superimposed on screen throughout the whole runtime."
Another added: "​​This is one of the most severely dystopian things that has happened this year."
Newsweek has reached out to Netflix for comment.