'Never Have I Ever' Co-Creator on Netflix Comedy's Success, Season 2 Renewal, and Devi and Paxton's Age Difference
The quirky—and awkward—adventures of an Indian-American teenage girl has given Netflix viewers a welcome respite from the ongoing coronavirus pandemic, with the new comedy series Never Have I Ever ranking among the streaming service's top 10 most-watched shows since it launched on April 27.
From co-creators Mindy Kaling and Lang Fisher, Never has achieved an impressive 96 percent fresh rating on Rotten Tomatoes based on critics' reviews, besting the latest seasons of Dead to Me and Killing Eve, and outshining the Hulu adaptation of Sally Rooney's best-selling novel Normal People. The 10-part series has also spawned its share of Twitter memes, a TikTok challenge and numerous thinkpieces about its representation of South Asians, and particularly women of color.
"I think we had hoped that people would receive it warmly, [but] we were bowled over by the fact so many people have watched it," says Fisher. "We are obviously aware that we have a captive audience. I don't want to say we're lucky, but there's no better audience than people who are trapped in their homes."
The show's success is attributable to more than just Netflix subscribers being homebound, however. Never Have I Ever is a smart and fresh entry to the sitcom genre, combining tried-and-tested teen comedy tropes with rich and diverse storytelling about what it's like to be an Indian-American in California, the immigrant experience from a South Asian perspective and Hindu religious traditions—all of which have rarely been depicted on screen in Hollywood. The series has earned praise for its authentic portrayal of modern Indian-American and South Asian customs, in part inspired by Kaling's own formative years.
Newcomer Maitreyi Ramakrishnan's teen protagonist Devi Vishwakumar has all the angst of My So-Called Life's Angela Chase, and she isn't immune to typical teen comedy tribulations, like being caught between star jock Paxton Hall-Yoshida (Darren Barnet) and overachieving student Ben Gross (Jaren Lewison). But Never also focuses on Devi's home life with her Indian mother Nalini (Poorna Jagannathan) and cousin Kamala (Richa Moorjani) as they struggle with the death of Devi's father, Mohan (Sendhil Ramamurthy), giving the series a layer of heartrending pathos.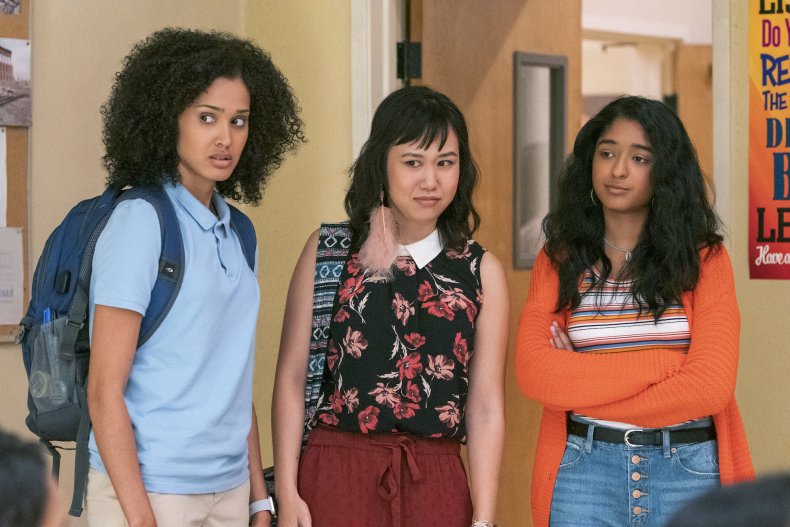 Newsweek spoke to co-creator Lang Fisher about Never Have I Ever's hit freshman run, the social media debate about the age difference between Devi and Paxton and how tennis legend John McEnroe ended up narrating the innermost thoughts of an Indian-American teenager. Plus, will there be a second season?
This show is predominantly led by a cast of South Asian women, which is so rare in Hollywood. Was it a challenge to get the greenlight?
It was a very unique set of circumstances that got the show off the ground. It was all Mindy. One of the executives at Netflix had wanted to work with Mindy for a long time. She had initially spoken to Mindy about more of a family show based on Mindy's life that would be a period piece with a very young Mindy and her family. Mindy felt she didn't have enough of a wild child upbringing... I think she was concerned her life was too boring to make a show set in her actual life in the '90s.
She pitched back that she'd do a current day show about an Indian-American teen where she drew from her personal life but it wouldn't necessarily be autobiographical. Her thinking was there's so many fun things going on with current teens, especially with social media, and she felt that would be a more fun landscape to create from. She knew that I really liked teen content personally, so she asked me to help her create this, and then Netflix was on board.
You discovered Maitreyi Ramakrishnan through an open audition process. How did you know she was Devi?
We were looking for something that you can't teach—something that a child actor who is super polished and has worked their way through Disney stuff just wouldn't be able to have. We wanted an Indian teen girl version of who Jonah Hill was in Superbad—someone who naturally cracks us up. When we saw Maitreyi's audition, she just had something special. She had a raspy voice and was a little rough around the edges. She was like a little punk. I was like, "I like her."
How did you land on Darren Barnet for Paxton, the heartthrob of the show?
For Paxton, drawing from the teen shows I watched when I was a teen, I wanted your Jordan Catalano [from My So-Called Life] or Leonardo DiCaprio in Romeo + Juliet—a guy that you just swoon over. Darren was so good at the swoon-y stuff—being an aloof, cool guy—but he was actually very good at the comedy stuff in his audition, too.
There's been some Twitter discussion about the age difference between Maitreyi, who is 18, and Darren, who is 29, and about how Paxton looks older than 16. Have you seen the reaction?
It's so funny. From the get-go we wanted these kids to feel like authentic teens. In Riverdale, sometimes they wear what you would wear if you were a lawyer going to work, or they're dressed like PR executives. They all seem so mature. We wanted [our cast] to feel like real teens. Our one outlier is Darren, who is in his late 20s.
You can't ask someone how old they are when they audition. You just have to assume that they're a reasonable age. I don't think we found out what his age was until we were deep in the season and then we were like, "Oh, OK." I assumed he was, like, 20.
And the other thing I will say, when you see an actual 15-year-old boy, they're just not going to be a heartthrob. They look like a tiny baby.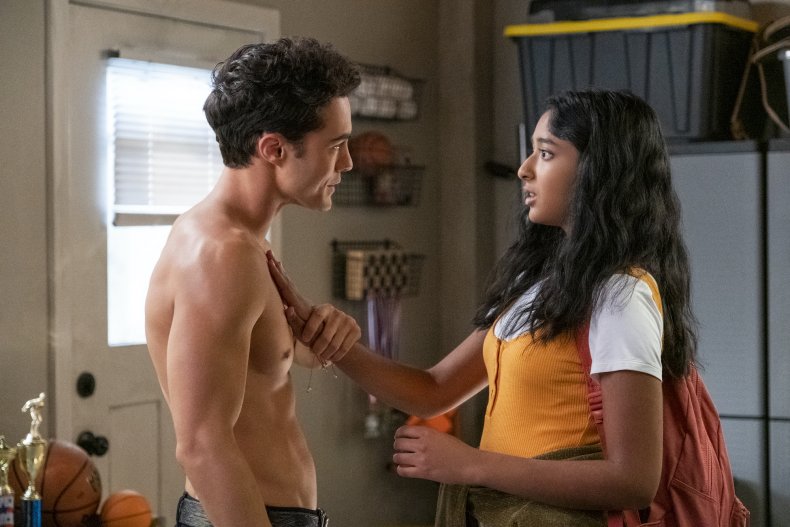 Fans are already very invested in the love triangle between Devi, Paxton and Ben. What do you think of the Team Paxton/Team Ben split the show has inspired?
My dream from the get-go was to not have someone who's pulling ahead. I don't know who I am rooting for, and so I want everyone else to be torn. I think when you look at other love triangles, there's always a clear winner—in Bridget Jones's Diary, you want her to end up with Mark Darcy, you want him to win. I want no-one to know who they want to win. People have sides but I'm glad there's not 90 percent of people on one side and 10 percent on the other. I'm glad it's split.
There are also some fans who are just hot for Devi's dad, Mohan...
Everyone should be hot for the dad. He's the most beautiful man on the planet. When we were discussing this character initially, I was imagining a sweet-looking, regular, normal dad. And then Mindy suggested Sendhil and I was like, He's so incredibly handsome. We tried to put him in looser dad pants, but he's a stunning looking man. So we should all be on Team Mohan.
Never Have I Ever has been praised for its authentic depiction of South Asian and Indian-American life—the fourth episode, where Devi and her family attend a Ganesh Puja ceremony, springs to mind. How did you ensure authenticity on the show?
A lot of this comes from Mindy's memories of growing up, and we had quite a few South Asian [writers]—I think four members of our writing staff are Indian or Indian-American women—we had a few South Asian directors, and members of our crew, and obviously our cast. So we spent a lot of time asking questions of everyone and what their experiences were and little things here and there came from people's stories.
One of our writers told us how her mother would always put her in a white T-shirt under a tank top and so that's how that showed up in the TikTok episode. Another writer's mother has a closet full of candy that she has to take places. We tried to use some of these little touches to make things seem more authentic.
For the Ganesh Puja episode, we did hire a pandit from a local temple to come and consult and make sure everything seemed authentic.
Devi's cousin Kamala lives with her and her mom, which adds an interesting dimension to the nuclear family. Why did you decide to incorporate this character?
I think that because she is someone who has grown up in India and from the outside seems like what Devi is supposed to be, it adds a nice element to underscore how Devi feels like she's constantly disappointing her mother. To have this person that seems perfect, but you see that Kamala's not perfect. When you're any age you sometimes see someone and compare yourself to them and feel like you're less than because they seem like they've got it all together. Devi assumes what her mother really wants is someone like Kamala and that's not true. That's not how mothers love their children.
Having John McEnroe as narrator shouldn't work but it really does. How did that come about?
We've seen stories before about nerdy girls that are shy and wallflowers. Mindy and I were not necessarily cool teenagers, but we weren't shy or quiet. We both had big personalities and were loud and in-your-face. So we wanted this girl to have those characteristics and have this kind of short fuse. Instead of having [Maitreyi] or Mindy be the voice in her head, we thought it would add this extra dimension to have it be this 61-year-old man who was known for having a short fuse.
From what Mindy has said, her parents were McEnroe fans and her family are big tennis fans. She was like, "I think a lot of Indian families love tennis." So we thought it would be appropriate if this voice in [Devi's] head was this voice she had heard all growing up because her dad watched so much tennis and was such a fan of his.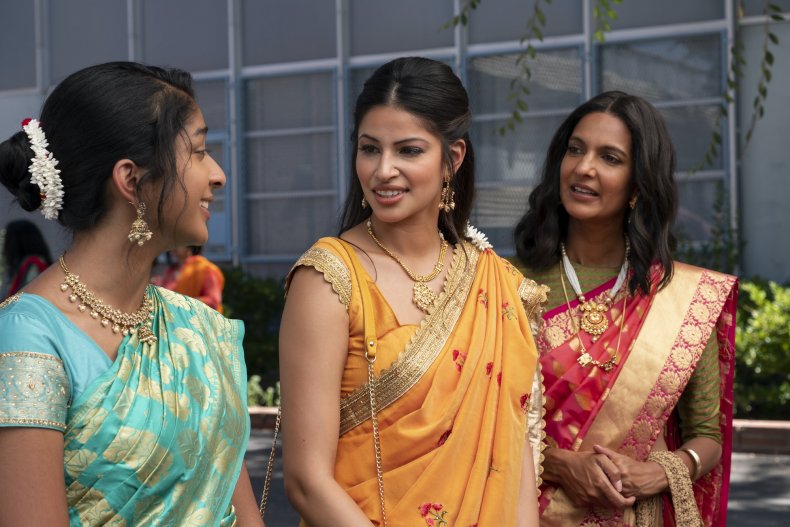 I was a big fan of The Mindy Project, too, and I noticed that some of Devi's vocabulary is similar to Mindy Lahiri...
It's true, there are some jokes in there that I'm like, "That's a Mindy Lahiri joke." There's quite a few of us who worked on both, so sometimes we probably slip into that Mindy Lahiri-style dialogue.
Any word from Netflix yet on a Season 2 renewal?
We've been talking to them, but I think Netflix likes to wait a little bit to see how it continues to do before renewing it. We're optimistic but probably won't hear for a little bit more until they've gotten all their data.
We have some ideas about things we'd like to do. Mostly what I'm excited to explore in the next season for [Devi] is actual dating and what it's like now she's kissed two boys. And now Eve and Fabiola are together, I want to see this little nerdy group actually having some real romantic issues that aren't just pining from afar.
---
Never Have I Ever is streaming now on Netflix.